Johnathan Hankins will have to step up more than any other second-year player on the team.**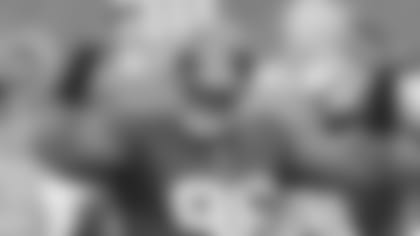 JOHN SCHMEELK: Fact -Considering the Giants will be counting on him to step into the starting lineup on Day 1 to replace Lonval Joseph, I don't think there's any doubt he will have the most weight on this shoulders. I give him the edge over Pugh, since the Giants first round pick already established himself as a starter on the O-Line next year. But the Giants also need him to be an upper echelon starter.
DAN SALOMONE: Fiction -"Stepping up" is all about expectations. There's no question Johnathan Hankins will be leaned on heavily, but to me, he's shown glimpses that he should be able to handle it. But the man drafted right behind him, defensive end Damontre Moore, is more of a question mark. He can't be one in his second year. The Giants lost one-third of their sack total from 2013 when Justin Tuck signed with the Oakland Raiders. Meanwhile, Justin Pugh has already taken his step up.
Tight end is the biggest hole on the Giants' roster right now.

JOHN SCHMEELK: Fact -Right now the Giants tight ends consist of Larry Donnell and Adrien Robinson. The latter has barely played and the former hasn't had a ton of snaps. Donnell is already a capable blocker and the coaches like the way he fought through injuries last year. Adrien Robinson has to quickly learn the new offensive system and show he can be a playmaker.
DAN SALOMONE: Fact -There's no way around it. Larry Donnell leads the tight ends returning to the team with three career receptions. He is trailed by Adrien Robinson, who has zero in just three games played through two seasons.
The NFL should adopt the proposed rule change of raising the goal posts five feet.

JOHN SCHMEELK: Fact -But the NFL should also narrow the goal post, making the field goal even tougher. It has become too much of a high percentage play.
DAN SALOMONE: Fact -I'm surprised it took this long for just a proposal. It seems almost too simple, but quite often you see a kick that sails directly over the upright -- is it good or not? You can't tell. This will make it more definitive.
Giants.com Bracket Challenge: Manning-to-Manningham will be the biggest challenger to Manning-to-Tyree for "Best Play in Giants History."

JOHN SCHMEELK: Fact -Both plays came on eventual game winning Super Bowl drives. You don't get much bigger than that.
DAN SALOMONE: Fact -If we could get more of the -- how should I put this? -- pre-Coughlin Era fans involved online, there might be some legitimate rivals. But in fairness, those are two of the biggest plays in two of the biggest finishes you'll see in the Super Bowl whether you're a Giants fan or not.