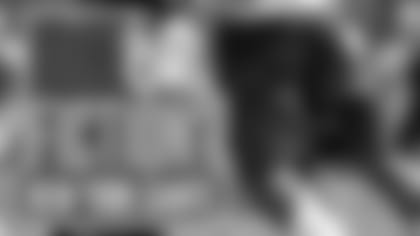 At least one undrafted rookie will start a game in 2013 for the Giants.*
MICHAEL EISEN: Fiction -The Giants have a talented and experienced team, so barring a series of injuries at one position I don't see a rookie free agent breaking into the starting lineup.
JOHN SCHMEELK: Fiction - I just don't see it. It's tough enough for draft picks selected on the third day to start games. Asking that undrafted players is simply too much. The Giants have too much depth to become that desperate.
DAN SALOMONE: Fact -A year after the Giants had a strong group of undrafted rookies help them win a Super Bowl, they didn't have any start in 2012 (even though safety Will Hill gave them sizable contributions). This is a hard one to predict because you never know where injuries will take place on the team, but you do know they will happen. Depth is always tested throughout the course of an NFL season, and 2013 will be no different. Maybe they'll find another hidden gem.
The giants will have four or more undrafted free agents make the 53-man roster.
MICHAEL EISEN: Fiction -See above. I think the roster is pretty well set, except for a few back-end surprises. But I don't expect four of them.
JOHN SCHMEELK: Fiction - I don't think that many will crack the active roster, but they practice squad will be packed with them. Remember, there are UDFA's from 2012 making a return too that will compete with the 2013 crew.
DAN SALOMONE: Fact -Like the first one, there are too many variables to predict this one accurately. In those cases, I turn to history. For whatever reason – maybe it's Tom Coughlin's emphasis on having strong special teamers – at least four undrafted rookies have made the team in six of his nine seasons with the Giants. I'll play those odds.
Damontre Moore will record a sack in a regular-season game before Adewale Ojomo.
MICHAEL EISEN: Fact -Moore, a third-round draft choice, has the talent and will likely get the opportunity to play before Ojomo, though the latter was here last year. That's the advantage of being a third round draft choice.
JOHN SCHMEELK: Fact - As a third round pick with a lot of production in college, I expect Moore to be given a lot of opportunities early and often on passing downs to get to the quarterback. Ojomo still has a lot to prove against better competition this offseason.
DAN SALOMONE: Fiction -While only seeing a small sample size last preseason, the Giants must have seen enough from Ojomo to warrant a roster spot and not attempt to maneuver him onto the practice squad. The main thing that kept him off the field last season was the depth of pass rushers ahead of him, but this year is a different story in terms of personnel coming and going.
At least three rookies will start Week 1 of the 2013 season.
MICHAEL EISEN: Fiction -No more than one and my prediction is zero.
JOHN SCHMEELK: Fiction - I'll go with two, but I think three is too many, barring a rash of injuries. Hankins and Pugh, the top two picks, would be the safest bets.
DAN SALOMONE: Fiction -I think there will be two at most. And even that will be unlikely. You look to the Giants' top two draft picks – Justin Pugh and Johnathan Hankins -- to give you that immediate impact, but beyond that, veterans are at the front of the line at every position.
Tell us your thoughts in the comment section below.