After the long off-season Week 1 is finally in the books and the season is in full motion.  Week 1 dispelled rumors of high flying offenses, brought unknown players to the forefront of the fantasy world and sent Fantasy owners scrambling through the waiver wire. Here are the Week 1's Studs.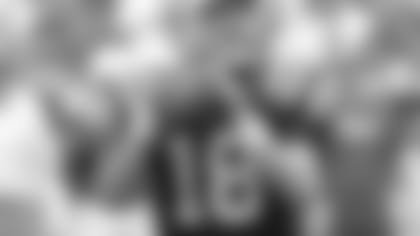 Studs:
QB- Peyton Manning - While he couldn't bring the Colts a victory he most likely played a big part into getting your fantasy team a W this week. Peyton had 53 pass attempts, threw for 433 yards and completed 3 touchdowns against Houston's porous secondary. The only concern for Manning owners should be his O-line which looked overpowered for most of the game and forced Peyton to move around in the pocket more than in past years. Still  one should expect nothing short of fantasy greatness from Peyton going forward. Don't invest too much thought in to the loss, the Colts are still the Colts and Peyton is still Peyton.
Honorable Mention-  Tom Brady, Jay Cutler
RB- Arian Foster- The undrafted Free Agent from Tennessee, was the lynchpin for the Texans beating the Colts in week 1. Foster showed a nice combination of speed and power and ran all over the Colts for 233 yards rushing and 3 TD's.  We've seen the formula of pound the ball work well against Colts; for the last 4 years as they have let up an average of over 100 yards against on the ground. Additionally to Fosters benefit is the fact that defenses have to play heavily against the pass in fear of the Matt Schaub to Andre Johnson connection. If a team tries to creep its safeties inside the "box" to stop the run they become vulnerable wherever Johnson is on the field.  With all that said Foster appears to be the lead candidate for this years Fantasy Steal of the Year, but before we go too crazy lets see how he does this week against a much tougher Redskins defense.
Honorable Mentions- Chris Johnson, Rashard Mendenhall, Matt Forte
Mendenhall, Rashard RB PIT
WR- Miles Austin - Last years Fantasy waiver wire pick up of the year, started off his 2010 campaign with a bang, catching 10 passes for 146 yards and a touchdown against a formidable Washington secondary. In addition to the stats Austin just looked flat out good. Blessed with great size and speed, Austin manages to run fluid routes, make tough catches and pick up yards after those catches. There is no evidence to suggest that he'll be slowing down anytime soon… that is of course assuming that Sunday night offensive performance was a fluke for the rest of the team.
While Nicks had a monster week, I had to take into account that he only had 4 receptions That hurt him in both PPR leagues and what I would determine a general "stud" rating.
Honorable Mentions- Hakeem Nicks, Chad Ochocinco, Austin Collie
TE- Visante Shiancoe - Not much seemed to gel on the Vikings offense last Thursday. Farve seemed lost looking for a receivers and AP was held to mere mortal numbers. However the one bright spot shined on Visante Shiancoe who led the Vikings with 4 catches for 76 yard and a touchdown; even better for him and his fantasy owners is that he appears to be Farves new safety blanket much like Sidney Rice was in 2009. With two speed receivers on the outside look for Shiancoe to continue getting red zone and check down looks for the foreseeable future, making him a solid #1 TE going forward.
Honorable Mention- Dallas Clark, Marcedes Lewis
Shiancoe, Visanthe TE MIN
D-  New York Giants - Sure this is a Giants web site so of course we're gonna pick them right? Well hold your horses this is a well deserved "stud" label. Before the game we believed the Giants were ready to move past the injury plagued 2009 season and be ready to get back to their dominate defense. Nothing we saw on Sunday made us feel any different.  The safety position seems to be a strength this year and the D-line looked fast and dominant against the Panthers O-line. The Giants registered 4 sacks, 3 Interceptions and a fumble and anyone who watched the game would tell you that they could have nearly doubled each statistic. With a very tough match up next week against Indianapolis it'll be interesting to see what the Giants defense is truly made of on Sunday night.
Honorable Mention - Seahawks, Patriots
A look ahead to Week 2 with some favorable matchups:
Jacksonville at San Diego
N.Y. Giants at Indianapolis
New Orleans at San Francisco
That's this weeks edition of Studs from Week 1, Check back Friday for our Fantasy insight on the coming week!
by Anita Marks and Dave Melroy