EAST RUTHERFORD, NJ - Each week Giants.com will feature a blog written by one of our members. This week we take a look at G-MEN1130's blog. To be considered for a featured blog in the future, sign up to be a Giants.com member .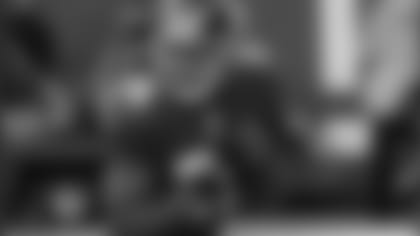 I would like to take a minute to applaud the New york Giants Defense in what has been a successful season thus far. Obviously it takes a team effort as we all know it but today I would like to focus on one person in Particular.... A person that has contributed to our defense's success...here's to Another unsung hero, Terrell Thomas. He's been playing at a high level and has been very consistent.
In each of the last two games he's forced a fumble and has intercepted a pass. Thomas is currently tied in 4th place with 5 interceptions only trailing Aqib Talib from the Buccs, and Asante Samuel from the Eagles with 6 a piece and DeAngelo Hall from the Redskins with 7. He's the only Corner back in the top 10 with a sack and second in total tackles with 57 trailing only Charles Godfrey from the Panthers by 2. He leads the NFL with 22 passes Defended and has also recovered a fumble. Pretty impressive in my eyes! Thomas was also deservedly named one of the team captains for the Redskins game after an elite performance against the Jaguars the week before and again showed up BIG against the Skins.
So dear fans, I'm excited to have a corner back such as Terrell Thomas whom is slowly climbing up the charts and yet appears to be calm, humble, and not a diva like many others. When asked about Thomas, Antrel Rolle commented: "He's underrated because he's not the type to be all up in the papers talking a lot, he's not the one on the field to be going back and forth with guys. He just works hard every day, takes everything serious, even practice and the meetings; so when it's time for him to step on the field, you're going to have to pull a lot out to beat him."
Thomas Jokingly said that all his interceptions have been made because of his mom. When asked about it he said: "That [interception] goes to my mom. Every time she comes to a game I get an interception, so she might be at every game for the rest of the season," YES PLEASE BRING HER ALONG!!!
All in all, I believe we have an elite D-line that pressures opposite Quarterbacks as good as anybody in the league and a great secondary to compliment it. Terrell Thomas is a key component in that secondary and I'm not taking anything away from the others since they've done a heck of a job as well...so What more can we ask for? GO GIANTS!