EAST RUTHERFORD, NJ - There was no brotherly love here in the Indiana capital Sunday night.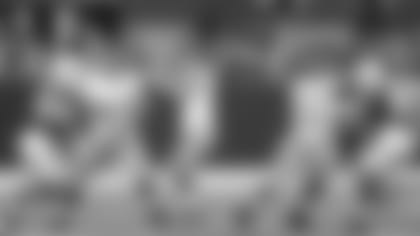 Peyton Manning came out firing on the game's first play and didn't let up until his Indianapolis Colts had clinched a lopsided 38-14 triumph over Eli Manning and the Giants in Lucas Oil Stadium. The Giants trailed at halftime, 24-0.
The Giants were shutout in the first half and saw their nine-game September winning streak end.
"Obviously, not what we came to do," Coach Tom Coughlin said. "The team we played tonight out-executed us – outplayed us and out-executed us."
Both offensive and defensive players found no reason to disagree.
"They came prepared and executed their game plan and we didn't," defensive end Justin Tuck said.
"They beat us on both sides of the ball," running back Ahmad Bradshaw said. "They were fired up. They had something to prove and they proved it against us."
Indianapolis was soundly beaten in its opener in Houston while rushing just 10 times for 44 yards and allowed 237 rushing yards. They turned the tables against the Giants, running for 160 yards on 43 carries and allowing the Giants to run for 120, including 15 late in the fourth quarter when the outcome had long since been decided.
"They ran the ball 10 times last week and threw it 57 times," Coughlin said. "They didn't have the distribution, I'm sure, that they wanted. We felt that they were going to throw the ball certainly more than they were going to run it, and that's how we prepared. That's how most people prepare for this team. I don't know, until I look at the tape, why some of the runs were able to come through like they did."
This was the second game in NFL history in which the starting quarterbacks were brothers. Peyton and the Colts have defeated Eli and the Giants in both of them, including the 2006 season opener.
Peyton Manning, benefitting from the strong run game and getting better protection and support than his younger brother, easily had the upper hand Sunday night. He completed 20 of 26 passes for 255 yards, three touchdowns and no interceptions. Peyton was sacked only once and had a passer rating of 145.5 His touchdown passes went 50 yards to Dallas Clark, three yards to Austin Collie and 10 yards to Reggie Wayne.  Donald Brown scored on a seven-yard run, Fili Moala on a one-yard fumble return and Adam Vinatieri kicked a 38-yard field goal for the Colts.
Eli Manning hit13 of 24 passes for 161 yards, two touchdowns and an interception and had a rating of 85.6. Manning threw touchdown passes of 54 yards to Mario Manningham in the third quarter (when the Colts had a 24-0 lead) and 31 yards to Hakeem Nicks with only 1:46 remaining in the game.
"(The Colts) played an outstanding game on both sides of the ball," Eli Manning said. "Offensively for us, we couldn't get into a rhythm the whole first half. When you can't get first downs, it's hard to get into your plays and your calls. (We had) a lot of three and outs. We didn't move the ball well. We didn't run the ball especially well, we didn't throw the ball well. They outplayed us."
Manning was under pressure all night. He was sacked four times and lost two fumbles. The Colts turned all three turnovers, including the interception, into points.
"They have great defensive ends (Dwight Freeney and Robert Mathis, who each had two sacks), a great defensive rush, causing us to get sacks or throw it away or get it out quickly," Eli said. "It was hard to get into a rhythm and consistently do it. They made more big plays than we did. They didn't do anything different than we had seen on film. It wasn't like they came out and showed a whole different defense. They just outperformed us."
The Giants had a brief revival in the third quarter, putting their first points on the board and then forcing the Colts to punt. But two plays into their next series, the momentum quickly and permanently evaporated. On second-and-four from the 16, Freeney raced around left tackle David Diehl, sacked Manning and forced a fumble that was recovered at the one by Moala, who took the short step into the end zone for a 31-7 lead. At that point, the majority of the Colts' points – 17 – resulted from Giants' turnovers.
Indianapolis added another touchdown with 9:11 remaining in the fourth quarter when Peyton Manning hooked up with Wayne for a 10-yard score. Wayne got position on cornerback Terrell Thomas and caught Manning's pass just inside the sideline. Wayne picked up the bulk of the yardage on the eight-play, 55-yard drive, catching Manning passes of 21 and 11 yards on the way to the end zone. He victimized Thomas each time.
"I hope they keep (targeting me)," Thomas said. "I believe in myself. I was in a great position every time. All I have to do is get my head around on that ball."
The Giants had a last gasp late in the fourth quarter when Thomas forced and recovered a fumble by backup running back Devin Moore at the Colts' 31-yard line. On the next play, Manning fired to Nicks for their fourth touchdown connection of the young season.
Manningham's touchdown put the Giants on the scoreboard with 10:44 remaining in the third quarter. On third-and-eight from the Giants' 46, Manningham lined up left, got past cornerback Jacob Lacey with an inside move, caught Manning's pass at the Indianapolis 21-yard line, eluded Lacey's attempted tackle and scored his first touchdown of the season. The 54-yard completion was the longest of Manningham's career; the previous long was a 49-yarder at Dallas on Sept. 20, 2009.
The Giants were dominated in the first two quarters and left the field trailing at halftime, 24-0. In the half, the Giants had two turnovers that led to Colts points and were outgained, 278-69. They had just five first downs to 18 for the home team. They had 11 net passing yards after Eli completed three of eight passes. His older brother, meanwhile, hit 13 of 18 passes for 154 yards in the half.
"We couldn't get in a flow and we had to change our game plan," said Bradshaw, who rushed for a team-high 89 yards. "It's tough when you can't do what you want to do offensively."
Or defensively. At halftime the Colts had rushed for 124 yards, or 80 more than their full-game total against the Texans.
"We did a great job last week against Carolina and set a tone as far as stopping a great running game like that," Tuck said. "Here, we didn't do a good job against a team that is not known for its running."
Indianapolis padded its lead with only nine seconds remaining in the half on Manning's touchdown pass to Collie. On second-and-goal, Collie lined up on the left side, quickly turned toward the sideline on the snap and caught the ball before cornerback D.J. Johnson could get near it.
The score capped an eight-play, 45-yard drive that began when Eric Foster recovered an Eli Manning fumble that was forced on a sack by Robert Mathis. Manning completed three passes of nine yards on the drive – one each to Wayne, Clark and Collie. A short toss that Joseph Addai turned into a 13-yard gain gave the Colts a first down on the one. Two plays later, Collie scored.
A Giants turnover had set up Indianapolis' previous score, which was Vinatieri's field goal. The Giants had just taken possession at their 20-yard line when Manning threw deep down the middle of the field for Steve Smith, who was surrounded by Melvin Bullitt, Antoine Bethea and Jarraud Powers. The ball caromed off Smith and into the hands of Powers, who returned it 33 yards to the Giants' 44. Coughlin challenged the spot, claiming Powers had been downed immediately after catching the ball because he made contact with Smith. After review, referee Bill Leavy reversed the call and moved the ball back to the Colts' 23-yard line. But an unnecessary roughness penalty by Brandon Jacobs advanced it to the 38.
Addai runs of 16 and 12 yards helped give the Colts a third-and-one at the Giants' 16-yard line. But the Giants defense made a stand as Barry Cofield knifed through the line to drop Brown for a four-yard loss. Vinatieri then came on to kick the field goal that made it 17-0.
Peyton Manning's long pass to Clark had given Indianapolis a two-touchdown lead with 9:33 remaining in the quarter. On first down from midfield, Manning lofted a pass down field for Clark, who got behind Aaron Ross. The Pro Bowl tight end caught the ball at the 22 and sprinted to the end zone.
The score concluded a 98-yard drive that took eight plays to complete. Prior to the touchdown, the longest play of the series was Addai's 12-yard run.
The Colts established their dominance immediately, taking the opening kickoff and marching 80 yards in 12 plays and 6:44 with Brown – who did not carry the ball in Indy's season-opening loss in Houston – scoring on a seven-yard run off left tackle.
Peyton Manning started the game with completions of 11 yards to Pierre Garcon and 13 to Wayne. He later threw a pass that Wayne turned into another 13-yard gain and Brown's11-yard run gave the Colts a first-and-goal at the nine. After a false start pushed the Colts five yards back, Manning threw seven yards to Collie immediately prior to Brown's touchdown.