EAST RUTHERFORD, NJ - On a night they honored the franchise's heroes, the Giants won a game by using an old-time formula.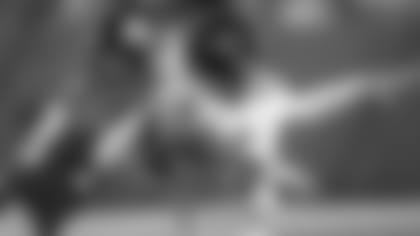 Combining an attacking defense with a punishing rushing attack, the Giants broke a two-game losing streak by overwhelming the previously undefeated Chicago Bears, 17-3, Sunday night in the New Meadowlands Stadium.
The Giants sacked Bears quarterback Jay Cutler an NFL-record nine times in the first half (and added one on Caleb Hanie in the fourth quarter), held Chicago to 110 yards and six first downs and ran for 189 yards to improve to 2-2. And they did it with many of the great figures in attendance as the Giants unveiled their 30-man Ring of Honor at halftime. Two members of the illustrious group might have been instrumental in the triumph. Michael Strahan spoke to the defense when he was in town last Thursday. And Jessie Armstead, who is with the team daily in the player development department and as a part time coach, gave an impassioned speech to the entire team Saturday night.
"A great win for our team tonight," said Coach Tom Coughlin, who recorded his 57th victory in his 100th game with the Giants. "A win that we really needed – to be 2-2 and tied for the division lead is outstanding. Our defense played superbly.
"We spent a lot of time talking to our players about the Ring of Honor and the incredible fact that 85 years of football for the New York Giants franchise and 30 men are inducted – 22 players – and one of the players is in our midst all the time, Jessie Armstead. Michael Strahan was back this week and came through the office, spoke to the defensive guys. So we wanted to win this game to honor those members who have gone into the Ring of Honor here for the New York Giants franchise, so that was very important to us that we did do that and that we did salute them in the right way. It was a defensive struggle, and that's probably the best way that we could acknowledge them."
The defense was dominant. The 10 sacks was the third-highest total in franchise history (second-highest since sacks became an official statistic in 1982). The figure is even more impressive considering Mathias Kiwanuka, the sack leader entering the game, did not play because of a neck injury. Cutler threw for 42 yards before suffering a concussion that kept him out of the game the entire second half. Backup Todd Collins was helped off in the fourth quarter. The defense forced three turnovers (two interceptions and a fumble). Chicago's deepest penetration in 15 possessions was the Giants' 22-yard line. Robbie Gould's fourth-quarter field goal accounted for Chicago's scoring.
Osi Umenyiora and Justin Tuck led the sack assault with three apiece, a career high for Tuck.
"You know what - we need to have a Ring of Honor ceremony every week," Tuck said. "Tonight just kind of steamrolled. We just came out tonight and kind of just forgot about all what people were saying about us and kind of got back to having fun on the football field. That's something that Jessie and Michael (Strahan) came in this week and kind of talked to us, and they just told us that we didn't look like we were having fun. So that was our biggest goal tonight. Regardless of what happened, they made a play or whatever, just go out there and play football. Play it like you played in the backyard when you were having fun. It didn't matter what was going on. You were just out there having fun. I think tonight we did a good job of that. We fed off the crowd. We fed off each other's energy and this game was a lot of fun tonight. I hope that we can continue to do that."
"That is the way we are capable of playing," Umenyiora said. "We needed to honor those guys who were inducted into the Ring of Honor tonight. We have to give a lot of credit to those guys.  And with Michael Strahan here, he is one of those guys who paved the way. We were just in position tonight to rush the passer. And we were able to rush the passer hard tonight. Sacks are like that – sometimes they come in bunches and sometimes they don't. Everybody needs to understand that tonight was one of those nights."
Offensively, Ahmad Bradshaw and Brandon Jacobs each scored on short touchdown runs and Lawrence Tynes kicked a field goal for the Giants. Bradshaw rushed for 129 of the Giants' 189 rushing yards (142 in the second half) against a Chicago defense that was ranked No. 1 in the NFL against the run entering the game.
"The way our defense played today and the way we ended up running the ball in the second half, that's definitely Giants football," guard Rich Seubert said. "That's what we have to do. We know what the weather gets like here, and our receivers are going to make plays, but run the football and play-action - for an offensive lineman, that's what we want to do. It's not the first time we played against the number one rushing defense since we've been here. It took us awhile to get it going, but we knew if we kept on pounding it and coach just kept on calling the plays and we kept on plugging away and as you could see in the second half, we just kept on wearing them out, wearing them out, wearing them out and we sprung something."
"Ahmad played tough today," quarterback Eli Manning said. "He did some good things in the run, had a big screen for a first down, in his pass protection, he is playing hard. He played really tough against a good defense. I think it is a great mix with him and Brandon. When Brandon came in he ran well also. Both of those guys need to run the ball and play well for us and it is good to get them both going."
After an unproductive first half, the Giants' offense finally came to life in the third quarter, when Bradshaw's three-yard touchdown run capped a 90-yard drive, the Giants' longest since a 94-yarder vs. Oakland last season.
On first-and-goal from the three, Bradshaw took a handoff, bulled his way through the line and got an escort across the goal line by guard Chris Snee. The score was set up by back-to-back 25-yard gains just prior to the touchdown. The first was Manning's pass to Travis Beckum, which was followed by Bradshaw's run to the three. The drive also included Manning's 21-yard pass to Hakeem Nicks.
"On that drive, we just knew what we had to do," Bradshaw said. "Defense kept us in the game the whole night. We knew it was really important for us to go down and score at that particular time. In our offense, the pass and the run complement each other. And that is exactly how that drive went. For each of them to work effectively, we have to run the ball well and pass the ball well. It's great to watch our defense. They get so pumped up and they are so entertaining to watch."
Gould's field goal pulled the Bears to within a touchdown early in the fourth quarter. The Giants seemed about to put the game out of reach on their next possession, but cornerback Zachary Bowman knocked the ball out of Bradshaw's hands after a 22-yard run and recovered the fumble at the Bears' one-yard line.
Chicago's offense was stonewalled again and Brad Maynard punted out of the end zone, giving the Giants a first down on the Bears' 32-yard line. This time, they capitalized on the opportunity. Manning's 30-yard pass to Nicks put the ball on the two and Jacobs scored on the next play.
"We kept pushing," Jacobs said. "We ran the ball. I thought we threw it well. We just hung in there. We just kept going and eventually things are going to open up for you."
The Giants led, 3-0, at the end of a first half in which neither team gained 100 yards. It was the first time the Giants shutout their opponent in the first half since last Dec. 21 at Washington, where they led the Redskins, 24-0.
The Giants' defense was dominant, holding Chicago to 22 yards (minus-13 passing) and forcing two turnovers. But the Giants did not score a point off any of the takeaways.
Offensively, the Giants gained only 98 yards in the half.
Tynes scored the only points of the half on a 22-yard field goal with 3:29 left in the first quarter. Before the kick, the Giants drove 76 yards in 10 plays following a Chicago punt. The big gains were Bradshaw's 20-yard run and Manning's 23-yard pass to Nicks. But Manning's pass to Steve Smith on third-and-10 from the 12-yard line gained just eight yards and Tynes came on to kick the field goal.
For the rest of the half, the Giants squandered scoring opportunities.
Three plays after Tynes' field goal, Terrell Thomas intercepted a Cutler pass intended for Greg Olsen at the Chicago 28-yard line. Manning's pass for Kevin Boss on third-and-two fell incomplete. Tynes came on to try a 38-yard field goal, but it sailed wide left.
The Giants weren't even able to attempt a field goal after their next takeaway.
With 9:44 remaining in the third quarter, Cutler was sacked by Umenyiora, who forced a fumble that was recovered at the Bears' 29-yard line by Deon Grant (who also had an interception). But Snee's false start penalty accounted for the only net yardage on the drive, which ended with Matt Dodge punting into the end zone for a touchback.
Chicago's defense also forced a turnover when Julius Peppers sacked Manning and knocked away the ball, which was recovered by Brian Urlacher at the Bears' 48-yard line. Tom Coughlin challenged the play, claiming Manning's arm was going forward. But after review, referee Carl Cheffers upheld the call on the field.
The turnover did not hurt the Giants, because the Bears went three-and-out.
"Tonight was just a great defensive effort," said offensive tackle Kareem McKenzie. "The defense really held up their end of the bargain tonight. They gave us a chance to get things started. We kept cool heads tonight. We were very patient. We knew we were going to get it going; it was just a matter of time when we did. We stayed after it. We didn't beat ourselves.  We played football the right way.  We cut down on penalties and we would still like to cut them down even more. We just wanted to play a classic game tonight and play very disciplined. We wanted to make a good representation of ourselves."