EAST RUTHERFORD, NJ - Justin Tuck is affable and engaging, but he wants to be anything but hospitable on Sunday afternoons in New Meadowlands Stadium. The Giants' defensive captain believes visitors there should be treated as rudely and physically as the rules of the NFL will allow.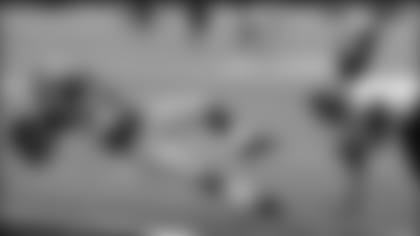 So when the Jacksonville Jaguars showed up Sunday and pretty much pushed around their hosts and did as they pleased while taking an 11-point halftime lead against the Giants, Tuck was seething. Soon after the Giants gathered in their locker room at the half, Tuck was the most vocal player to speak up. Inspired by his diatribe, the Giants dominated the second half and earned a thrilling 24-20 victory over the Jaguars.
"Basically, I just talked about how you allow somebody to come into your house and take over," Tuck said. "At that point, they were doing whatever they wanted to do on offense. We just talked about doing our thing. Regardless of what they called, regardless of what defense we were in, we couldn't allow ourselves to not be on the same page, communication breakdowns, you know guys doing their own things, and I just challenged each of them.  I told them that I was playing like crap, I told them that we were playing like crap and that in the second half we need to pick it up, just try to create a spark. And it worked."
That would be an understatement. After allowing 236 total yards, 145 rushing yards and 16 first downs in the first half, the Giants' defense held the Jaguars to 92 yards, including 62 on the ground, and 10 first downs in the final two quarters. That gave the offense a chance to get its bearings and Eli Manning responded by throwing two fourth-quarter touchdown passes, including the game-winning 32-yarder to Kevin Boss with 3:15 remaining.
The Giants stopped their two-game losing streak and improved to 7-4. With Philadelphia's loss in Chicago, the Giants are back in a first-place tie in the NFC East.
"That was a hard fought battle," Coach Tom Coughlin said. "I thought our second half was outstanding and our guys came back. At the half, we talked about the fact that our first half wasn't good enough. We came back in the second half, did some very good things and I take my hat off to the coaches and players for the way they competed and played in the second half. We found a way to win the game and that's what we planned on doing coming in – somehow, some way, we'd find a way to win."
The Giants played without several important offensive players, including their two leading wide receivers – Hakeem Nicks and Steve Smith – and three offensive linemen who have started games this season – Shaun O'Hara, David Diehl and Shawn Andrews.
They were able to overcome those absences thanks to a stellar second half. Several players credited teammates like Tuck and Osi Umenyiora with providing a spark with their halftime oratory.
"It's not acceptable," Rich Seubert said of the Giants' first half performance. "To come out the way we did in the first half and play, it's not fun. Football is supposed to be fun, and the only way it's fun is when you're winning. And we found a way to fight and hang in there and come back and get it done."
"The main thing was just about protecting your house and just having a certain level of respect," defensive tackle Barry Cofield said. "The first half was so far from what we aim to do - so far from Giant football - that I think everyone had that feeling. But they just reiterated it in a very intense way. I think everyone was definitely full of emotion running out on that second half."
The new attitude manifested itself on the second-half's first snap, when Terrell Thomas intercepted a David Garrard pass that caromed off the hands of Mike Sims-Walker. That led to Lawrence Tynes' 28-yard field goal, which cut the Giants' deficit to 17-9.
But it took them almost 27 minutes for the Giants to take the lead. They did so after Manning and Boss both correctly read that the Jaguars were going to come on an all-out blitz on a third-and-10 from the Jacksonville 32-yard line. Boss cut short his route, caught Manning's quick pass at the 30, stepped away from Courtney Greene's tackle attempt and sprinted to the end zone for the game-winning score.
"It was a blitz they'd done before and it was kind of last minute," Manning said. "I just hit it to Boss and thought it might be that blitz zero. He saw it. He went up the field looking for the ball. I got it to him. It's one of those tough situations, third-and-10. They're thinking you're going to throw it short for a lot of those and we'd have to kick a field goal to tie the game. It was really just a great job by him recognizing it and making the guy miss and get the touchdown. You're kind of just hoping it'll be close, maybe he'll fall forward and get the first down. You're not really thinking of a touchdown on that play. But sure enough he did a good job."
"It's important to be on the same page as the quarterback, and Eli and I were both able to see the pressure coming," Boss said. "I was able to read it hot, and he threw me a pretty easy ball and I had some room to run."
The Giants had tied the score early in the fourth quarter on Manning's 26-yard touchdown pass to Mario Manningham and Ahmad Bradshaw's run for the two-point conversion (their first since 2008).
On second-and-seven, Manningham caught a pass on the left side, took a couple of steps and dove into the end zone.
"It was cover two," said Manningham, who also had a big 18-yard catch to help set up Boss' game-winner. "I converted my route and the safety was falling in. I guess he looked at Eli's eyes the first time and looked backside, and when his eyes looked to the other wide receiver on the other side, I just went around the corner and just sat there and caught it down by the sideline."
The score successfully concluded an 88-yard drive that was completed in only five plays. Boss caught passes of 17 and 25 yards and Brandon Jacobs ran for 17 yards on the series.
After Manningham's touchdown, Josh Scobee regained the lead for Jacksonville with a 42-yard field goal. After the team exchanged punts, the Giants embarked on the game-winning 69-yard drive.
The Jaguars had a chance to win the game and drove from their own 27 to the Giants' 29. But Garrard was sacked on Jacksonville's last three offensive plays, including a third-and-25 on which he lost a fumble that was forced by Thomas and recovered by Antrel Rolle.
"We didn't play the first half the way we wanted to," Rolle said. "We were playing pretty sluggish and didn't give our offense any help at all. But we just came out the second half and buckled down. Our confidence level never changes. We know what we are capable of doing. Confidence never left our side. We have some injuries, but so does every other team in the NFL. We know we have to pick up the pace in a lot of areas. And we can still be a dominant force. Offense and defense came together when we had to and we held them to three points in the second half. "
Tynes also kicked field goals of 22 and 29 yards for the Giants.
The Jaguars, 6-5, scored on touchdown runs of five yards by Rashad Jennings and Garrard and Scobee field goals of 22 and 42 yards.
Three long scoring drives, two of them ending with touchdowns, helped give the Jaguars a 17-6 halftime lead. Jacksonville enjoyed a time of possession advantage in the half of 18:34-11:26.
Garrard's touchdown run – officially a five-yarder, but he covered much more ground than that – increased the Jaguars' lead to 11 points with just 19 seconds remaining in the half.
On third-and-goal from the five, Garrard dropped back, surveyed the field and started running right. He stepped out of Umenyiora's tackle attempt at the 13, reversed his field and weaved though the defense before crossing the goal line near the left hashmark.
The touchdown capped a 13-play, 71-yard drive that included Garrard completions of 15 yards to Jason Hill and 14 yards to Mike Thomas and Jennings' 13-yard run. A 10-yard pass to Thomas gave Jacksonville a first down at the Giants' five. After throwing two incomplete passes, Garrard kept the ball and scrambled in for the score.
Tynes' second field goal, a 29-yarder with 5:34 remaining in the second quarter, had pulled the Giants to within 10-6. The Giants had a touchdown on the drive on a Manning pass to Manningham, but it was nullified by Boss' holding penalty. The 64-yard drive included Bradshaw's 27-yard run and Manning's 29-yard pass to Travis Beckum, which gave the Giants a first down at the Jaguars' 16-yard line. Bradshaw's run advanced the ball to the nine. But Boss' holding penalty pushed them back 10 yards and the Giants got back only to the 11-yard line before Tynes was summoned.
Scobee's 22-yard field goal gave the Jaguars a 10-3 lead with 9:11 remaining in the second quarter. Before the kick, Jacksonville traveled 85 yards in 15 plays, including Maurice Jones-Drew's 15-yard run and Garrard's 16-yard pass to tight end Marcedes Lewis, which gave the Jaguars a first-and-goal at the seven. A false start penalty pushed them back to the 12. After Jones-Drew gained eight yards on third down, Scobee came on to kick the field goal.
Jennings' five-yard touchdown run up the middle gave Jacksonville a 7-3 lead with 4:44 remaining in the first quarter. On first-and-goal, Jennings took a handoff from Garrard and powered his way through the center of the Giants defense for the score.
Jacksonville drove 75 yards in nine plays, including runs of 23 yards by Jones-Drew and 19 yards by Jennings on the play immediately preceding the touchdown.
Tynes' 22-yard field goal just 5:54 into the game gave the Giants a 3-0 advantage and their first points on an opening offensive series this season. In their first 10 games, they had punted five times and committed five turnovers on their first possession.
Jacobs' eight-yard run set up a third-and-two at the three. The Giants lined up in a shotgun formation and gave the ball to Bradshaw, who was stopped immediately for a two-yard loss.
The drive also included a successful challenge by Tom Coughlin on what was first ruled a fumble by Derek Hagan at the Jaguars' three-yard line. After review, referee Terry McAulay ruled the pass incomplete and the Giants kept the ball at the Jacksonville 11. Jacobs ran for eight yards on the next play.
The game's first play was a 15-yard Manning pass to Hagan. Three plays later, Manning connected with Manningham for a 17-yard gain.