EAST RUTHERFORD, NJ - It wasn't as dominating, efficient or esthetically pleasing as their last two performances, but the Giants both made and prevented enough big plays to defeat the Detroit Lions Sunday in the New Meadowlands Stadium, 28-20.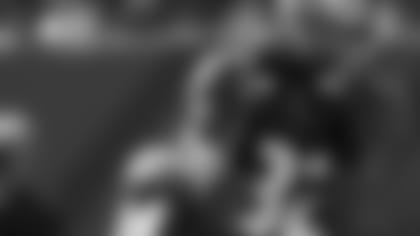 The Giants' third consecutive victory improved their record to 4-2 heading into a Monday night game next week at Dallas. The Lions fell to 1-5. They tied their own league record with their 24th consecutive road loss. Detroit, the most penalized team in the NFL, was flagged 11 times for 91 yards.
"Sometimes wins aren't going to be pretty," defensive end Justin Tuck said. "We spoiled ourselves the last two weeks and had great runs, but today it was something that we needed to do and we found a way to get it done."
"A win is a win" tackle Kareem McKenzie said. "They won't all be pretty. They won't all be the exact way that you would plan them out, but if you come away with a win, you can take something from it and build on it."
In their previous two games, the Giants overwhelmed Chicago and Houston by a combined score of 51-13. Those games were never in doubt in the fourth quarter.
This one was. Though the Lions played most of the game with their third-string quarterback, they pulled to within four points on an 87-yard touchdown pass and later within eight points on a 50-yard field goal that was set up by a 58-yard kickoff return and they had one last shot to tie the game after the Giants couldn't get a first down on their final offensive series. But Antrel Rolle's interception of a Drew Stanton pass with seven seconds remaining ended the suspense.
"Guys were tired, and they were keeping the ball moving with the quarterback scrambling and guys would find little open areas," Rolle said. "Through it all, everything is not going to come easy. We know that, but we stayed together as a team and came out victorious.
"It was a great feeling, a great feeling. Our team was fighting all day, and we knew it was going to be a fight going into this game. We were able to keep our composure, keep our foot on the pedal and drive forward."
Eli Manning threw touchdown passes to Mario Manningham and Travis Beckum (the first of his career) and Brandon Jacobs ran in for two scores for the Giants.
Detroit scored on touchdown receptions by Calvin Johnson and Nate Burleson and two Jason Hanson field goals, both 50 yards long. The Lions played the end of the first half and the entire second half with Stanton at quarterback. Starter Matthew Stafford missed his fifth consecutive game with a shoulder injury. His replacement, Shaun Hill, suffered a fractured left (non-throwing) forearm on Detroit's final offensive series of the second quarter and did not return.
The stadium went silent in the fourth quarter when Detroit linebacker Zach Follett was strapped to a board and carted off after suffering an injury covering a kickoff. The Lions later announced that there was no evidence of a fracture of the cervical spine and that Follett had movement in all four extremities. He was to remain at Hackensack Medical Center in New Jersey Sunday night for further tests and evaluation.
The Giants seemed to be well in control before the game started getting tense early in the fourth quarter. A 21-10 lead was cut to four points when Johnson scored on a shocking 87-yard touchdown pass from Stanton with 13:17 remaining in the game.
On third-and-10 from the Detroit 13, Stanton threw down the left sideline to Johnson, one of the NFL's elite receivers. Johnson leaped high and came down with the ball at about the Giants' 40-yard line. Cornerback Terrell Thomas slipped and fell down, giving Johnson a clear path to the end zone. Rolle gave chase, but there was no way he was going to catch the speedy Johnson.
It was the longest touchdown pass thrown against the Giants since Jan. 2, 2000, when Dallas' Troy Aikman threw a 90-yarder to Jason Tucker.
"It was two-man coverage, and I should have definitely stayed over top of Terrell coming," Rolle said. "I thought he had an interception on that play, so I kind of concentrated on not hitting him. As a safety, I have to stay on top of that play, and I have to make that play."
Three consecutive punts (two by the Giants) followed. Detroit took possession at its own 13 with 8:23 remaining. The Giants almost got the ball back on first down, when Osi Umenyiora picked up his second sack and forced fumble, but the Lions recovered. The Lions soon reached the 50-yard line, where it was third-and-five. Stanton threw to Burleson, who picked up eight yards and a first down. But when he was hit by Deon Grant, Burleson fumbled and Grant recovered at the Giants' 42. Grant appeared to be the only player on the field who realized the ball was loose.
"I knew it was out," he said. "I knew it was out because their sideline was yelling it, and I felt him underneath me moving. I was like, 'He's already tackled. He doesn't need to be trying to move. The ball must be out.' But I couldn't find it, and then when I finally saw it I just reached over and got it."
"It's a great play by Deon," Tuck said. "He came upfield in the gap and the guy had an open field tackle, made a great hit on him and caused the fumble and got the recovery. I think that was the turning point in the game because they had just made that big play to Calvin, and they come back and they end up driving the ball and we get that turnover. It took a lot of their steam away, and obviously it shows that that team is never going to quit because they came back on the next drive and started getting some stuff going again, too. So our safeties did a great job - him and Antrel as far as ending the game for us and making big plays to get us off the football field."
The Giants quickly took advantage of the takeaway. Ahmad Bradshaw (133 yards on 19 carries) ripped off a 45-yard run on first down. "We had been knocking on the door all day and we ran that weakside play to Ahmad and he just hit it and got some huge yards at a very important part of the game," said center Shaun O'Hara, who returned after missing three games with ankle and Achilles injuries.
Jacobs did the rest, running for seven yards and then six for the touchdown and a 28-17 lead with 3:24 remaining.
But the game was far from over. Stefan Logan's 58-yard kickoff return to the 40 set up Hanson's second 50-yard field goal, which made it a one-score game at 28-20 with 2:50 remaining.
The Giants went three-and-out and Detroit took possession at its own 14 with 2:18 remaining and no timeouts.
"We were not going to allow them to get a touchdown – we felt very confident in that fact," Tuck said.
The Lions got as far as the Giants' 38-yard line, but Rolle picked off Stanton to seal the game.
A takeaway by the Giants' defense on the opening series of the second half set up Beckum's first career touchdown.
Stanton dropped back to pass on a third-and-eight from the Giants' 38-yard line. Umenyiora, as he has done so many times before, reached out and knocked the ball out of the quarterback's hands. Umenyiora was credited with an eight-yard sack and a forced fumble, which was recovered by Tuck at the Giants' 43.
It took the Giants eight plays to cover the 57 yards to the end zone, and they received help from the heavily-penalized Lions. Manning started the drive with passes of 14 yards to Steve Smith and 25 yards up the middle to tight end Kevin Boss. Manning then threw to Hakeem Nicks, who drew a pass interference penalty from cornerback Alphonso Smith, giving the Giants a first down at the Detroit eight-yard line.
On third-and-three from the three, another Manning pass to Nicks fell short. But defensive end Cliff Avril was flagged for unsportsmanlike conduct, giving the Giants a first down at the one. On the next play, Ashlee Palmer was penalized for defensive holding, giving the Giants another first down. Jacobs got nowhere on two runs into the line. But on third down, Manning threw to the front of the end zone to Beckum, who gave the Giants a 21-10 lead with 6:43 remaining in the third quarter.
"I blocked the defensive end and came across, even though it was real crowded in there," Beckum said. "I kind of got twisted around a little bit, but luckily I was able to get back out there in the route. I was able to catch a real good ball from Eli. He put it right where it needed to be. I think it was a good call, because I felt they knew we were going to go play action but we were still able to successfully execute it for a touchdown."
Hanson's initial 50-yard field goal on the final play of the first half cut the Giants' lead to 14-10. On their 14-play, 48-yard drive, the Lions overcame the loss of Hill and penalties of 15 yards (personal foul) and 16 yards (intentional grounding).
Shortly before he left the game, Hill connected with Calvin Johnson for a 22-yard gain on third-and-five. That advanced Detroit into Giants territory at the 40. Kevin Smith's 10-yard run and the penalty on guard Stephen Peterman pushed the Lions back to the 45. On fourth-and-one from the 36, Stanton's play action fake set up his three-yard pass to Tony Scheffler. Stanton's intentional grounding penalty moved Detroit back to the 49, but the quarterback connected with Calvin Johnson for 11 yards and Bryant Johnson for six more to get within Hanson's range.
Manning's 33-yard touchdown pass to Manningham gave the Giants a 14-7 lead with 3:14 remaining in the second quarter. On third-and-four, Manning fired a perfect pass down the center of the field to Manningham, who was a step in front of cornerback Jonathan Wade when he caught Manning's throw in stride at the goal line.
"It's a play that we have been working on successfully in practice all week," Manningham said. "We knew we wanted to go to it when the time was right. Coach dialed it up at the right time and Eli put the ball where it needed to be. I got my hands on it and made the catch."
The score concluded a 93-yard drive that was the Giants' longest since they had a 94-yarder in a victory over Oakland on Oct. 11, 2009. Aside from the touchdown, the longest plays on the series were Bradshaw's 15-yard run and Manningham's 14-yard catch. The Giants had a first down on the Detroit 39 after Bradshaw's 11-yard run. A pair of three-yard gains (Manningham's reception and Bradshaw's run) set the Giants up for Manning's touchdown pass.
The Giants tied the score at 7-7 on Jacobs' four-yard touchdown run with 1:30 remaining in the first quarter. On first-and-goal from the four, Jacobs took a handoff, followed a block by Bear Pascoe and scored his third touchdown of the season.
The touchdown capped a five-play, 40-yard drive that followed a Lions punt. The series began with Manning's 20-yard pass down the middle to Smith. Three plays later, Smith's diving 11-yard reception gave the Giants a first down on the Detroit four. Jacobs scored on the next play.
The Lions took an early 7-0 lead on a short drive of their own, a 43-yarder that was set up when Matt Dodge dropped the ball as he was about to punt. Dodge was credited with a fumble that was recovered by Lawrence Jackson. Rookie running back Jahvid Best accounted for 21 of the yards on the drive. Burleson scored the touchdown when he got a step on Thomas on the left side of the end zone and hauled in Hill's pinpoint pass.