HOUSTON - The date was 10/10/10, so the day had to belong to Eli Manning.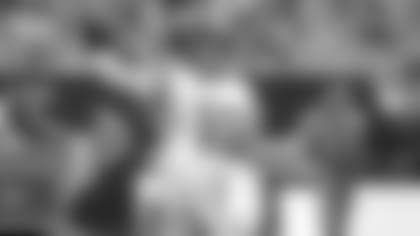 The Giants' quarterback – No. 10 on your roster – threw three touchdown passes and the defense turned in another dominant performance as the Giants scored the game's first 21 points and rolled to a 34-10 rout of the Houston Texans Sunday in Reliant Stadium.
The victory was the Giants' second in a row and improved their record to 3-2. They host the Detroit Lions next week.
"We talked about having to play better, we talked about having to improve," Coach Tom Coughlin said. "We talked about this being a very important game, that we did rise in our performance. We did show the quality of our team in all three phases, the way we might be able to operate together. So hopefully we're in that direction."
The Giants have won back-to-back games for the first time since their 5-0 start in 2009.
"It's a nice feeling, (we) kind of forgot that feeling a little bit," Manning said. "It's good to get on a win streak. The past few years, we'd have a good streak going where we'd get a few in a row and hopefully we can keep that going."
Manning, who passed for 297 yards, threw two touchdown passes to Hakeem Nicks – a six-yarder in the first quarter and a 12-yarder in the second – and added a four-yard touchdown pass to Steve Smith in the fourth. Brandon Jacobs scored on a short run and Lawrence Tynes kicked field goals of 45 and 42 yards for the Giants.
"Hakeem ran a couple great routes, making guys miss and we had some good schemes, we played really well," Manning said. "We stayed in good rhythm, we didn't have a whole lot of negative plays, moving backwards and penalties."
Nicks had a career-high 12 catches for 130 yards midway through the fourth quarter. The 12 receptions ties Amani Toomer's franchise record for catches by a wide receiver. Nicks almost scored four touchdowns. He stepped out of bounds on the one-yard line on a play on which it appeared he would cross the goal line and he dropped a wide open bomb from Manning up the left sideline in the second quarter.
"I took my eyes off it trying to get to the end zone," Nicks said. "I saw all that green grass trying to get there."
Houston scored on former Giant Derrick Ward's one-yard touchdown run and Neil Rackers' 38-yard field goal.
For the second week in a row, the defense was in charge. Last week, the unit held the Chicago Bears to 110 yards and six first downs. And registered 10 sacks. On Sunday, it made the NFL's top-ranked rushing attack all but disappear. Houston had entered the game with league-high averages of 172 yards a game and 5.5 yards per attempt. Against the stifling Giants' D, the Texans managed only 24 yards and a puny 1.6-yard average. Arian Foster, who led the NFL with 134.3 yards a game, carried 11 times for just 25 yards with a long gain of nine yards.
"We knew we could come out here and make this team our mission," defensive end Justin Tuck said. "That's when the sacks come (the Giants had three on Sunday). I think a lot of people thought because of last week we were going to come out here and get 10 sacks again. We knew coming into this football game they were the number one rushing attack in the NFL and their scheme is so potent. Sometimes it really doesn't matter who they put back there. Arian is a guy that's built for that zone scheme. Today it was a focus of ours and we did a really good job of shutting it down. After that it allowed us to get some pressure on the quarterback."
The Giants simply would not let the Texans do to them what they had done to other teams. Houston had made a living this season on cutbacks. But every time Foster and Co. tried it on Sunday, a defender or two or three was there to greet them.
"We saw against some of the other teams they just gash you, so everyone had to be disciplined and maintain their lane integrity," said defensive end Osi Umenyiora, who also had two sacks. "I think everybody did a pretty good job of that."
"We did a good job with that," Coughlin said. "We had worked real hard on that; we felt pretty good going in. I had studied some teams that had a little bit of success, nobody really shut them down, they had over 100 yards against everybody. But we did a good job. We maintained our gaps. We didn't over-penetrate. We didn't give them the big cutback lanes; we stayed at home. We seemed to always have an extra guy hanging over on the back side. The safeties did a good job coming down and attacking."
Tynes' second field goal, a 42-yarder with 1:22 remaining in the third quarter, increased the Giants' lead to 27-10. With momentum swinging toward Houston after the Texans scored a touchdown, the Giants moved 47 yards in 10 plays prior to the kick. The longest plays of the drive were Manning passes of 14 yards to Nicks and 10 yards to Steve Smith.
In the fourth quarter, the Giants took 5:12 off the clock on a 73-yard drive that began with Manning's 45-yard pass to Smith and ended with a four-yard touchdown to the record-setting receiver.
The Giants' season-long problem of turning the ball over helped Houston pull to within 24-10 with seven minutes remaining in the third quarter.
On third-and-15 from the Giants' 15-yard line, Manning's pass to the left side for Mario Manningham was intercepted by rookie cornerback Kareem Jackson, his first career pick. Jackson returned the ball to the Giants' 17. Houston covered that territory in just two plays, a 16-yard pass to Andre Johnson and a one-yard score by Ward, the former Giant.
Earlier in the quarter, Osi Umenyiora sacked Matt Schaub and forced a fumble that was recovered by Justin Tuck, who returned the ball to the 47-yard line. But three plays later, Manning's pass for Travis Beckum was intercepted by Sherrick McManis – also the first of his career.
The Giants jumped out to a 21-0 lead and owned a 24-3 advantage at halftime. It was their largest lead and highest point total after two quarters since Dec. 21, 2009, when they led Washington at the half, 24-0.
In the half, Manning completed 15 of 22 passes – including 11 in a row – for 175 yards and the two touchdowns to Nicks, who had seven receptions for 97 yards in the first two quarters.
The Giants' onslaught started on their second possession, when Nicks' six-yard touchdown reception capped an eight-play, 85-yard drive. On first-and-goal, Manning threw to the left side for Nicks, who caught the ball despite tight coverage by Jackson and just stepped inside the pylon.
The drive included Manning passes of 19 yards to Kevin Boss and 15 yards to Nicks.
The Giants got the ball back three plays after the touchdown, when Corey Webster stepped in front of wide receiver Andre Johnson and intercepted Schaub's pass at the Texans' 40-yard line. They covered the distance in only four plays, the longest a 27-yard pass to Nicks, who stepped out of bounds at the one-yard line. On the next play, Jacobs powered his way over right guard and into the end zone for a 14-0 lead.
It was the Giants' largest lead after one quarter since they were ahead of Oakland by the same score on Oct. 11, 2009. That was also the last time the Giants scored at least 14 points in the opening quarter.
It took the Giants a little more than four minutes to add to their lead. After Jacobs' touchdown, Houston went three-and-out. The Giants took possession at their own 45-yard line. Manning opened the drive with three consecutive passes to Nicks that gained 16, seven and 14 yards, the latter on the first play of the second quarter.
Three plays later, on third-and-four from the 12, Nicks was alone when he caught Manning's pass in the back of the end zone for a 21-0 Giants lead just 2:04 into the quarter.
"Our offensive line did very well," said Manning, who was not sacked in a game for the first time in a year. "Their defensive front is very talented. Their guys can get to the quarterback. We did a good job blocking up, getting the ball out quickly at times when we needed to, being able to throw it short and having receivers make plays down the field, making guys miss. It was a good mix, a combination of a number of things. We had a great plan. For a team you don't play very often, you watch a lot of film, try to get their tendencies down and figure out what would work against them."
The Texans started with favorable field position on their next offensive series when Brian Jackson was penalized for a horse collar tackle on Steve Slaton on the kickoff, moving the ball to Houston's 45-yard line.
Schaub passes of 13 yards to Owen Daniels and 10 yards to Kevin Walter moved the ball to the Giants' 20-yard line. But on third-and-seven, Schaub's throw to Joel Dreessen fell incomplete, and Rackers put Houston on the board with a 38-yard field goal.
An exchange of punts left the Giants with possession at their own three-yard line with 4:11 remaining in the half. But they quickly climbed out of the hole as Ahmad Bradshaw ran three times for 24 yards and Smith caught two Manning passes for 22 yards, moving the ball out to the 49 at the two-minute warning.
Bradshaw's five-yard run and two Manning throws to Boss that gained 14 yards – plus a defensive holding penalty on Glover Quin – advanced the Giants to the 27. Tynes, with new holder Sage Rosenfels spotting the ball, kicked the 45-yard field goal that increased the Giants' halftime lead to 21 points.