SEATTLE - The answer to the question of whether the bye week would arrest the Giants' momentum is a resounding no.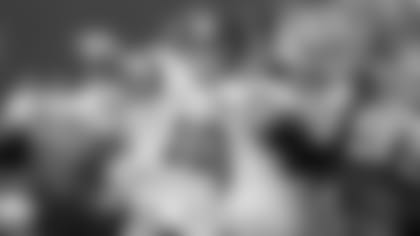 Turning in one of their most complete and dominant performances in memory, the Giants Sunday stormed to leads of 21 points after one quarter, 35 points at halftime and 41-0 in the third quarter and crushed the Seattle Seahawks, 41-7, in Qwest Field.
It was the Giants' largest margin of victory on the road since a 41-7 triumph at Washington on Oct. 10, 1993.
The Giants won their fifth consecutive game and reached the midseason with a 6-2 record. They triumphed for the third season in a row after their bye.
"Today, it was the idea that we came back from the bye and played well," said Coach Tom Coughlin, whose team hosts Dallas next week. "That's something that's always on your mind.  I thought that was a good thing.  I thought our players really approached the game well. I thought on Monday they really came to work ready to go. That's what I was looking for, and that's what they gave us."
The victory was the Giants' first in Seattle since 1981. They had lost here in 2005 when they incurred 11 false start penalties and missed three potential game-winning field goals, and in 2006, when they fell behind, 42-3. The crowds in Seattle are usually among the NFL's loudest and the Seahawks honor their fans by calling them the 12th man and hanging a flag in their honor. But midway through the third quarter the 12th man had pretty much deserted the stadium. The Giants were flagged for only two false starts, both in the second half.
"The only way to calm down their crowd noise is to move the ball, get first downs and get the crowd out of it and that's exactly what we did today," said Manning, who completed 21 of 32 passes for 290 yards, three touchdowns, no interceptions and no sacks. "They take great pride in their crowd noise, so it's always going to be a little loud. But we never gave them an opportunity (to cheer). Usually, the crowd gets really loud on a second down and they get a sack and then you have a third and long and they're all hyped up.  But we were trying to stay moving the ball – a lot of third and shorts – and we never gave the crowd a whole lot to cheer about. That's what you want to do offensively – don't give them anything to cheer."
"We talked about starting fast, and we did it," Coughlin said. "I thought that was very good.  We haven't had a lot of success here, so it was nice to be able to come here and win. I thought our guys handled all that went with the environment, the noise and all those things, very well."
Manning threw touchdown passes to Hakeem Nicks, Steve Smith and Kevin Boss, while Ahmad Bradshaw scored on runs of two and four yards. The Giants scored their touchdowns on five consecutive possessions spanning the first and second quarters.
Lawrence Tynes kicked field goals of 25 and 20 yards in the third quarter to complete the Giants' scoring.
The Seahawks fell to 4-4 and lost for the first time in four home games this season. Their only score was a 36-yard touchdown pass from first-time NFL starter Charlie Whitehurst to Ben Obomanu with 13:34 remaining in the game – long after the outcome had been decided.
After Seattle's touchdown, the Giants, with backup Sage Rosenfels at quarterback, embarked on a 19-play drive that consisted entirely of running plays and took exactly 13 minutes to complete. The Giants advanced to the six-yard line, but Rosenfels took a knee on the final three plays of the series.
"I'm used to us playing all the way to the end," Smith said. "These past few away games – at Houston we got a big lead, and it's been comfortable. It's good to get other guys in there."
The Giants reshuffled their offensive line in response to center Shaun O'Hara's absence. O'Hara missed the game with a sprained foot. Rich Seubert moved over from left guard to play center, David Diehl slid over from left tackle to play guard and Shawn Andrews made his first start as a Giant and the first of his career at left tackle. Because of injuries to Diehl and Adam Koets and Kareem McKenzie's brief equipment issue, Diehl briefly played right tackle, Seubert took some snaps at guard and Koets and rookie Mitch Petrus also played.
"It's not the first time I ever played center," Seubert said. "The good thing is I had Shaun O'Hara in meetings, coaching me up. Whatever the coaches think gives us the best chance to win, that's what we're going to do. It was fun. It was fun to be out there playing and playing the way we did."
The shuffling did not hinder the Giants, who thoroughly dominated the game. They owned huge advantages in total yards (487-162), offensive plays (79-37), time of possession (42:34-17:26) and first downs (30-8). Seattle managed only 49 rushing yards and Whitehurst completed 12 of 23 passes for only 113 yards. Whitehurst wasn't sacked, but he and the rest of the Seahawks' offense were constantly under siege.
"We show on film that we're pretty good at getting after the quarterback, so they came in early and made sure we weren't going to have the opportunity to get after him," defensive end Justin Tuck said. "He was doing a lot of three-step drops and (they used) a lot of max protection. He was getting the ball out of his hands real quickly. Our focus turned from there to disrupting their wide receivers. Our secondary did a good job of changing guys' routes and making sure their timing was off. We did a good job of stopping the run. It was a complete team effort. My hat is off to each and every individual on this football team, offense, defense and special teams."
Three first half turnovers by Seattle helped the Giants build their 35-0 lead. It was the Giants' largest halftime advantage since they led Washington, 38-0, on Nov. 29, 1959. The Giants had last scored 35 points in a first half at Houston on Dec. 8, 1985 and 35 points in any half since playing vs. Arizona on Sept. 11, 2005 (35 in the second half).
The Giants owned a three-touchdown advantage when Terrell Thomas intercepted Whitehurst's pass in the end zone on the first play of the second quarter. Whitehurst threw to Mike Williams, who had the ball bounce off his hands and then his helmet before Thomas grabbed it and returned it to the Seattle 27-yard line.
The Giants covered the 73 yards in 11 plays, including Manning's six-yard touchdown pass to Smith, who also had a 17-yard reception on the drive. Nicks had a 22-yard reception and Brandon Jacobs ran for 21 yards in the series.
"Steve had a little underneath route," Manning said of the touchdown. "They didn't have a whole lot of defensive linemen, so there were three down and they went with their kind of Tampa 2 (coverage) and he had a little underneath route and caught it, made a guy miss and got in the end zone. It was a good play by him."
Smith, who wears jersey No. 12, ran to the wall behind the end zone to stand next to the 12th man banner hanging on the wall. A fan promptly doused him with beer.
"I think it was Miller Lite or something like that," Smith said. "I tasted a little bit. I was posing with No. 12, but the guy messed it all up for me. Right when I scored I just saw it."
Seattle held the ball for nine plays on its next possession, but the result was the same as its previous drive – an interception. This time, Whitehurst's pass was picked off by at the 12 by Corey Webster, who advanced the ball two yards. Manning's 32-yard pass to Mario Manningham was the longest play on an 86-yard drive that ended with a five-yard touchdown pass to Boss, his first score of the season. That gave the Giants their 35-0 halftime lead.
"I looked up at the scoreboard just before the half and it was 35-0 and I said, 'Wow, we're playing pretty well,'" Boss said. "Every time we touched the field we were all confident we were going to score a touchdown. People always talk about teams coming off the bye and how they're not going to play well. So it was nice to be able to come real strong and play a great game overall – offense, defense and special teams. Hopefully, we're going to keep this thing rolling."
The touchdown was particularly meaningful to Boss, who played near his Oregon hometown for the first time as a pro. He was one of the Giants' game captains and had approximately 100 relatives and friends in attendance to watch him play.
"It felt real good – it was pretty special for me to be able to do that," Boss said. "I wanted one pretty bad today. So I was pretty excited to be able to do that in front of my family and friends."
"I was scrambling right and just kind of saw him working the back of the end zone," Manning said. "(He's) 6-7, so I just threw it high and he did a good job of going up, making the catch and getting his feet inbounds. It was really just a great play by him."
In the third quarter, Tynes kicked two field goals for a 41-0 lead – it was the first time the Giants scored the first 41 points in a game since a 53-0 victory vs. Washington on Nov. 5, 1961.
The Giants established their dominance by jumping out to a 21-0 lead in the first quarter. Bradshaw scored two touchdowns and Nicks one in the early onslaught.
It was the first time the Giants scored 21 points in a first quarter and it was their first 21-0 lead in a first quarter since Dec. 15, 2002 vs. Dallas.
The surge began on the Giants' second possession, when Bradshaw's two-yard touchdown run up the middle capped a 52-yard drive. The series started with Manning's 13-yard pass to Bradshaw. It stayed alive when Marcus Trufant was penalized for pass interference on a pass to Nicks that fell incomplete, giving the Giants a first down at the Seahawks' 22-yard line. Manning passes of nine yards to Bradshaw and eight to Manningham helped set up the score.
Seattle went three-and-out on its next series and the Giants took possession on their own 37-yard line following a punt. They needed only four plays to cover the 63 yards, including Manning's 46-yard touchdown pass to Nicks, who had a step on rookie safety Earl Thomas and made a diving catch at the goal line for his ninth touchdown of the year. It was Nicks' longest reception since a 68-yard touchdown catch vs. Philadelphia on Dec. 13, 2009. His previous long this season was a 31-yarder at Indianapolis on Sept. 19.
"Man coverage, we were in a three tight end set," Manning said of the touchdown. "(We) did play-action, had Boss on a little crossing route. Their rookie safety is a good player, but like a lot of good safeties who get a lot of interceptions, they get a little nosey. They'll start cheating on the crossing route to Boss. He didn't take it away but he just sat enough.  He kind of saw it and he had his feet set and I took a shot and threw it over the top of him. Really not a great throw on my part but Hakeem did a great job of running it down, making the catch for the touchdown."
The Giants got the ball back thanks to a bizarre Seattle turnover on the ensuing kickoff. Travis Beckum forced a fumble by Leon Washington, who inadvertently kicked the ball up in the air. It was caught/recovered by Jonathan Goff, who returned it 22 yards to the Seahawks' four-yard line. On the next play, Bradshaw took a handoff and powered his way through the middle for his second touchdown and a 21-0 Giants lead.
"It's just a good feeling, the way we're playing and the way we're beating people," defensive tackle Barry Cofield said. "We're having success against the run, which to me is the key to success down the stretch in this league. And our ability to run the ball. With those two factors, if we can keep the turnovers and our penalties down, I think we can beat anybody in the league."