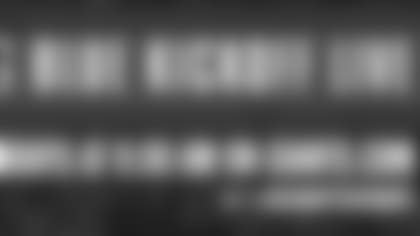 ](http://www.giants.com/bigbluekickofflive.html)
**
Super Mario II.** Wide receiver Mario Manningham, a hero of Super Bowl XLVI for his 38-yard reception that sparked the Giants' game-winning drive, has returned to Big Blue after two seasons with the San Francisco 49ers. He signed yesterday with the Giants, who originally drafted him in the third round in 2008. "Once a Giant, always a Giant," Manningham said. "That's how I feel. This is a very special place. I wanted to come back."
2. Holliday Road. The Giants added a dynamic return man in free agency with the signing of Trindon Holliday, who became the first NFL player to score multiple return touchdowns in a single postseason game for the Broncos in 2012. But he will go only as far as his ball security under Tom Coughlin, his new head coach. "We had the discussions already," Holliday said. "He said him and me were going to get real acquainted with ball security. I don't have a problem with that."
At 5-5, Holliday becomes the shortest player on the Giants' roster, but he's used to that. It only makes him faster. Just watch the LSU product winning the 2009 NCAA title in the 100-meter dash with a time of 10.0 seconds:
3. Boothe moves west with Tuck.
Free agent offensive lineman Kevin Boothe, who played the last seven seasons with the Giants and was a starter in Super Bowl XLVI, has signed with the Oakland Raiders, the team that originally drafted him in 2006. He joins defensive end Justin Tuck in Oakland as two former Giants starting new chapters in their NFL careers.
One of my favs, Kevin Boothe, passing thru #Quest to say goodbyes. A classy, wonderful man. Best of luck with @Raiders

— pat hanlon (@giantspathanlon) March 18, 2014
4. Bargain Hunters. NFL.com ranked the best free agents still available in the second week of the new league season. In order, the top five are: C Alex Mack (Transition), DT Henry Melton, TE Jermichael Finley, DE Jared Allen, QB Michael Vick.
5. Get the vote out. For those who don't know about it yet, Giants.com has launched its annual "Bracket Challenge" to determine the best play in franchise history. From the Frank Gifford-to-Charlie Conerly lateral in the 1958 Eastern Conference Playoffs to the Eli Manning-to-David Tyree catch in Super Bowl XLII, 89 seasons of Big Blue football have showcased some of the best feats of skill, strength, and determination the sport has to offer. Now you can decide which is the best of them all. Voting is now open on Giants.com. Below is a schedule of the event. Winners of each round will be announced on a week-to-week basis:
Quarterfinals: March 31-April 3
EISEN'S MAILBAG: Do you have a question for Giants.com's Michael Eisen? CLICK HERE*