1.** McClain earned the team's Ed Block Courage Award in 2013 as he returned to play after missing the final three games of 2012 (including the Baltimore Ravens' Super Bowl XLVII run) and the first six games of 2013 with a spinal cord contusion. He started all 10 games in which he played last season, recording 52 tackles and a forced fumble.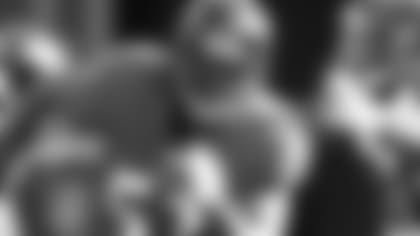 2014 Free Agency Central 2. He posted a career-high 91 tackles in his first year as a full-time starter in 2010. At 6-1 and 245 pounds, McClain has racked up 332 tackles, 4.5 sacks and an interception in 87 games throughout his seven-year career.
3. McClain established a franchise record with two safeties in a season as a rookie in 2008: sack of then-Oakland QB JaMarcus Russell and a blocked punt.
4. After a four-year career at Syracuse, he was the only rookie free agent to make the Ravens' 53-man roster in 2008. His college numbers include 170 tackles (82 solo), 21.5 TFL, 11.5 sacks, 3 FRs, 1 FF and 1 INT.
5. During his time in Baltimore, McClain forged a strong relationship with the Salvation Army Baltimore Area Command. McClain, who spent a period of his lifetime living out of a Salvation Army shelter, makes a conscious effort to give back to the organization, according to the Ravens' media guide. Annually, McClain hosts 53 Families, a Thanksgiving food drive, and kicks off the annual Red Kettle Campaign as its spokesperson.