1) The Giants rolled out Spencer Paysinger, Mark Herzlich, and Keith Rivers as their first-team linebackers to begin team drills. They were relieved by Aaron Curry, Dan Connor, and Jacquian Williams, followed by Kyle Bosworth, Etienne Sabino, and Jake Muasau on the third unit. Don't expect that to be set in stone as the depth chart could change any day, according to Spencer Paysinger. "So one person has a great day, he might be going with the ones," he said. "A person slips up a little bit, he might be going with the twos and threes."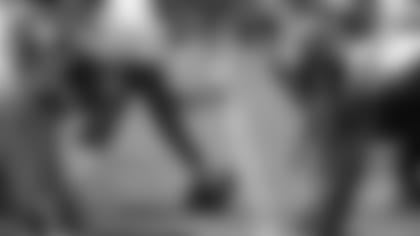 PHOTOS: CAMP PRACTICE GALLERY](http://www.giants.com/photos/photos/Practice---728/a9d9e151-8aa5-4dfb-84f1-2ca502277fd4) 2) Typical at the start of training camp, the reactions on defense were better than the offense. That was largely due to the secondary, specifically the cornerbacks. Aaron Ross and Trumaine McBride made great plays on deep passes, while Prince Amukamara came up with the only interception of practice – also on a long ball down the sideline.
3) First-round draft pick Justin Pugh opened up on the second unit at right tackle. David Diehl played with the starters, which included James Brewer taking reps at right guard in place of Chris Snee (PUP). Like all years, the mixing and matching in practice is greatest on the offensive line, which preaches versatility.
4) Missing the Giants' organized team activities this spring and following an injury-plagued 2012, Hakeem Nicks didn't seem like he missed a beat on Saturday. He hooked up with his two-time Super Bowl MVP quarterback Eli Manning a few times, including a one-handed grab and another leaping catch in the two-minute drill.
5) With seven players vying for two spots on the field, the competition at defensive tackle is one of the deepest on the Giants this season. Playing opposite of the incumbent Linval Joseph was veteran Cullen Jenkins, who signed with the Giants this offseason. Meanwhile, second-round draft choice Johnathan Hankins played on the second team.