1) Sam Madison continued his three-week stint as an assistant defensive backs coach. While the former Giant appears to have a great dialogue with all of them, he and Jayron Hosley seem to be establishing a close rapport. It paid off for the Giants' 2012 draft choice, who had a noteworthy practice. Hosley intercepted a pass and also broke free on a punt return. Yes, the Giants were still in shells, but it was enough to draw praise from the coaches and even punter Steve Weatherford himself. 
[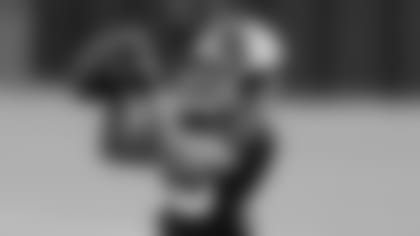 PHOTOS: TRAINING CAMP PRACTICE](http://www.giants.com/photos/photos/Giants-Training-Camp-Practice-7-29/63a7b246-4061-4afc-9a95-de37bbe15d7b)

2) Jacquian Williams had a very active Monday, taking some reps with the first unit. The linebacker made his presence known and swatted away a few passes, including a tipped one in red zone drills. We'll see if he keeps it up.
3) Wide receiver Louis Murphy, who does have 14 career rushing attempts for 146 yards (10.4 average) and a long of 43, took a reverse at practice on Monday. However, he pulled it back on this one and attempted to hit Rueben Randle in the back right corner of the end zone, but Corey Webster was there to knock down the pass.  
4) As to be expected from a rookie quarterback, Ryan Nassib had some good and some bad. Mixed in with a pair of interceptions were a couple of strong throws, including an out to Murphy on the sideline as the wide receiver fell but kept his feet inbounds.||
5) It's time for pads. You can dissect these practices down to the blades of grass, but it doesn't mean a whole lot until the pads come on. That begins tomorrow with the shoulder pads before full pads on Thursday. Even then, it will take preseason games to get a better idea.