1) The full pads came on for the first time this summer, and the best hit went to rookie defensive tackle Johnathan Hankins on running back Da'Rel Scott. Would you expect anything less from a guy nicknamed Big Hank? The second-round draft pick out of Ohio State was brought in to help the Giants' run defense, and he did so on Friday, stuffing the handoff to Scott. You keep seeing bits of the Giants' offseason game plan come to life in terms of personnel, and this is one of them.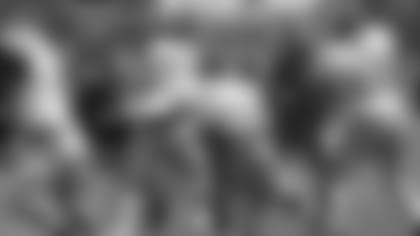 PHOTOS: Training Camp Practice](http://www.giants.com/photos/photos/Giants-Training-Camp-Practice---802/531cce58-8885-456d-9088-04b64ca7ee28) 2) On a day heavy with third-down installation, the Giants wrapped up practice No. 6 with the two-minute drill. Eli Manning, who could run it with his eyes closed, marched the first team down the field, completing passes to Bear Pascoe, Rueben Randle, Ramses Barden, Andre Brown, and Victor Cruz to put them in scoring position.
3) While the previous five practices at Giants training camp were littered with interceptions, Friday was a day of close calls and broken-up passes for the defense. Jacquian Williams made a good play going to his right to break up a pass, Charles James missed an interception right to him that went through his hands, and Junior Mertile made a leaping play to deflect a deep pass. But Trumaine McBride had the best of the day, making a nifty play and popping the ball out of the hands of Keith Carlos, who thought he had a catch on the sideline.
4) A few second and third stringers stood out today on both sides of the ball. Offensively, rookie running back Michael Cox has, "done some pretty good things on kickoff returns and today in 9 on 7 he had a couple good runs," according to Tom Coughlin when he was specifically asked about the seventh-round draft pick. Meanwhile, Justin Trattou and Adrian Tracy, both vying to move up in the defensive end rotation, drew praise from coaches during practice. Trattou made a play in the backfield, while Tracy picked up the right man in coverage on a broken pass play.
5) The absence of competition at his position hasn't made Josh Brown complacent one bit. The 11-year veteran kicker has looked strong and accurate all throughout camp, including kickoffs. On field goals today, he didn't work past the mid-40s in live drills, but he had plenty of distance as they went through the uprights. From the fieldhouse turf to the authentic grass on the outdoor practice fields, Brown is getting work on both surfaces – not that he needs to be introduced to either. He played in Seattle for five years, St. Louis for four, and a season in Cincinnati before coming to the Meadowlands.