1) If you're tired of reading about it, rewind to a year ago when you had your questions about him and you'll feel better: Prince Amukamara is putting it together. You can add a disclaimer saying it's only training camp and doesn't mean a thing until the regular season – that would be fair – but he's heading into Sept. 8 with a lot of confidence at this rate. He made one of his best plays on Saturday, tipping and swatting a pass out of bounds in the corner of the end zone. On the play, Eli Manning was trying to land one into the hands of Louis Murphy, but Amukamara, who stayed with him stride for stride, wasn't having it. Check out Giants.com later for the highlight.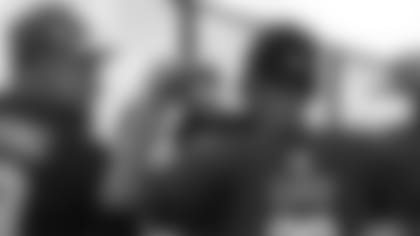 Best Fan Photos from Training Camp](http://www.giants.com/photos/photos/Best-Fan-Photos-from-Training-Camp/9b185a64-a598-4624-b7d2-5f1b76a84acd) 2) I was going to add this to the first note, but they deserved their own mention. The young defensive backs lower on the Giants' depth chart are having a heck of a camp as well. On Saturday, Jayron Hosley blanketed wide receiver Jerrel Jernigan on a crossing route to break up a pass from Eli Manning, and Laron Scott ended practice with an interception during the two-minute drill. Meanwhile, guys like Trumaine McBride, Junior Mertile, and Charles James keep making plays in practice. The first preseason game is a week away, and it'll be interesting to see how they fare.
3) The ones and twos had their cracks at the two-minute drill yesterday, but Saturday was the third team's turn with rookie quarterback Ryan Nassib leading the offense. That brought us to one of the top plays of the day. Mark Herzlich came down with an interception on an assist from fellow linebacker Kyle Bosworth, who got a hand on the ball first and flipped it in the air.
4) Larry Donnell is a name that keeps coming up in practice and in interviews. The tight end was brought up by Tom Coughlin the other day, and tight ends coach Mike Pope made it a point to mention him on Saturday when a reporter asked about Adrien Robinson during media availability. You saw a glimpse of why today. Donnell, a 6-foot-6, 269-pound target, who spent last season on the Giants' practice squad, showed good concentration and caught a nice ball in traffic from Curtis Painter. For a position that has a revolving door in their meeting room, the Giants find themselves with some quality at tight end.
"I do think we have, size-wise, the biggest group I've ever worked with," Pope said. "These guys are 278, 280, 282, and they can run fairly well. We haven't had that around here since I've been here. That's since 1982. We haven't had that size player. So that should add to our running game on the edge, and should enable us to block some of these defensive ends and some of these outside linebackers that are in this league now."
5) Rain in the area moved the Giants into the field house at the Quest Diagnostics Training Center. Out of seven practices so far, it was the second held indoors due to weather. Coughlin addressed it as one of the factors that the Giants decided to move training camp to East Rutherford from Albany, where there was not a full indoor facility.
"It was a big factor," he said before practice. "No doubt about it. However, it was one of the factors. That shouldn't be used in any kind of a way against the University at Albany. Mayor [Jerry] Jennings told me that if that was the case, they'd find a way to have one of these facilities there. The fact that the CBA and the way it's conducted today and the fact there's only one practice, that had an awful lot to do with it; at least the argument that was posed. I didn't make that decision. Naturally, Mr. [John] Mara and Mr. [Steve] Tisch made the decision, but that was the way that I would present it with the CBA the way it is in one practice."
Reminder: Sunday's practice is closed to the public because of the International Champions Cup Soccer doubleheader in MetLife Stadium. The players are off on Monday and the team will resume practice on Tuesday at 1:30 p.m.