1) "I see you 7-4." The full pads came on for the second time today, and it doesn't seem like a coincidence that once again defensive tackle Johnathan Hankins had a big practice. Head coach Tom Coughlin liked the Sunday thumping, especially during 9-on-7 drills, which are centered on the run game. When Hankins finished his set, defensive line coach Robert Nunn gave him a pat on the back, and Justin Tuck came over to give some love to the second-round draft pick out of Ohio State. The 13-year vet Shaun Rogers was also there for a hug. The rookie is cutting his teeth in practice with some team bonding going on. He also had a big hit on a kickoff return as the lead blocker, which will always put a rookie in the coaches' good graces.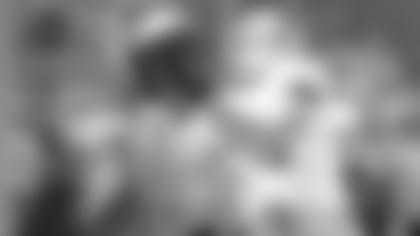 Photos: Training Camp Practice](http://www.giants.com/photos/photos/Giants-Training-Camp-Practice---804/8954d7c2-8815-48cc-b1c9-a50d4e376061) 2) The Giants held one-on-one passing drills again, this time from the goal line. They alternated between wide receiver vs. cornerback on the outside, and tight end vs. safety in the middle. No position group clearly won out, but the battles of the safeties going up against the tight ends were the ones to watch. Those matchups are important every week during the regular season, especially with the quality tight ends coming up on the Giants' schedule.
3) At camp, players do pushups as penance for mistakes during practice. A wide receiver will do them if he drops a pass. A defensive lineman will do them if he misses an assignment. A cornerback will do them if he misses an easy interception. Prince Amukamara falls into that last group, and he dropped down and gave himself 10 on Sunday for a missed opportunity when he broke up a pass intended for Kris Adams. But the only thing is it wasn't a gimme. He must be setting the bar high for himself or he just wanted an extra workout.
4) The coaching staff continued to test out different combinations on defense, notably with the linebackers. Dan Connor took some reps with the first team in the middle on Sunday. It's tough to read into it because defensive coordinator Perry Fewell moves players around a lot based on personnel. It's a fluid situation.
5) It was a long day for the offensive players, who had to listen to their head coach bark at them repeatedly for problems in the huddle. The defense also got a taste, but it was mostly the offense. Coughlin had a long day of his own after landing in the wee hours of the morning coming back from Bill Parcells' induction into the Pro Football Hall of Fame in Canton, Ohio. So Brandon Myers did everyone a favor and ended practice a little early with his long touchdown from Eli Manning on the first play of the two-minute drill. You can read more about that play and see wht TE Brandon Myers had to say: HERE