1. Center David Baas was waived/failed physical by the Giants. Neck and knee injuries became too much for the 32-year-old lineman, who started 30 regular-season and four postseason games for the Giants after signing with them in 2011.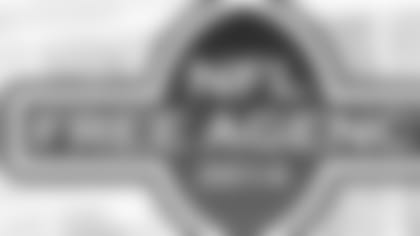 2014 Free Agency Central "The Giants have been absolutely fantastic," Baas said this week from his home in Florida. "They definitely have changed mine and my family's lives forever. Once we get the health issues taken care of, we'll go from there, and maybe there's another chance (to play). Coming back to the Giants, who knows?"
2. The Giants bolstered the offense. Big Blue inked three new players early in free agency: guard Geoff Schwartz, running back Rashad Jennings, and center J.D. Walton.
3. Schwartz said he will work at left guard initially. The 6-6, 340-pound former Kansas City Chief played in all 16 games last season with seven starts: six at right guard and one at left guard in addition to starting their Wild Card loss in Indianapolis at right guard. "I'm best at guard," Schwartz said. "I've played right guard lots in my career and I know that (Chris) Snee is still here, so I will be starting at left guard. I just feel more comfortable there. But I've played tackle, I started 11 games at tackle and played lots of other games at tackle, so I can do a lot of it. It's just nice to be able to come into a place where they want you in a position and you can kind of go from there."
4. They're back. The Giants announced new contracts with safety Stevie Brown, kicker Josh Brown, cornerback Trumaine McBride, running back Peyton Hillis, and quarterback Curtis Painter.
5. It's time to move on. Nothing lasts forever in the NFL, and the Giants parted with these free agents: defensive end Justin Tuck (signed by Raiders), defensive tackle Linval Joseph (Vikings), safety Ryan Mundy (Bears), tight end Brandon Myers (Buccaneers), and linebacker Keith Rivers (Bills).