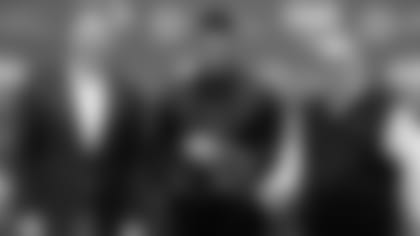 Former Giants GM Ernie Accorsi weighs in on the selection of running back Saquon Barkley:
A reporter asked Dave Gettleman in his press conference following the team's first-round selection for a Saquon Barkley comparison. He responded, "Call Ernesto."
He was referring to Ernie Accorsi, his former boss and only the second general manager inducted into the Giants Ring of Honor. And the player in question was the highest running back drafted in more than a decade.
"I think what he meant by that is, 'I'm not old enough. He's an old guy. He's seen more people than I did,'" Accorsi said on this week's "Talk of Fame Network" podcast.
In reality, Accorsi came to the same conclusion as Gettleman and also head coach Pat Shurmur – there is no comparison.
"What I said was I can't compare him to anybody because I've never quite seen someone at that size with, basically, sprinter speed," Accorsi said. "I've seen him get into space on the flank, either through a broken tackle or take a swing pass, where the defensive back had an angle on him, had an absolute angle on him at least to push him out [of bounds], and he kicks into another gear and runs by him. If it was touch football, they wouldn't even have gotten him. For a guy who's that thick and has legs that big and powerful, to have that kind of speed, it's rare."
That came from the mouth of a self-admitted "quarterback guy."
Accorsi oversaw one of the biggest moments in Giants' history 14 years ago, when the team acquired No. 1 overall pick Eli Manning in the 2004 NFL Draft. That was the last time the Giants held a top-five selection until this year.
Like Accorsi, Gettleman had a conviction on a player. Unlike Accorsi, that player was not a quarterback. Sandwiched between teams who took Baker Mayfield and Sam Darnold, the Giants went with the running back.
"The fallback position is the best running back I've seen come out of college probably in 20 years," Accorsi said. "I told Dave, I said, 'If you don't pick Barkley, it's a good thing the draft's in Dallas because if it was at Radio City, you're going to get booed.'
"I just thought that if they were going to commit to Eli for another couple of years, and given the talent they have on offense and given the fact that he has almost completely rebuilt the offensive line, it was a no-brainer to me. They can make a run. With that talent they have on offense, it's explosive – receivers, tight end who's as good as most receivers, an offensive line that has been vastly improved already that will protect Eli. I just think it was an ideal pick. He's a great player."
Accorsi, whose first job in the NFL was with the Baltimore Colts in the days of Johnny Unitas, bet the house on Manning and won. Gettleman obviously did not see that in the cards with this year's quarterback class.
"If you pick one that high, you can't have a minus," said Accorsi, who helped with the Giants' general manager search that led to Gettleman. "There are boxes of critical factors, and some of them are intangible and some of them are just feel on your part. But there's got to be a plus, or plus-plus at every box. If there's a minus, you're asking for trouble because you can go down the list of quarterbacks that were picked and basically graded by the curve. It's like you have a class and the best student in a difficult class is a 'C' student, you grade by the curve and you give him an 'A' – he's not an 'A' student."
While acknowledging that this quarterback class was by no means mediocre, Accorsi said he would have made the same pick as Gettleman. The choice could become even better if the team's fourth-round pick turns out to be an ace in the hole.
"The steal of their draft might be a quarterback -- Kyle Lauletta from Richmond," Accorsi said. "That kid walks into the Senior Bowl and I know the Senior Bowl is like an all-star game, and with all those big names, [he] walks away with an MVP award. The only thing he does not have is a howitzer, but neither did [Joe] Montana, neither did [Jimmy] Garoppolo, neither did [Tom] Brady when he came out. You can increase arm strength. But he's got everything else. He's got footwork. He's got the great release. He's a winner. He's taken teams down the field."
Speaking of taking teams down the field in big moments, Accorsi attended the Giants' Week 15 game against the Eagles at MetLife Stadium, where Manning went 37 of 57 for 434 yards, the fourth-highest total of his career, with three touchdowns. With no Odell Beckham Jr., no Brandon Marshall, no Justin Pugh and no Weston Richburg, the Giants came within one incomplete pass to rookie Evan Engram in the end zone of beating the eventual Super Bowl champions.
Gettleman said, "It was not a mirage."
Accorsi said, "He was as good as he's ever been."
"And the Eagles were playing for keeps at that point," Accorsi added. "I think he can still win. I don't rate quarterbacks by ratings or aesthetics. I mean, to me, can they win? Can they take a team down the field with the game on the line? And I think he can still do that."
But who will be able to do that when Manning no longer can? The Giants have now increased their odds of finding that player with the addition of Lauletta after drafting Davis Webb last year.
"They now have doubled their bet," Accorsi said. "They have two prospects, and they could hit on one of those two."