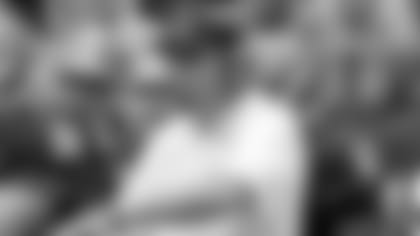 While former Syracuse head coach Doug Marrone tended to his first NFL draft, he couldn't help but keep an eye on where two of his pupils would land. 
The first didn't take long as his former offensive tackle Justin Pugh was drafted by the New York Giants with the 19th overall pick. But then the wait began for quarterback Ryan Nassib, who led the Orange to a bowl victory four months ago.
After the first night went by, so did the second and third rounds. By Saturday, however, the Giants had enough. They traded up for Nassib, selecting their second Syracuse player of the draft in the fourth round.
If it had to take 110 picks, Marrone was glad Nassib would again be coached by another Syracuse alum -- Tom Coughlin.  
"I'm not going to lie, I'm very happy. I really am," Marrone said Saturday in his post-draft press conference. "And I'm happier that they're in the NFC, that Ryan's in there. I'm extremely happy. I'm not going to lie. It's struggling and you go through it and it's human nature. We sit up here and we get in front of you guys. We say things and talk and you listen to things, but anyone that gets up here and says I don't listen to that or I don't have any feelings, in my opinion they're not telling the truth."
[BUFFALOBILLS.COM: MARONE GLAD NASSIB'S WITH COUGHLIN >>
](http://blogs.buffalobills.com/2013/04/28/marrone-glad-nassibs-with-coughlin/)Meanwhile, Pugh will also benefit under one of the most decorated coaches to come out of Syracuse. And vice versa. 
"Justin is a big part of this program turning the corner," Marrone said. "He came in with us four years ago and gave us everything he had. We are proud of him for earning his degree and for what he has accomplished on the field as a leader of this team. He has earned it. I believe he will be very successful at the next level and in everything he does outside of football. Justin will always be part of the Orange football family."