EAST RUTHERFORD, NJ - A honeymoon sprint on a Dubai beach gave Aaron Ross all the evidence he needed that 2010 would be a much better year for him on the football field.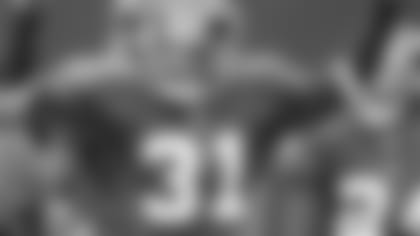 The Giants' quick and talented cornerback's 2009 season wasn't lost, but it was certainly hard to find. Ross' training camp hamstring injury refused to heal, limiting him to four games. Because Terrell Thomas had supplanted him as a starting corner, much of Ross' action was at safety, where he even started one game. Then he aggravated the injury and missed the final three games.
Following the season, Ross began rehabbing his leg to ensure he would be healthy this season. On Feb. 26, he married his longtime love, Olympic sprinter Sanya Richards. They flew almost 7,000 miles to their honeymoon destination, where Ross decided it was time to test his leg.
"I took a parachute to Dubai with me and put it on my back and we were out there training, getting ready because the following week we had to report to offseason workouts," Ross said. "I wanted to make sure I was completely healthy before I got there."
With the chute providing resistance, Ross ran 10 40-yard sprints.
"It was great," Ross said. "Sanya got it on film, so it was a nice feeling."
In essence, Ross hasn't stopped running since. He has participated in every training camp practice at the University at Albany, most often as the third corner in sub packages. But he has lined up with the starters this week because Corey Webster has been sidelined with a strained glute muscle.
Secondary/cornerbacks coach Peter Giunta said today the new Ross is an improved version of the pre-injury player.
"Absolutely," Giunta said. "He's better, and he's much more aware of things. Being around last year, at least he picked up things mentally, and he's very, very aware this year. You can tell it's his (fourth) year in the league, not just his second year."
Ross has also learned to enjoy the game more. A first-round draft choice in 2007, he played in 19 regular season and postseason games as a rookie and helped the Giants win Super Bowl XLII. The next year he started all 15 games in which he played and the Giants won the NFC East. Ross was expecting big things for him and the team entering his third season, but he was grounded early and never had an opportunity to soar.
Now that he's back doing what he loves, Ross is making sure he doesn't take playing football for granted.
"I appreciate it a lot more," Ross said. "Sitting back and evaluating last year, it was like torture. It really made me appreciate and love the game a lot more. Any given play, it can be taken away from you. Every play now, I'm enjoying it 100 percent. I'm enjoying film study, enjoying just being around the guys and being able to contribute to the team now. It made me love the game even more now after I was hurt the whole season last year."
Giunta said that response is common for players who are forced to spend an extended time period on the sideline.
"When there's a chance of losing out and not being able to play anymore," Giunta said, "they really want to get back in and contribute and play because you're taking something away from them that they love."
Ross said the secret to coming back was not changing his routine during conditioning, but after it.
"Basically I did almost the same workouts, I just took better care of my body as far as getting in the cold tub, stretching more, balancing my body out," he said. "I had different guys coming in just taking care of my body. That was the main thing. I'm getting a little older now. In college I could go kill myself and go right to the house and go to sleep. Now I have to get up and get in the cold tub, stretch a little bit and like I said, take care of my body."
The result has been – knock on wood – a healthy camp for Ross.
"I told the training staff that I'm staying out of the training room unless I'm coming in there myself just to tune up my body a little bit," he said. "I'm going to try to work through things and stay out the training room."
On the field, Ross has expanded his duties to become the leading contender for the Giants' punt return job. He brought back 76 punts at the University of Texas. It's a duty he always wanted to handle for the Giants, but Tom Coughlin always chose someone else, most notably Domenik Hixon. But Hixon suffered a season-ending knee injury in minicamp and when Coughlin was asked who the returners will be in Monday's preseason opener against the Jets, he mentioned Ross first for punts.
"Unfortunately Hixon had to go down for it to happen, but I'm just going to try to take full advantage of the situation," Ross said. "It was something I loved to do in college and something that I excelled at. So once I knock the little rust off, I think I'll become a nice punt returner for the Giants."
Ross said he is completely comfortable in the defense that new coordinator Perry Fewell has brought to the Giants. Giunta today explained what the new schemes mean for the cornerbacks.
"There's a little more off-coverage when they're working the pass," Giunta said. "Before we were more of a man-to-man, read the receivers and pick up the quarterback late in the down. Now we're going to read the quarterback early in the down and pick up the receivers later in the down. Some of our coverages have actually changed.
"It's a different approach. You just have more eyes on the football. When the ball's in the air, you have a better chance at an interception. You have a better chance to react to runs and screens. And the man-to-man coverage … you're playing to prevent the quarterback from completing the football. They may complete the football, but you've got to get guys up tackling so the yards after the catch will be a lot less."
Ross believes the new defense will help him and the other corners increase their interceptions total. He had three in each of his first two seasons, but none in his abbreviated outings last year.
"I think that we have our eyes to the quarterback a lot more, so we get to break on the ball before the receiver breaks," he said.
In addition, Ross said having veterans Antrel Rolle and Deon Grant, plus Kenny Phillips, playing safety will make a big difference.
"Now we have guys who've been in the league for awhile, and they can tell us, 'Jump this route and I got you over the top,'" Ross said. "So you really don't have to play as timid. You can play more aggressively now. (Last year) we had to press, so you really couldn't gamble as much, because if you gamble, then you'd get beat."
Ross' new upbeat attitude has helped give him equanimity about not starting.
"I tell everybody that if I start, of course, I'd love that, but if I don't, then I plan to be the best 12th man coming off the bench, ever," he said. "We play nickel a whole lot. It seems like it's going to be 60-to-70-percent of the time, so every time I'm on the field I'm just going to try to make my presence known."
After what happened last season, Ross is happy just to be healthy and on the field.
*The Giants had a brief jog-thru this morning on the game field at UAlbany and will have a full-scale practice this evening.
*Coughlin said the starters will play about a quarter against the Jets.
*The swelling in Chris Snee's knee has subsided. "He's feeling a little better," Coughlin said.
*Coughlin said D.J. Ware, Andre Brown and rookie Victor Cruz will likely return kickoffs Monday night. Cruz could join Ross as a punt returner. "I really don't know who the third will be right now," Coughlin said. "Let's see who's healthy enough to be back there, but we've rotated a bunch of guys in there."
Leonard Marshall, who won two Super Bowls with the Giants, and author William Bendetson will be in camp tomorrow from 1-4 p.m. to sign copies of their book, *When the Cheering Stops, about the Giants' 1990 championship season. With interviews from over 50 players and coaches, along with research like viewing Bill Belichick's original defensive game plan in Canton Ohio, fans can relive one of the most memorable teams and Super Bowls in NFL history.
*Tickets are available for the first Giants Kickoff Luncheon to be held in the New Meadowlands Stadium. The charitable event will be held on Wednesday, September 1, 2010 from noon to 2 p.m. in the Gridiron Club, located between the Pepsi and Verizon gates at the New Meadowlands Stadium.
In addition to introducing the 2010 Giants, the team will honor Amani Toomer with the Giants Alumni Man of the Year Award
Hackensack University Medical Center and the Giants have begun a partnership that gives fans a unique opportunity to support one of the nation's healthcare leaders while showing support for New York's favorite team. All proceeds from the luncheon and raffle will be donated to a very special program: the Touchdown Fund: Score for Kids, Cardiac and Cancer launched earlier this year by the Medical Center and the Giants and focusing on three core areas of healthcare.
Giants fans can join Head Coach Tom Coughlin and the entire team and the raffle will include a grand prize trip to Super Bowl XLV in Dallas (including round trip airfare and hotel accommodations for four nights).
For more information, call 201-996-3722.
---
I am a huge Bradshaw fan and do you think he could have a huge year? If so, how many yards could he produce in your opinion? Rumors of him starting #1, is this true?
As Tom Coughlin and his assistant coaches point out, none of the backs will be designated as first, second, third, etc. Their workload will be determined by production, the game plan, the opposing defense, the play call – any number of factors. Given all that, Do I think Bradshaw can have a big year? Of course. His offseason surgery corrected his foot and ankle problems and he has run well in training camp. I wouldn't predict a yardage total for him, but he ran for 778 yards last year on bad wheels, so think what he might do when healthy.
If you'd like to submit a question or comment to Michael, click here.
--- ](http://www.nyg2010.com/)**