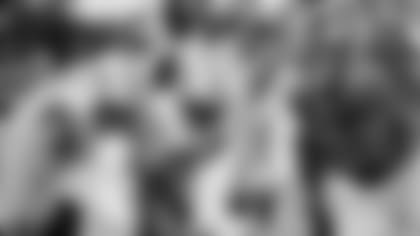 The Giants lost to the Jets, 24-21, in the MetLife Bowl when Billy Cundiff kicked a second (or third or fourth, depending on how you look at it) field goal with 8:04 remaining in the extra period.
It would not have come down to that had the Giants been able to capitalize on their offensive opportunities. But save for a big opening play, the starters couldn't get untracked while playing the entire first half and the backups squandered chances to put the game away.
"The one thing that's very disappointing to me is where we are offensively," Coughlin said, "and the fact that we, in all three areas, were obviously not all doing what we need to do in order to give ourselves a chance to win. That's my main concern."
David Wilson ran for an 84-yard touchdown on the Giants' first play from scrimmage. On their other 31 first-half snaps they gained a total of 97 yards, an average of 3.1 yards a snap. That unit was one-for-eight on third down opportunities and the Giants finished three-for-18 (17 percent). They didn't score a touchdown on their two trips inside the green zone and have yet to come away with six points on eight tries inside their opponents' 20-yard line this preseason. The Giants have scored two touchdowns in three games.
"We're working on it in practice and to have it transfer to the field," said Eli Manning, who completed eight of 20 passes for 83 yards. "It's not a thing to get worried about, but we know we do have to make improvements and get better."
Coughlin agrees that improvement is needed…and right now.
"There was no consistency whatsoever," Coughlin said. "We've got work to do on the offensive side of the ball. Whatever is going on, we've got to solve it and we've got to solve it fast. We don't have much time. We've only got a couple practice days this week and then another game (the preseason finale at New England on Thursday)."
*This was the second preseason overtime game in Giants history (overtime was introduced in the NFL in 1974). The first was also against the Jets. On Aug. 24, 1985 – exactly 28 years ago – the Giants defeated the Jets, 34-31, on Eric Schubert's 30-yard field goal 5:26 into the extra period.
*The overtime was set up when Coughlin decided not to go for it on fourth-and-seven from the Jets' 22-yard line and Josh Brown kicked a 40-yard field goal with 37 seconds remaining.
The Giants won the coin toss, but on the first play of overtime Da'Rel Scott fumbled and Jets linebacker Danny Lansanah recovered. That led to Nick Folk's 39-yard field goal attempt. It was no good, but there was no play because Coughlin had called timeout. Folk then pushed his second try wide right.
The Giants were forced to punt and Steve Weatherford's kick was downed at the Jets' four. On the second play, Matt Simms – the son of former Giants great Phil Simms – completed a 70-yard pass to Ryan Spadola. On fourth-and-five from the 15, the Jets sent Billy Cundiff on to try a game-winning field goal. He missed from 32 yards – but again, it didn't count because Coughlin had called timeout. Unlike Folk, Cundiff capitalized on his second chance and his 32-yarder with 6:56 elapsed in overtime won the game.
*The Giants scored on their first offensive play when Wilson took a handoff from Manning and outran the entire Jets defense for an 84-yard touchdown run. Had it been a regular-season game, Wilson's run would have been the fourth-longest in Giants history.
"It's easy to take advantage of my God-given ability when my offensive line does a great job like that," Wilson said. "My coaches have done a great job of teaching me how to read my blocks and run off my blocks. I want my teammates to be able to count in me and make a big play. We've still got work to do on the running game as a whole."
*Coughlin praised the defensive effort, but was not pleased the unit was flagged for penalties on four consecutive plays in the first quarter. They were, in order, offside on Cullen Jenkins, encroachment on Linval Joseph, illegal use of hands on Aaron Ross and pass interference on Stevie Brown. The penalties totaled 33 yards. That Jets possession ended with Geno Smith's 22-yard touchdown pass to Ben Obomanu.
"Four in a row to start a drive off, just go ahead and move the ball down the field," Coughlin said. "It's not good football. They're out there on the field and they do have to control themselves in that environment. This is our third preseason game. That's probably something that we're not going to be really happy about when we look at the tape."
*Prince Amukamara, Justin Tuck and Brown each intercepted Smith. Brown, however, suffered a sprained knee at the end of his play. He will undergo an MRI on Sunday.
"I feel bad for Stevie Brown," Coughlin said. "He's been a tremendous addition to our team. The guy has another interception and then has that happen. I don't really understand how it happened. I couldn't see it, but evidently he just got his foot planted the wrong way. I don't think it was a contact injury."
Cornerback Jayron Hosley sprained his ankle on the Giants' second defensive series and did not return.
*Curtis Painter replaced Manning at quarterback and played the entire second half and the overtime. He completed 13 of 29 passes for 140 yards and was sacked three times.
*Jerrel Jernigan led the Giants with five catches for 66 yards…Mark Herzlich, who played middle linebacker in the second half and OT, led the Giants with eight tackles (six solo). Kyle Bosworth had seven tackles (six solo).
*Jim Cordle started at center and first-round draft choice Justin Pugh at right tackle. They were the only starting offensive linemen to play into the second half. Each was promoted to the first team because of injuries to David Baas and David Diehl.
"I felt comfortable," Pugh said. "I mean, it's just playing football. It was as much fun that I've had playing football in a while. Just getting out there and being able to play and compete, and just get better every time. I'm looking forward to looking at this film, get better from it, and get better each week."
*The following Giants did not play in the game: cornerback Corey Webster (knee/groin); safety Antrel Rolle (ankle); wide receivers Victor Cruz (heel), Ramses Barden (knee) and Louis Murphy (leg); offensive linemen David Baas (knee) and David Diehl (thumb surgery); fullback Henry Hynoski (knee, just activated off PUP); and defensive linemen Damontre Moore (shoulder), Jason Pierre-Paul (back, PUP) and Markus Kuhn (knee, PUP).
*The Giants' game captains were Chris Snee, Mathias Kiwanuka and Herzlich.
*The Giants now trail in the preseason series with the Jets, 24-20-1.