EAST RUTHERFORD - Chase Blackburn is the Giants' sixth-year linebacker from the University of Akron. He was relatively unknown when he joined the team as a rookie free agent a month before training camp began in 2005. Michael Eisen sat down with Blackburn to discuss his rise to the NFL.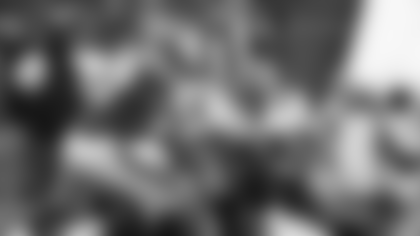 Chase Blackburn is the Giants' special teams ace and linebacker from the University of Akron. He was relatively unknown when he joined the team as a rookie free agent a month before training camp began in 2005. Michael Eisen sat down with Blackburn to discuss his rise to the NFL.


Q: Where did you grow up?
Blackburn: "I grew up in Marysville, Ohio, which is a small town outside of Columbus. I have a brother (Jesse) who is two years older than me and he ended up going to Wofford (College) in South Carolina, which was a 1-AA school. He was an offensive lineman.
"My mom (Lynn) was a teacher's aid. My dad (John) is a warehouseman. They divorced when I was in college after 27 years of marriage. I came from a great home as far as my family always being around. My parents were always around, we always did things together and they always supported us 100 percent, so I never had any complaints or had to deal with any issues like that. Things just did work out between them and they separated and moved on. I still see both of them all the time and I still have a great family life."
Q: Did your brother and you play sports from a young age?
Blackburn: "Oh yeah, definitely. When we started out he played in the Northwest Football League, which was the pee wee football league in our town. It was Pop Warner, basically. You had to be seven years old to play, but they were a couple of people short so I was able to play. I was six, but they needed some players and I was able to play a little bit younger, which was nice. I played with him growing up in the pee wee leagues. We had a chance to play again in high school during my sophomore year and his senior year. That was the first time we played together on a varsity squad, so it was great."
Q: What position did you play as a youngster?
Blackburn: "I always played linebacker, all the way through. I played tailback all the way through middle school and my freshman year I started to play quarterback. I ended up being one of the bigger guys on the team, so I went to offensive line and wore number 65 for a year, which was kind of awkward. Then I moved to tight end. Once I got to varsity I played linebacker and tight end."
Q: Were you an Ohio State fan growing up in Columbus?
Blackburn: "Definitely - I still am. I'm a normal fan when I watch football. I wish I would have been able to go to Ohio State, but things worked out the way they did going to Akron, which I have no complaints about. It was a great school and a great fit for me. Who knows what would have happened if I went to Ohio State?"
Q: Did Jesse and you fight all the time as brothers do?
Blackburn: "Oh yes. He was always the bigger, stronger brother and he was a great athlete. I was a scrawny guy coming up. I used to be a point guard and tailback. I played the small (man) positions and he was always the offensive and defensive lineman. So he used to pick on me. I would aggravate him and pester him a lot and he would dump on me pretty good for a lot of years. We always had that, we always got along, but we always managed to pick little fights here and there, too. Then I got to college and started getting bigger – my freshman year I got up to 240 – and he got done playing ball his senior year and dropped down to about 225, so that was nice for me."
Q: You played basketball too?
Blackburn: "I grew up playing basketball. I played center pretty much, because we were a smaller school. But we played pretty well. We won the conference and I was able to go to the Central Ohio District Ten Basketball All-Star game. So I played pretty well and had a good career in basketball. Initially, that was my first love. Even in my sophomore year I played varsity basketball, too. When I was playing football I said I was waiting for basketball season. I played football, yeah, but I'm waiting for basketball season to go out and play varsity with them. It ended up going the other way. I got bigger and everything and I was able to play football."
Q: Were you a good student?
Blackburn: "I was. I graduated with over a 4.0 in high school. I took a couple of honors classes. I had a pretty good career academically as well as athletically. I was always solid at math. I always enjoyed it. I took six AP courses in math. I took calculus AB and calculus BC when I was in high school, which opted me out of a couple of classes in college, which was nice. It was fun and we had some great math teachers in our school. The Marysville school district is a very good one. When I got to college it was easier than high school for me."
Q: Did you play on good teams in Marysville?
Blackburn: Yes - my class was 42-3 in football during my career. But we never won a state title. We were 8-0 as freshmen and we lost in the state semifinals. We lost before we got to the title game, but I got the Super Bowl ring now, so at least I have something. Last year they had a little champion's parade for me at a school in Marysville, which was great. A lot of my teammates from high school were there and I was able to share that ring with them, because it was difficult on everybody (to lose in high school). In high school we grew up playing with the same guys from seven years old all the way through. We were pretty much all great friends and playing together. It's a little bit different than it is now, when you don't hang out 24/7 with the guys you play with. So we had a great bond and everything and just fell a little short. Turnovers killed us, just like Coach (Tom)  Coughlin says."
Q: Did you play Domenik Hixon's team in high school?
Blackburn: "They (Whitehall-Yearling) were in our conference, the OCC. We beat them pretty good. I remember my first play against them my senior year on the kickoff - we had a tackle at the five yard line. The tried to do something and fumbled and we tackled them at the five. On the next play they tried to run a reverse in their own end zone and we tackled them for a safety. He was a year behind me, so it was his junior year. He wasn't a standout player as a junior - he really came on as a senior. It was fun playing him. After I talked to him about coming to Akron, I tried to recruit him to go there (which Hixon did). At Akron he did beat me in tackles one year."
Q: How did you end up at Akron?
Blackburn: "I got recruited by a lot of MAC schools. I got offered a couple of scholarships from MAC schools. I went to Akron for a visit and it was a good time. They showed me around the campus and they had won the MAC championship the year before, so I'm thinking I missed a championship in high school, so I'm going to go up there and win a couple of championship rings. It would be nice to go to a winning program and stay with winning program. I enjoyed winning. I've never been one that takes losing very easily. So I figured I'd go up there and do that and I committed on the visit – I verbally committed at the end of it. The next week I got offered (a scholarship) by Northwestern. As you commit it seems like other schools say offer you something. But I had verbally committed and I was a man of my word. They called me back because they had heard about Northwestern and were a little nervous and I said to them, 'I told you I was coming there, I'm going to be there.' It worked out well. I've never been one to sit on a bench. They told me I'd have a chance to play as a freshman and I ended having to play defensive end that year in order to play. That was my first time ever switching positions. But I was able to play as a true freshman."
Q: Did you move back to linebacker as a sophomore?
Blackburn: "I did. I played middle, weak side, and then I played a bandit position. It was a different defense. I kind of felt that I was out of position a lot. I was playing on the ball like a D-end rush type of guy, but I didn't feel comfortable out there. I think off the ball linebacker is where I'm best suited."
Q: Did you get your MAC Championship?
Blackburn: "No, never got one. We lost to Miami (Ohio). We were up 16 at halftime in my last game. It was to go to the championship game to win the MAC East and we were up 16 at halftime and we kind of came out and shot our wads a little too early and fell off and they came back on us and beat us and ended up going to the MAC Championship game. We kind of fell short. We were 0-4 against Miami, so that was my one bad one. Ben Roethlisberger threw a 74 yard Hail Mary against us, so he killed us."
Q: Was it tough to give up basketball?
Blackburn: "Definitely, I still played it all the way through college. I would pick up and play all the time. Guys on the team – we had intramural squads. We played against our varsity basketball team. We played pickup games all the time, so there are a lot of good athletes in football. I think there are a lot of players in the NFL right now that could make it in other sports, too."
Q: Hixon said you're still mad that he beat you in a shuttle drill and you're still mad about it? When was that?
Blackburn: "I don't remember what year it was, but I remember because at Akron I was always a 100 percent effort guy no matter what type of drill it is I always wanted to win. I just want to win everything. During the summer drills we used to pull sleds and we'd go around 110 (percent) for our conditioning test and I'd always move up to the receivers, running back, and DBs group. I never ran with the linebackers and I always went 110 percent everywhere I went. So we would do all these drills and I would still be winning. Maybe not all of them were going as hard as I was, but I was able to win one way or another. I found a way. When Domenik got there he was the same kind of guys I was. He wanted to win, too. He is obviously a little faster than I am, a little quicker and when he was going he'd beat me. That was probably one of first times I lost really out there in a drill. He is obviously a great athlete, so I can't complain about it."
Q: What year did he lead the team in tackles with one more than you?
Blackburn: "It was my junior year and he had one more tackle than I did. I think I had one or two more interceptions than he did that year. So I got him back on that one."
Q: Were you a math major?
Blackburn: "I was originally a secondary education/math major. I didn't finish in my three-and-a-half years there. So when I got here with the conflict of the schedules I couldn't really do student teaching very easily with football. S I decided to go on and do math and I got my degree two years ago."
Q: Do you still like doing math problems?
Blackburn: "Yeah, they have all these brain teaser games that get you thinking. I think as you get older you don't work your brain as much as you used to other than in specific areas and you kind of lose the edge of some of the things. So we do these. My wife (Megan) and I do them a lot. There are a lot of math things on there and I get mad if I do something wrong or if I forget a formula for something way back in whatever class it was. It keeps your brain working and keeps it going, which I enjoy. Math is still a great passion of mine."
Q: When did you start thinking you can play the NFL?
Blackburn: "Probably my junior year. I was All-Mac when I was a junior linebacker. A couple of my roommates were on practice squads and kicked around the NFL a little bit here and there. Dwight Smith is still around and I said if these guys made it out of here I could, too. I worked harder and harder and thought I had a good shot coming into my senior year. I had a decent senior year, but like I said I got moved around to different positions and didn't get as much recognition because of the position changes and stuff like that. They actually listed me as a D-end that year – I have no idea why. Everywhere I went to work out everyone thought I was a D-end. I had a couple of workouts and didn't get picked up on draft day and thought maybe I didn't have a good enough career there to get a shot. You kind of question yourself there for a second, but then I started thinking there was no reason for me to question myself. I never really doubted myself or my abilities. I just doubted the fact that I may not get a shot. That was more of what I doubted. A lot of times there are a lot of great players in college that never get that opportunity to play in the NFL and never get that one chance to shine. When I finally got picked up here to go to camp that was my opportunity and I wasn't going to let it go."
Q: During the two months between the draft and when you signed, were you thinking you might not get a shot here?
Blackburn: "I was going to go back to school and finish up. But in the meantime in the summer my cousin offered me a job in construction. I was doing construction and was out there doing excavation with him when I got a phone call one day from the Columbus Destroyers and they said they wanted to pick me up this, that and the other so I said sure, fine. I didn't care. I just wanted to play football. I was going to meet with them. I had already had a workout with the Giants and they called me when I was out there working and they said 'Hey, get your stuff you're going to be up here this weekend.' I had to come up for the last two days of their rookie symposium. I was up here for that, went home for a month then went back to camp. I couldn't imagine what it's like to hear your name called on TV (during the draft) but just to hear it personally over the phone was nice."
Q: Most rookies who are signed on June 21 are considered little more than an extra training camp body. What was your attitude going into that first camp?
Blackburn: "Everybody told me I could make the team on special teams. In college, I played special teams throughout my career as well as defense. They told me, 'If you can be a first string punt guy there is a chance you're going to make the team.' Punting is the most important special team. They said just work your way on special teams, learn the defense, and run to the ball on every play and make sure they see you're running, hustling, you're an effort guy and you can play special teams. So that was my attitude going in. I didn't have a playbook before I went to camp and I was here one day before I got thrown in and. We were out practicing in camp and I was running full speed everywhere I can went. Coach Tim Lewis (the team's former defensive coordinator), on the first day of meetings he said, 'Look, at this guy. He doesn't know where he is playing or what the hell he is doing, but he can run and hit." I got that mentality and just made my way onto special teams and tried to get as much knowledge as I could to learn the schemes, because there are a lot of mental parts that go into special teams. It's not just the attitude of wanting to go hit somebody. It's getting to know what you're doing because there are a lot of different attack blocks they do on you and different situations where you use different schemes. You find different mannerisms on how to block somebody or how to set someone up a different way. You learn with time, too.
Q: Your first preseason game was in Cleveland right and you had a big game (five tackles and a fumble recovery)…
Blackburn: "It was huge. Unfortunately for them, but fortunately for me, a couple of guys were out with injuries, so people moved around a little bit and I had a chance to play more. I ended playing three quarters of that game and had a big game on special teams and had a big game on defense, and that's when I really got my name out there, I guess. People said, 'Maybe he's not just a camp body.' So that was a good starting point to my career."
Q: What was it like when you found out you made the final roster?
Blackburn: "It was a long day I'll tell you that. In the NFL they don't tell you if you made the team, they tell you if you didn't make the team. You have to wait there until 5 p.m. on cut day. If you don't get a phone call by five, you made it. If you do get a phone call you didn't make it. I was sitting in my room all day and I was sick of sitting there, so I came in to get treatment at 4 o'clock and (vice president of medical services) Ronnie Barnes said, 'Congratulations.' I said 'It's only four, don't congratulate me yet.' But he had the list and told me I made it. That was the first time I found out. It took an hour of stress off my life, at least."
Q: In your rookie year at Washington, you returned an interception for a touchdown, then suffered a neck injury that sidelined you for the rest of the season. What kind of day was that like for you?
Blackburn: "Very up and down. It was a roller coaster ride. It was very emotional all the way throughout for me and my family and everybody. It was my second start. I played against the Chiefs the week before, and had a pretty good game. I was excited for my first divisional start. I went out there and started the game off well - I got a pick and got my first touchdown, which was great. I felt like I was playing pretty well. I had a couple of tackles there and I got on the kickoff and was feeling in a groove. I made a tackle on kickoff and went out a couple of plays later and on a screen pass to Chris Cooley, a little tight end screen, I come up off my break and Gibril Wilson had him wrapped up so I thought I was going to go for the kill shot and lay him out. So I went to hit him and the offensive lineman chipped me and I spun into him and Gibril slipped a little bit, so Cooley started to spin out and just fell forward. His head went right into the side of mine and I tried to roll over, but my left side didn't respond really at all. I remember trying to roll over and Brent Alexander told me to stay down. He said, 'You're done.' I remember lying there not being able to do much. The trainers come over to me and Ronnie Barnes said 'Move your toes' and I thought I was moving my toes. He told me later I didn't move my toes. Apparently my left side just wasn't working, so it was a scary few hours. It took me about three hours to get my feeling back and sensation back in my fingers and toes. It was a rough night. It was Christmas Eve, which made it even worse. Had to spend it in the Baltimore Trauma Center – it was a good night. I got to meet Ronnie Barnes a little bit closer than I needed to, but it's alright."
Q: Do you think you personify the idea that you don't have to be a high draft choice to be successful in the NFL?
Blackburn: "Definitely, that's the part that helped me. My first year here Antonio came over from Washington and I talked to him quite a bit and watched him play. I learned some mannerisms and a lot of things from him. I found out he was a free agent and wasn't picked up either until after the draft. He became a Pro Bowl guy. That gave me a lot of, 'Alright this is something that can be done.' Not every scout is right. There are a lot of busts around the league. There are a lot of free agents that have made their way in the NFL, so I don't feel like I'm the only one and I definitely didn't feel like I doing it alone. But at the same time I think people can look at me as well. When we get free agents in the offseason and they come in I let them know right away that it can be done. Don't sit here and think you're a camp body. If you can play, you can play. They're going to see it sooner or later."
Q: You have played both middle and weakside linebacker. What is the difference and which do you prefer?
Blackburn: "I prefer playing, period. That's first and foremost. I prefer playing. But as an off the line linebacker, the weak side on our defense, you are off the ball pretty much the whole time. So it kind of provides similar reads. It's just a little bit different and a little bit skewed on an angle, but it's pretty much the same vision. You're reading the same kind of keys, reading through triangles, trying to see the offensive line through the backs and a lot of the same things pertain to both and you still have the same steps as far how far you're off the line, how far you have between your blocks and a lot of different things that carry over. On the weak side, you have a few more responsibilities and stuff like that where you can walk out and that's one of the major differences between the weak side and middle. It's walking out and having to see it outside the box. That's the only really difference visual angle there is, but other than that it was a pretty easy transition, I thought. I think playing all the different positions I did through college really helped me. I learned the defense as a whole now. Instead of studying one position I try to learn every defense and what everyone does, so I know how I fit off them or if someone is out of their gap I know where to go. I think that helped a lot as far as making that smooth transition to the weak side."
Q: How much pride do you take in leading the special teams stuff?
Blackburn: "A tremendous amount. If you're not going to be playing why wouldn't you focus on all your energy on special teams? It helps the team, its one-third of the game and there are huge field position opportunities for both offense and defense. Why wouldn't you take pride in your work?"
Q: How do your wife, Megan, and you like living in the metropolitan area?
Blackburn: "It's a lot different. It's different than living in Ohio, but I think she enjoys it even more than I do. The city is there and she enjoys the bigger city life. It's tough being away from friends and family, but obviously the longer we stay here the more people we meet, which makes the transition easier."
If you'd like to submit a question or comment to Michael, click here.