EAST RUTHERFORD, NJ - David Carr just finished his second season as the Giants' backup quarterback. A former star at Fresno State, Carr was the first overall selection of the 2002 NFL Draft and the first-ever choice of the expansion Houston Texans. Carr started all 16 games as a rookie and was sacked an NFL-record 76 times. He stayed in Houston for five seasons, spent a year with the Carolina Panthers and joined the Giants on March 3, 2008. With Eli Manning and Carr, the Giants are the second team in history to have two quarterbacks who were selected first overall in their respective drafts on their roster at the same time. The 2007 Panthers were the first team with that distinction with Vinny Testaverde (1987) and Carr (2002).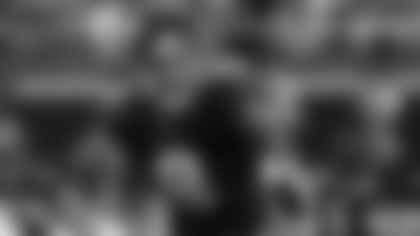 Q: Where did you grow up?
Carr: "In Bakersfield California, right dead in the middle of California. I can claim I am from northern or southern California. It works both ways. When someone says 'I hate everybody from northern California,' I can say, 'I am from southern California' or if someone says, 'Southern California people are lazy,' I can say, 'I'm from northern California.' I have two younger brothers. One is in college right now at Fresno State as a freshman and my other brother is coaching high school football at Bakersfield High School. We had fun, the youngest brother (Derek) was kind of behind me and my other brother (Darren), who is 27 years old. So he and were kind of close. Then Derek is 18 years old. There is a gap between us, so we gave him a hard time, but it was fun."
Q: What did your dad too?
Carr: "He worked for General Motors. He worked for Roger Penske and he had car dealerships in California. Then Penske sold all of his car dealerships and went into racing full-time and my dad retired. He has been retired for 10 years now. He just hangs out and plays golf and rides up to Fresno to watch football. It's only about hour and a half away, so watches the games on the weekends."
Q: Was Bakersfield a great place to grow up?
Carr: "It was fun. People give us a hard time because there is nothing really there. There still isn't anything there, except maybe my house. It was fun growing up there, because it was a small town environment but was pretty big with about 100,000 people. It was definitely a great place to grow up."
Q: Did you play sports as a kid?
Carr: Growing up, we always played. My dad played basketball in college. He didn't make it to the NBA, but he was a good player. He always told us we were probably going to be a little bit too short to play hoops. So we started playing football and baseball very early, as early as I can remember. We did that forever, always competing in Little League and everything."
Q: Where did your Dad (Roger) play basketball?
Carr: At California State Bakersfield. He's 6-5. He was a point guard. He tells us all the time that he was the leading scorer in high school two years in a row. So he did pretty well. He lived in Santa Cruz, so he has a little bit of a beach bum mentality; he surfs."
Q: In California I guess you can play sports all year round outside.
Carr: "It's always hot. It's 100 degrees, almost. I remember going out on Christmas morning playing football or golf. There was never a winter until I moved out of California. I didn't even know that snow existed. I never saw it before, it was different."
Q: Did you play Pop Warner football?
Carr: "I started playing football with our school in fifth grade and have been playing quarterback ever since. I never played another position - tried to return one kick one time and I got thrown 10 yards out of bounds and I told my dad that was the last time I am doing it. That was in sixth grade. I never played another position after that.
"In pick up games I would play everything but quarterback, because I was always mad that I never got to play anything else. I played DB, I played safety, I played defensive end. I played everything. Even when I go home now, one of my buddies still lives there and we play pick up games just for fun. I still don't play quarterback. I play everything else; it's just too much fun."
Q: Was football always your favorite sport?
Carr: "I liked baseball because I think I started that earlier. I played T-ball when I was about five. I pitched all the way up through my last year in high school and then I quit, because I wanted to focus on football. I went to Fresno State early to play spring ball. My mom claims that I would have been a better baseball player. She always loved watching me play. After going to Fresno I knew (Coach) Pat (Hill) wasn't going to let me play both."
Q: What was Stockdale High School like?
Carr: "I was in one of the first classes there. It was a new school. There was Bakersfield High School, where my brother coaches - they have been there for 100 years. Frank Gifford went there. But Stockdale was brand new. We were the Mustangs. We wore black and silver. We were trying to be intimidating, because we were a bunch of short white guys."
Carr: "No. We would try to out-think, everybody but it didn't work."
Q: What kind of memories do you have of high school football?
Carr: "It was fun. I played with some guys that are still my best friends. We won enough games to go to the first or second round of the playoffs. We never went to the state championship. I remember we always wanted to play on Thanksgiving, because that meant we were in the playoffs. We were able to do that a couple years.
"The best part about high school football was after the season, no matter what, would play a big pickup game against Bakersfield College, a junior college. It was one of the best games of the year. It was intense. We would play at Stockdale High School. It was probably the most fun I had in high school playing football, and it wasn't even a real game."
Carr: "We won my junior year and then we lost my last year. It was a good time, we played for four hours. It was a lot of fun."
Q: When did the colleges start recruiting you?
Carr: "Probably between my sophomore and junior years. We lived in Fresno for about three years. I played junior high football there, so I always kind of loved
Fresno. (Trent) Dilfer was there at the time, he was the quarterback. I got to watch him beat USC in the Freedom Bowl one year, I think it was in 1993. I always kind of wanted to go there, but they never really came around. I was getting recruited by UCLA and some of the Pac-10 schools. Pat didn't call me until late in the recruiting deal my senior year. He finally came by the house and it was a good fit. I liked what he had to say."
Q: If he didn't call where do you think you would have gone?
Carr: "I was going to sign with Washington the next day. He was talking to my dad for a little while and I hadn't talked to him. He said he was coming through L.A. and wanted to come by and see us. He came by and I said I would take a trip (to Fresno State). I had to call Washington and told them I was going to wait. Of course, they were a little bit upset. Went to Fresno and signed the next day."
Q: Did it work out like you would have hoped it would?
Carr: "Yeah, it was really cool. I wanted to play a lot sooner then I did. I ended up redshirting and didn't get a chance to start. I played a little bit my first couple years behind Billy Volek, who is in San Diego (with the Chargers) right now. I ended up starting my junior year and it worked out great. We were kind of Pat Hill's first recruiting class. We went through it together, everybody redshirted and my last year we must have had 18 to 20 guys starting as seniors. We had Bernard Berrian, who is with the Vikings, Logan Mankins who is playing guard for the Patriots. We had a really good football team, so it was fun."
Q: Were you an NFL fan as a kid?
Carr: "I was a big fan of Troy Aikman and Brett Favre. It was weird being a Troy Aikman fan and Cowboys fan being from California. My grandfather was from Dallas, so he raised us as Cowboy fans. My dad got a tryout with the Cowboys as a punter after college. He decided he wasn't going to play basketball, so he started punting for fun. He went out there and got into camp. He didn't end up making the team but he was out there for a little while. So we were always Cowboys fans."
Q: When did you start to think that you might play in the NFL?
Carr: "People would come by when we would throw balls in high school and say, 'This guy is pretty good.' It was usually my friends' dads. That's when I kind of realized maybe I am little bit better, maybe I am good enough to go do this. My dad would tell me, but sometimes you want to hear it from somebody else. I started hearing it from some of the college scouts that would come around. Then I figured when I get to college I might as well give it a shot and see what I can do with it. So it worked out pretty good."
Q: Did you have a lot of success at Fresno?
Carr: "We had a good team. We went to a bowl game every year I was there. My last year, I think we got to seventh or eighth in the country. We got ranked pretty high, we were 8-0. We ended up losing to Boise, which is still Pat's nemesis."
Q: When did the Texans, an expansion team that had the first draft choice, start talking to you?
Carr: "Chris Palmer (then the Texans' offensive coordinator, now the Giants' quarterbacks coach) was the first one I met from Houston. He would come out and watch us practice. Charlie Caserly, the general manager at the time, would watch me practice. Chris actually saw me at a football camp when I was with Carson Palmer and those guys in southern California at the Elite 11 camp that Bob Johnson holds out there. Chris Palmer was there and watched us throw the ball around for a little bit. So I had known him for awhile. Toward the end they started coming around and I did two or three workouts for him and ended up signing about two weeks before the draft."
Q: Where were you on the day you were drafted?
Carr: The day I was drafted I was in New York. I just remember that New York was crazy. Like I said, I had never been out of California other than to play a football game. The city had so much energy that I said, "I have to come back for something.' I didn't know I was going to come back and play here, but it worked out pretty good. It was an exciting time. I was only there for two days, but I wanted to stay longer."
Q: When you are the number one draft pick quarterback of an expansion team all eyes are on you. Was that a tough time for you?
Carr: "It was hard, because it was everyone's first. The first time we went on a road trip, it was 'Texans first road trip.' I have been to the Super Bowl, I have been to playoff games, but it felt like a Super Bowl game every time we played. The energy in the crowd was awesome our first game. We might have set the bar too high. Our first game we beat Dallas, so it was like we could only go down from here. It was exciting, but every game just had so much energy. The city didn't have a team for awhile and my wife and I were on everything. There were interviews non-stop. It was a lot to handle, especially for a young guy like I was. I had no idea what I was doing at first."
Q: When you look back now would it have been better for you to sit for a year or two?
Carr: "Yes, as much as I wanted to play, I think so. But you do learn a lot more on the field actually doing it than you can watching. I had never seen an NFL game before and I played in one. So it was definitely an eye-opening experience and I would have liked to at least sit and watched someone else do it for a little while. I still had a great experience."
Q: So what is it like to get sacked 76 times in a season?
Carr: "It hurts, it hurts. I was in the ice tub so much one of my friends bought me a snorkel for Christmas. You could put your whole body in there. I had some good memories and some bad memories, but that was a long year. It felt like I had played three football seasons."
Q: How long did it take your body to recuperate?
Carr: "I didn't do anything for a month. Usually, I go out and play golf with my dad and do whatever with my brothers, but I didn't leave my house for a month after the season. I was just exhausted. I went right from my last year of college to the draft, then the Senior Bowl and then right into that season where you get sacked 100 times. It was a long year, so I didn't do anything for a long time."
Q: Did you reach a plateau in Houston?
Carr: "I did. It was in my third year and I though we were doing all we could with what we had on offense. We were doing pretty well, I think. We were 7-9 or 8-8. I threw for 3,000-something yards. We had a 1,000-yard running back (Domanick Davis). We were doing well, but we were still plugging guys into the offensive line that would fit. It would have been nice to have some type of continuity up front. People gave them a hard time when I was there, because they gave away so many sacks, but there was a new guy in there every week. so it was tough."
Q: Was it a mutual decision when you left the Texans?
Carr: "It was. I didn't know how I would feel leaving, but I was relieved because it felt like there was so much pressure on us at that time. Something needed to change. (Coach) Dom Capers ended up leaving, all the coaches left and I was kind of the last one there. It was just time to bring in some new people and do something else."
Q: What do you recall about your year in Carolina?
Carr: "It was tough, honestly. As much fun as I have had here, I have some good friends there and I think they have a good football team. It was a situation that I just needed to clear my head. It ended up that Jake Delhomme got hurt the second week and I had to go in and I wasn't ready to play, and I would be the first to admit that. Honestly, mentally I didn't know if I wanted to play football anymore. After the five years in Houston I just didn't think it would get any better. Then I ended up getting hurt against New Orleans, we won the game but I ended up breaking the second vertebrae in my lower back. I missed two games and that was just a rough year and a year that I wish just wouldn't have happened. I have nothing but positive things to say about all the players down there."
Q: When they decided not to bring you back, did you think about taking time off?
Carr: "I did think about that. Then a couple teams called just to see where my head was at. I got the call from the Giants and I had known Coach (Tom) Coughlin, because he had been down in Houston with Don Capers for a little bit. He was down there just studying and talking with him because they are good friends. I always enjoyed talking to Coach Coughlin. Then Chris called me. I came up here, it was a great visit with Coach Coughlin, he had some great things to say and I saw Coach Palmer again and I felt like I could revitalize what was going on in my career. So it has been a great two years so far."
Q: What have you learned being around Eli and in this organization?
Carr: "Just how to prepare for games by being around a situation where these guys take it to the nth degree. Nothing is left unturned. Chris has always told me, 'You have all the physical tools, you just have to learn how to prepare for games, learn how to study for games. - everything you need to know mentally about football.' He told me I can throw all the passes. So that has been the biggest thing, understanding how to become an actual quarterback instead of just a thrower."
Q: Do you know a lot more now than when you got here?
Carr: "Absolutely and I also lean on my experience from the past. Preparing in the week leading up to the game is where I have grown a thousand percent. It's gotten so much better. I feel much better going into football games than I did ever before in my career."
Q: Do you go through the week as if you are starting?
Carr: "I have to do as much as I can. It makes me feel so much better on game day when I know exactly what to expect. When I came here the thing I really wanted to work on was my preparation. I know I could have done a better job. Its not that I didn't have a guy to show me down in Houston, but it's just different here. They prepare like no one else I have ever been around. It's helped my game immensely. I also feel so comfortable going out there on the field. You just go out and play, where before you might miss something or you see something that you probably should know what to do and you don't do it quite as fast, or you don't react quite as fast to get your team into the right play. Now I feel really comfortable and you can just let your physical skills take over."
Q: Is it too much to say that you have been rejuvenated by coming here?
Carr: "Absolutely not, I think that I have been. I feel like I enjoy the game. It makes you feel a whole lot better when you go out there on Sunday and you know what's going on and you can just react and play football. Then it's just exciting to play with a great group of guys. The offensive line that I have in front of me is phenomenal. I have great confidence, whether I go in with the first guys or the second guys."
Q: Is your goal to go somewhere eventually and be a starter and hopefully incorporate what you learned here?
Carr: "Absolutely, that was the plan when I came here. When I have gone in I have felt really good, I think I have gotten the confidence - not that I lost my confidence, but I didn't know if it was going to be exciting to play anymore, because it was just so rough. I want to get back on the field, I want to play, I want to help the team. I help this team any time I can get out there, but I would like to do it on a more full-time basis."
Q: Where did you meet Melody?
Carr: It was at a church camp. It was haven for boys and girls to meet. It was my last year of high school and I didn't want to go, but my cousin talked me into it. I am glad he did. She kind of had the same thing; she didn't want to go, but her best friend talked her in to going. We met and kind of had the same feelings toward why we were there. We hit it off, we have been best friends ever since. We grew about two miles from each other in Bakersfield. We went to different high schools and never really met until the camp."
Q: Are they sports nuts?
Carr: "They used to go to the games, but they didn't really watch. I am glad they didn't watch in Houston. But now they are starting to get into it. They play Madden football, so they know all my teammates. They came over here for practices and they will recognize the guys because of their faces on the video games. Now they are starting to watch the games and my oldest son is really starting to enjoy the game. I don't really push it on them, but they are around so much it's kind of just natural."
Q: You grew up in California, now you have been in Texas, you spent a year in North Carolina and now you are here. How do you like this area?
Carr: "I love it. I think it's been great. As hard as it is to move around and pick up and move the family, it's been fun. I think my wife feels the same way. My kids have gotten the experience of a lifetime. They have got to see everything there is to see as far as the east and the west coasts and the south. They have more experience than any nine, six and four-year-olds I have ever been around. I love New York, I never though that I would. We came here for the draft and it was overwhelming for me. I used to hear about New York and the lifestyle, but I love it. If there is a way you can be in love with two coasts, then I am. I love the west coast but the east coast is just as cool."
Q: Do you still collect classic cars?
Carr: "I love Camaros. My dad and I go to car shows. There are some cool ones we have always gone to in California. There is one on Father's Day at Pismo Beach out there and I started to collect them. My favorite is the 1969 Camaro. I actually have two of them at home. One is totally original; it has about 200 original miles on it. My wife got it for me for Christmas a couple years ago. A guy had a collection of cars and he passed away and his wife was going to get rid of all of them. So we got it from him. Its sits in my garage, I have driven it one time. Then another one we restored with a buddy out in Arizona and it's the one I drive a lot. So I like those cars.
Q: So when you're home in California you drive a 1969 Camaro?
Carr: "Yes, it's a black one with a couple thousand miles on it."