The #NYGiants have acquired CB Tay Glover-Wright off waivers and waived DE Evan Schwan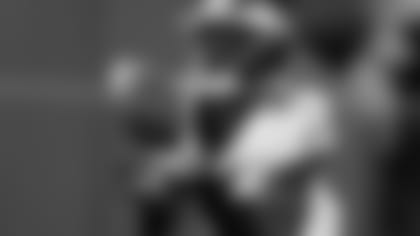 EAST RUTHERFORD, N.J. – With two of their cornerbacks injured, the Giants today added a player at that position when they were awarded Tay Glover-Wright off waivers from the Philadelphia Eagles.
To make room on the roster, the Giants waived/injured rookie defensive end Evan Schwan, who suffered a fractured foot late in the 32-31 MetLife Bowl victory last night against the Jets.
Cornerback Eli Apple left the game with an ankle injury, the second one he has sustained this month. Michael Hunter was injured last Monday in Cleveland, and missed the Jets game because he is in the NFL concussion protocol.
Glover-Wright, 6-0 and 180 pounds, was released by the Eagles yesterday. He played in two games for the 2015 Indianapolis Colts, but was not credited with a tackle.
Glover-Wright entered the NFL as a rookie free agent with the Atlanta Falcons in 2014. He was waived near the end of training camp and spent most of that season on the Green Bay Packers' practice squad. In 2015, Glover-Wright spent the majority of the season on the practice squad of the Indianapolis Colts. He was released from the Colts' practice squad on Sept. 19, 2016, and was free until the Eagles signed him on July 31.