EAST RUTHERFORD, NJ - With Eli Manning unavailable for practice and this week's game against Pittsburgh and Jim Sorgi battling a sore shoulder, the Giants today added a quarterback to their roster. They signed rookie Dominic Randolph of Holy Cross.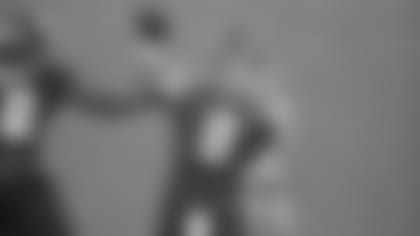 The Giants practiced yesterday with only one quarterback, Rhett Bomar.
Randolph was with the Giants in their rookie minicamp in May. He was waived after the camp when Riley Skinner was signed. Skinner was released on June 24.
In four years at Holy Cross, Randolph completed 1,131 of 1,786 passes (63.3 percent) for 13,455 yards and 117 touchdowns. He owns the Holy Cross and Patriot League career records for total offense (14,240 yards), passing yards, touchdown passes, completions and pass attempts. He also set the New England collegiate record for most career passing yards, and broke the NCAA football championship subdivision records for most consecutive games with a touchdown pass (42) and most consecutive games with 200 passing yards (41).
In 2009, Randolph completed 310 of 485 passes (63.9 percent) for 3,776 yards and 34 touchdowns. He set new Holy Cross single-season records for total offense (4,256) and touchdowns responsible for (41), while tying the mark for touchdown passes (34). Randolph led the nation in total offense, while standing second in points responsible for, third in completions, fourth in passing yards and 15th in pass efficiency.
Randolph was named the Patriot League Offensive Player of the Year for the third straight season and was the 2009 winner of the Harry Agganis Award, which is presented annually to the most outstanding senior football player in New England.
To make room on the roster for Randolph, the Giants waived rookie tight end Jake Ballard, who missed most of training camp with a hamstring injury.
--- ](http://www.nyg2010.com/)**