EAST RUTHERFORD, NJ - For three days, normalcy returned to the Giants' offseason in the privacy of their draft room.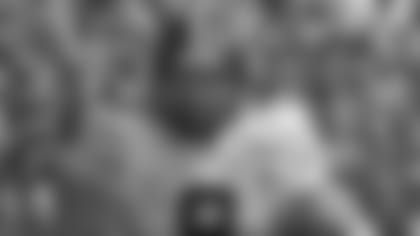 Unable to sign free agents, hold offseason workouts or plan minicamps because of the unprecedented lockout, the Giants and the other 31 NFL teams have been navigating new terrain since the end of the 2011 season. But for the Giants, it was business as usual in the three-day NFL Draft, which concluded with four rounds today.
True to their nature, the Giants stayed true to their draft board. Despite the uncertainty of how they will fill needs and holes on their roster, the Giants stuck to their time-honored principle and took the highest-graded available player instead of reaching to stock an understaffed position. The result was eight new Giants they believe will improve the team's skill level, speed and depth in 2011 and beyond.
"We're really pleased with our draft class," general manager Jerry Reese said.
Although no one knows when teams will be permitted to sign veteran and rookie free agents, Reese insisted the Giants were not tempted to use any of their draft choices to plug a specific need.
"That's why you try to take the best player available," Reese said. "We always try to get value and need with our picks. We were able to do that quite a bit the last couple of days. I thought we were able to do that. Now free agency is coming and we have some business to do there as well, when free agency comes around."
"As you look at the draft, we drafted according to the most quality at each pick," Coach Tom Coughlin said. "We did not back off from that at any time.
"We came to work with basically the same objectives – to take the best player available. Of course, to be conscious to some of the need positions, to try do a good job throughout the entire draft with upgrading our speed and what have you on special teams.  And I thought we were able to do that this afternoon.
"The idea philosophically (is) take the best player who is on the board. That way you are not doing any reaching, you are not trying to make somebody up who doesn't belong there. And I think we have always done that.  If you just take the first two picks in the draft (Prince Amukamara and Marvin Austin), we have two guys (who belong in) in the first round. And I think that speaks highly of itself. Do you solve all of your problems? Of course not. But remember, it is an inverted situation this year. We are talking about the college draft first and then free agency coming. And who knows what free agency will bring and what the rules of free agency are. So obviously there is more work to be done.  But there is always more work to be done."
The Giants added five players on the draft's third and final day. The first was James Brewer, a 6-6, 323-pound offensive tackle from Indiana, on the fourth round. The Giants did not have a fifth-round selection after sending it to the Minnesota Vikings last year in the trade that brought Sage Rosenfels and Darius Reynaud to New Jersey. But the Giants had three sixth-round selections, including two compensatory picks. They chose Greg Jones, an inside linebacker from Michigan State with the 185th selection; Tyler Sash, a safety from Iowa with the 198th pick; and Jacquian Williams, a linebacker from South Florida with the 202nd pick. In round seven, the Giants selected Da'Rel Scott, a running back from Maryland, with the 221st pick.
They join the three new Giants who were acquired in the first three rounds: Amukamara, the cornerback from Nebraska taken with the 19th pick in the first round; Austin, the North Carolina defensive tackle chosen in the second round; and Troy University Wide receiver Jerrel Jernigan in Round 3.
The most immediate boost from this draft class could be in improving the Giants' team speed and special teams.
"We try to do that," Reese said. "Jernigan, we got him, a fast player, a return specialist. Williams is a fast linebacker. Tyler Sash is a height, weight, speed safety. Da'Rel Scott, if he makes it as a third running back, he's incredibly fast. All of those guys will play on special teams. That's a little bit of the method to the madness up there. We try to get a lot out of every pick. Everything goes into consideration. How does this guy help us on special teams? That's one of the main issues with us – how does this guy help us on special teams?"
The Giants' third-day draft choices:
James Brewer, OT, Indiana, 6-6, 323. Fourth round, 117th overall selection
Brewer had some injury issues that limited him to 29 games and 21 starts (all in the last two seasons) at Indiana.
"A bit of a late bloomer, but we think he has a tremendous upside," Reese said. "He's a really good athlete. Only had one year of high school football, but he's played a lot of football at Indiana. Long arms, big man. Not as developed as much as you would like for him to be at this point, but this guy's already 323 pounds. He can add 10 to 15 pounds in a blink, we think. With the long arms, he's got 35.5 inch arms, he benched (225 pounds) 25 times, which is good, and he ran really fast for a gigantic man like he is. So we think there is a lot of upside with him. We'll get him in the mix."
Although he has relatively little experience, Brewer excelled when he did play, and the Giants believe he has the potential to be a productive NFL player. As a senior in 2010, he started all nine games in which he played at right tackle. He missed three games with an ankle sprain, but was still named an honorable mention All-Big Ten selection.
"He played on the right side for them because they had (current St. Louis Ram Rodger) Saffold and they didn't want to move him," Reese said. "But we think he can play left tackle. We think he can play either tackle, but he does have left tackle feet for us."
In 2009, Brewer played a full schedule for the only time in his college career and started all 12 games. Brewer played in eight games in 2008 before suffering an ankle injury, missed the 2007 season with a foot injury and was redshirted in 2006, when he also sustained a mid-foot sprain while performing on the scout team.
"This guy is going to get so much better with the pro techniques and with this being his fulltime job," Reese said. "We see him coming in and developing. Not a lot of pressure to come in and play right away, but we always expect our guys to come in and be ready to play in case there are some injuries. He's a smart kid, we think he can come in and do that. We would like for him to get a little stronger and learn better technique. We think his improvement is the upside for this guy."
Interesting factoid: Brewer's middle name is Da'One.
Greg Jones, LB, Michigan State, 5-11, 240, Sixth round, 185th overall selection
Jones was a consensus first-team All-America in 2009 and 2010, the first Spartan to be so honored in consecutive seasons since Bubba Smith and George Webster in 1965-66. He played in 52 games with 46 starts - 15 at strongside linebacker and 31 in the middle – and recorded 465 tackles (236 solo) with 16.5 sacks for minus-97 yards, 46.5 stops for losses totaling 160 yards and 15 quarterback pressures
"(He) has been incredibly productive over his time at Michigan State," Reese said. "One of the things that the late Tom Boisture taught me is when you scout guys, you respect production. This guy has tons of production. This guy has sacks. He has tons and tons of tackles. He's played at a high level, very instinctive player. Another guy who's going to come in with a chip on his shoulder because I'm pretty sure he feels like he should've been picked a lot higher than where he got picked. He'll come in here with something to prove as well, along with Marvin Austin."
Tyler Sash, S, Iowa, 6-0, 211, Sixth round, 198th overall selection (compensatory pick)
In three seasons at Iowa, Sash played in 38 games at strong safety, starting all but his collegiate debut against Maine in 2008. He tallied 217 tackles (109 solo) and intercepted 13 passes, including six in 2009.
"This guy has good size, he runs good enough," said Marc Ross, the Giants' Director of College Scouting. "He is not your top-flight athlete, but the guy has a feel for the game, instinctive, excellent ball skills. He has 13 career interceptions in three years, which is phenomenal. He has more than top corners combined. The guy is good in the box. We hope he will play special teams for us. He has that kind of toughness about him; reckless with his body. So we really like that about him. To get a guy like that this late, size  - we are happy about that." 
Jacquian Williams, LB, South Florida, 6-3, 216, Sixth round, 202nd overall selection (compensatory pick)
Williams was anonymous relative to the Giants' other draftees. He played two seasons at South Florida after spending a year at Fort Scott Community College, the same path taken by Jason Pierre-Paul, the Ginats' 2010 first-round draft choice.
"(Last season) was his first year there where he really played," Ross said. "He only played around 220 (pounds). So if you went in there, you saw a 220 linebacker, you might say, 'Okay, we won't look at him.' But he jumps off the tape at you because of his speed and competitiveness. And he flies around. And since South Florida had about eight guys on defense that you have to look at, he was just under the radar because of him being a developer, and just not a high profile name."
In two seasons, Williams had 99 tackles (61 solo), 2.5 sacks and an interception.
 Da'Rel Scott, RB, Maryland, 5-10, 205, Seventh round, 221st overall selection
Scott played in 41 games with 29 starts at Maryland and had 430 carries for 2,401 yards (5.58-yard average) and 17 touchdowns. He also caught 41 passes for 509 yards and four scores. His best season was 2008, when he rushed for 1,133 yards and eight touchdowns.
"We took a flyer on the guy because he is big and fast," Reese said. "He is fast, he had a terrific sophomore season. His production fell off, but late in the draft this is what you look for. You look for guys with some redeeming qualities. This guy is big and fast. We hope this guy will come over here and do a Willie Parker, one of those kinds of things. We're really pleased with our draft class. We look forward to having these guys in here and get going with it."