EAST RUTHERFORD, N.J. – The Giants today continued to make adjustments to their practice squad, adding offensive lineman Steven Baker and linebacker Ty Powell.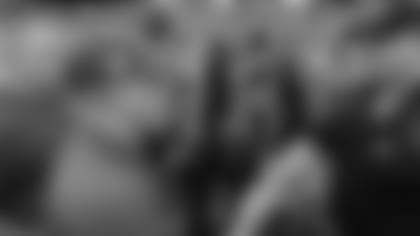 Know your opponent: Chiefs Roster](http://www.giants.com/photos/photos/Know-Your-Opponent-Kansas-City-Chiefs/6d7cd092-d361-4e60-b0ca-3eb41fb7b4da) To make room on the squad, they terminated the contracts of defensive end Matt Broha and wide receiver Marcus Harris.
Baker, 6-8 and 340 pounds, was on the practice squad from Sept. 4-12. He spent the entire 2012 season on the Arizona Cardinals' practice squad. The East Carolina product entered the NFL as an undrafted free agent with the Indianapolis Colts on May 14, 2012. Baker was waived by the Colts on Sept. 1, 2012 and signed to the Cardinals' practice squad two days later. This year, he was in the Kansas City Chiefs' training camp before being waived on Saturday.
Powell, 6-2 and 248 pounds, was a seventh-round draft choice this year of the Seattle Seahawks, the 231st overall selection. He was waived on Aug. 31 and did a two-day and then a one-day stint on Seattle's practice squad.
Powell played in 14 games in two seasons at Harding University in Arkansas. He played defensive back his junior season before switching to defensive end as a senior. In two seasons, he had 47 tackles, 17.5 tackles for losses and 10.5 sacks. Powell also played at DeAnza College, a junior college in California, his native state.
Broha spent the entire 2012 season on the Giants' practice squad. He was in training camp with the team this summer and was waived on Aug. 31. He was signed to the practice squad the following day.
Harris joined the squad on Sept. 1, was terminated on the 10th and re-signed to the practice squad two days later.