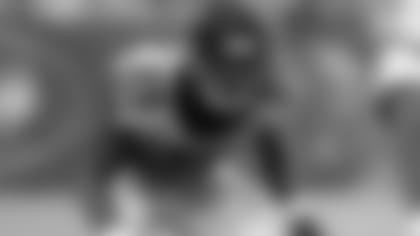 EAST RUTHERFORD, N.J. – The Giants didn't draft a defensive back, but they continue to collect them.
Late this afternoon, the team announced it was awarded cornerback C.J. Goodwin off waivers from the Arizona Cardinals, who released him yesterday.
Goodwin is the sixth veteran defensive back acquired by the Giants this offseason.
A 6-4, 220-pounder, Goodwin has played in 28 regular-season games with one start for Atlanta and Arizona. He has 12 tackles (11 solo) and two passes defensed.
Goodwin entered the NFL as a rookie free agent with the Pittsburgh Steelers in 2014, from California University of Pennsylvania. He spent that entire season on the Steelers' practice squad, and the second half of the 2015 season on the Atlanta Falcons' practice squad.
In 2016, Goodwin played in 14 games and made his only NFL start (Dec. 18 vs. San Francisco) for the Falcons. He was credited with both of his passes defensed vs. Green Bay on Oct. 30 and finished the season with seven tackles (six solo). Goodwin played in each of Atlanta's three postseason games, including Super Bowl LI.
Last season, Goodwin had five solo tackles in 12 games before the Falcons released him on Dec. 14. He was claimed by the Cardinals, for whom he played the final two games (making his Arizona debut vs. the Giants).
The Giants are creating plenty of competition in their secondary. In addition to Goodwin, the newcomers to that room are William Gay, Teddy Williams, Curtis Riley, B.W. Webb, and Michael Thomas. The holdovers include Janoris Jenkins, Eli Apple, Brandon Dixon, Donte Deayon, Landon Collins, Darian Thompson, and Andrew Adams.