Damontre Moore was at times a little overzealous in the Giants' non-tackling practices early in training camp. But there was no holding back the defensive end on Saturday night.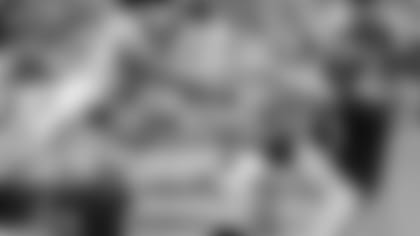 Gameday Photo Gallery](http://www.giants.com/photos/photos/Gameday-Giants-vs-Steelers-Game-Photos/5707cfd6-4833-4d46-871b-ea5eaaabcb1a) Moore, the Giants' third-round draft pick this past April, is known for his raw explosiveness, and that's what he showed against the Pittsburgh Steelers in the preseason opener. He made the play of the game with his blocked punt of Drew Butler on the opening series, which the Giants turned into their first points of the night.
Moore finished the night with four tackles – three solo -- to lead all defensive linemen. Beyond the numbers, he was a disruptive force to the Steelers quarterbacks, including Ben Roethlieberger, whom Moore rushed into an incomplete pass early in the game.
Moore began his rookie campaign with an impact play and will try to keep the ball rolling against the Indianapolis Colts next Sunday night in the second week of the preseason.