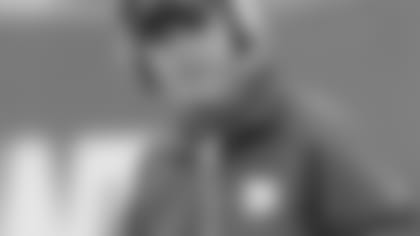 Good afternoon. We felt really good after the game, obviously for winning the first home game, which was important. It was important to us for a lot of reasons. We wanted to make sure that that first official regular season game was a Giant win, and it was, so I felt good about that, and we did feel like we honored America. We did the best we could to signify to the world that New Yorkers are never going to forget and that is the statement that we made. Now, the game we played, I thought our preparation was outstanding and I thought our effort was very good. I thought our effort in terms of the flying around and having fun. You could see it grow and I think that it was especially there in the second half. I thought our leadership was good. I thought our players, our veteran players –  not just the captains, although the captains did an outstanding job – they did a real good job reinforcing from the sidelines, for example when we lost Boss, no panic, the same approach each and every time we took the field by the offensive staff and the offensive team. Eli did a great job. We had some early drops, some early tipped balls, even interceptions, he went right to the receivers and would not let them think about the last plays, rather, let's worry about the next play, so I thought he did a good job there. Defense worked well on the sideline with our coach, communicating what they were seeing. I thought that was a real positive. I think we got better as the game went on. Our second half obviously was much better than our first half. We grew, I think, in the speed of the game as the game unfolded. I liked that aspect of it. We had some big plays on the offensive side of the ball, but the defense, I don't know that I've been around a team that had three interceptions in the endzone. Also, the fact that when the offensive team did turn the ball over, we did not give up any points. That's very rare. That is very rare. But I think that that's a tribute to…our defense just went out and did it and got the job done. Grant's first interception, I thought, was exceptional and it got us back into a positive frame of mind where we could have easily said that okay we made a mistake and the other guy scored. That didn't happen. So, from that standpoint, the way we complimented that aspect of it. The resiliency term has to come into play again. I didn't see anybody – even after trying to get the ball, the gain ended, we tipped the ball up for an interception, we make a play you're talking about a score which goes right away to one touchdown, and you're talking about after the score which goes right away to one touchdown. You're talking right after the unfortunate punt block that became a safety, you're talking about a game that had looked like it might have had to have been two two-point plays that right away now that thing comes into perspective when it's touchdown, touchdown, but there was no change in the way we approached the game and the way our players took the field and the aggressiveness never altered. So, I felt good about that. Now, the obvious, our special teams play really needs to be upgraded all around, although I will say this, Jason Pierre-Paul is a force. If you're ever running down on kickoff coverage with him, you know you've got a chance because you're not going to get doubled. You know where the double is coming from. This guy ran down field – I saw the last kickoff, one of their players grabbed him by the back of the collar to hold him back like that and he still went and made the play…of course there's no flag. So, I was impressed by that. I think the punter…hopefully he's going to work his way through those…that first game in the regular season and I hope that our coverage teams are going to do a much better job as well. We had no business getting a punt blocked. There was a six-man rush. There was a breakdown up front, it wasn't complicated, we turned a guy loose. You never turn a guy loose. We did. That's really difficult to understand. It's embarrassing, to be honest with you. It should never have happened so I do not expect that sound to ever occur again.
Q: On the block, was that because Blackburn was out and there was confusion?
A: No, not at all. Very simple. Six in the box.
Q: Goff looked like he kind of waved at the guys…
A: Wasn't Goff.
Q: How is Kevin Boss' health?
A: It's a concussion. It means he'll have to go through all the tests and we'll relay what is said about it. If people are following the rules, the kid doesn't get touched. That was as blatant and obvious as anything you see. No call, no nothing. We lose a player a few plays into the game and now we wait to hear what his status will be.
Q: Any explanation about that? Wasn't that supposed to be a point of emphasis?
A: I know. I didn't get anything. I went out and they didn't have any idea that it happened.
Q: Wasn't there a neck sprain too?
A: I don't think that the neck is an issue?
Q: Is it more of a problem because he's had concussions in the past?
A: I'm sure that that will be one of the major concerns, sure.
Q: You have two tight ends on the practice squad. Do you need to make a move or are you comfortable letting Will Beatty play there?
A: Beatty has a fracture of the fifth metatarsal and he will have to have surgery.
Q: Is that a season-long thing?
A: I don't know. We'll see.
Q: Did he get stepped on?
A: I'm not sure how it happened. He walked into the locker room after the game and just said, 'My foot's sore.'
Q: Is there another lineman on the roster who could fill that role that Beatty played on Sunday?
A: Yes.
Q: Who would that be?
A: You'll have to wait and see. We'll be disguising that.
Q: Do you need to bring in another tight end?
A: Let's wait and see. Let's wait and talk about that. We're going to need help there.
Q: How about Blackburn?
A: Same. Same knee. Same MCL.
Q: You mentioned Matt Dodge. Are you still following the same plan to be patient with him or do you need to go look for another punter?
A: Patience is not a good word right now, so Matt…we need to see the consistency. You know, there was a 28-yard return in there. I mean, the line drive punt that doesn't go very far, it looks like we're all clumped in there together where no one really even has a chance to disperse the coverage and that ball got outside it like nobody's business so that's what you try to make the young punter and everyone else understand, that it's a team operation here. You've got to give our people a chance to get out there and cover.
Q: What were you getting out of the three safety personnel grouping on defense?
A: Run defense.
Q: In trimming to 53 you spoke about special teams. When you pick the 45 on game day, what consideration does special teams get?
A: It's a strong consideration. It is a limiting factor, if you will, sometimes, but it is a strong consideration. I mean, you try to give advanced notice because obviously early in the week you have to set your practice plan, so, from Thursday to the following Sunday, there was enough time to structure all that and be very aware of who was going to do what and how this was going to operate but once you're in a position, you realize again how difficult it is most of the time to put that 45 together because there's probably one or two guys who could help you who are not dressed.
Q: You talked about the safeties and the run. What about Canty at the end and Kiwanuka at linebacker? How do you think worked?
A: It did fine. We did a good job with that. The guys responded very well.
Q: Do you think that's something that will continue?
A: We'll see. Game to game.
Q: How does it influence these guys on the field in terms flow and rhythm? Did you have to talk to them about that?
A: They did a good job of that. They did a good job. We did a nice job of communicating, substituting. I was a little concerned about that in the first game because we hadn't shown that, but the guys did a real good job.
Q: How much do the guys have to buy into this when there aren't 11 regular starters?
A: You use that word over and over. There are 15 guys that start.
Q: The players are very into who starts.
A: There are fifteen guys that start. They've all done a good job of trying to understand and they've all said it and you keep coming back to this. They say, we're going to use the players to the best of their ability and it's going to be based on what we're facing. I don't know how to say it any easier than that.
Q: But the players do care.
A: That's fine, but they know it's for the betterment of the team. It's the way the thing is structured.
Q: This is not the norm for a lot of teams. Did the players really have to buy into this?
A: We've spent a lot of time talking about this. We've been on this subject since last winter, to be honest with you, that we would use our guys to the best of their ability and we would do the best we can to determine for our team against what we're playing against, the structure that we need to give us the edge.
Q: Why do you see that as an advantage?
A: I think we have a lot of guys. We have guys that play the run very well and still are not necessarily a part of one or two packages. It's just the way it is.
Q: Without Beatty, you really don't have a backup tackle do you?
A: Well, we do. We're just going to have to maneuver around.
Q: How did you think Jonathan Goff did yesterday?
A: He did okay. The right guy in the right spot.
Q: How do you go about preparing a guy who has limited experience like Goff does to play against a guy like Peyton Manning?
A: We'll see. That'll come.
Q: Did Boss have a concussion last year?
A: He did have a concussion last year.
Q: I remember you said he didn't and that everything checked out.
A: It did. It always…you're not going to get back on the field unless you're checked out. It's not going to happen.
Q: Do you remember which play?
A: No. I don't remember.
Q: Did he have just one or a couple?
A: I don't know the numbers either, but there was a concussion, yes.
Q: You had three end zone picks, which is awfully fortuitous. Do you feel like you lived on the edge yesterday or did you go home feeling pretty dominant?
A: I felt like we won. I thought that as the game went on, we established who we were, we made some mistakes, our defense bailed us out. That's kind of the way, hopefully, it'll be. We don't want to turn the ball over. Felt sick about that. How do you preach it that much and then stand there and watch it? It's not easy.
Q: The running game…
A: Did not run the ball well. Did not block the run well. Got better as the game went on, but it still wasn't consistent enough.
Q: Assuming Boss doesn't make it for next week, how far away is Travis Beckum from being really ready?
A: He just needs some work. More concentrated time.
Q: Did you see improvement in his blocking as the game went on?
A: He tries. He works at it. Yeah, he'll stick his nose in there.
Q: How much do you think you lost blocking-wise without having Boss in there?
A: Honestly, he got all the snaps last week too. You have the guy who had all the snaps and then take him out of the game, the guy coming in is at a little bit of a disadvantage.
Q: Is Beatty a surgical thing?
A: Yes. I'm told that, yes.
Q: Does Chase Blackburn need more recovery time now?
A: I have no idea. Supposedly he said that because he's had this kind of thing before that he can try to go with it as soon as he can.
Q: When you play a team that obviously had trouble stopping the run like the Colts did yesterday, do you think that this is a chance for you guys to get going or do you think it's something they'll be working on all week?
A: Balance for us is what we try to do. I thought that even though we didn't have a lot of success with the run yesterday we had 30 passes and 36 runs. We did eventually rush for 118, although, a lot of teams in our league, as you well know, accumulate those run yards slow and late and we were able to do that, but we're still not there. We're not where we need to be. We need to play together longer, we need to practice longer together as an offensive line group, as a fullback, as the wide receivers. Probably one of the things that you should be aware of is the block that Manningham made on the touchdown on the draw – well, it's not a draw for us but when he went in there and blocked the safety so that Bradshaw got in the endzone. That was quite a play. What I'm trying to say is that we need them all to block the people that they're supposed to block in order to have the running game go as well.
Q: What about the pass blocking?
A: Pass blocking was good.
Q: Why is that? Why is the pass block better than the run block?
A: Good question. I think we sorted it out pretty good in pass protection, live protection, kept the tight end in, always had him back, trying to chip and do some things like that. I think that's probably – and the guys really maneuvered well and stayed frontal. The run game, we got some penetration, we got picked off on our fours, we got sloppy at the edge. We just need to clean a lot of that up.
Q: Is it any more complicated given Bradshaw's style? You never really know where he's going…
A: No. It shouldn't. We'd like to be able to get that all straightened out though. There were a couple of times when he contributed to the issues.
Q: Is Aaron Ross going to be ready to go?
A: He's going to practice as far as I know.
Q: Did he actually try to warm up on Sunday?
A: No. The medical staff did not think he was quite where he should be to be able to go. That's why he didn't.
Q: Do you know anything about the quarterback you're playing this week?
A: Is that a question? Yeah, I know him. He's my brother.
Q: Have you talked to him at all during the week about it or anything?
A: I haven't talked to him this week. I might talk to him in the next couple days, I might not. I don't know. We'll see how it goes. We really just don't know how many times it's going to happen, and that's really what it's going to come down to. I think you have to try and enjoy it, and understand it is special to look over there and see your big brother on the sidelines. You have to enjoy these times and take advantage of it, and remember it. Once that game starts, I'm worried about the Colts defense. This whole week of preparation, it's not Peyton that's my concern. It's that Colts defense. It's Dwight Freeney and those guys who I'm trying to game plan and get ready to play.
Q: Last time you guys played, you were pretty young and inexperienced. Now, you're established:
A: Yeah, it's a little different than last time. It was my first full season being a starter, and the first game of that season. There were a lot of things going on. With this one, I've been playing a little bit longer. Still, it's going to be fun. It's going to be a great environment, it's my first time to play in the Indianapolis stadium. I've been there for a few games but never played in the stadium and I'm looking forward to that. They are always a tough team and it's going to be a challenge for us, so we have to go out there and play great football.
Q: It's only natural this game will be hyped up, would you prefer that it goes away and just becomes a game?
A: I think that would be the goal, but whether that happens or not, that is out of my control. All I can do is prepare for the Colts defense and try and go out there and play to the best of my ability. We need the whole team to play well like we did last week, and go out there and see if we can get a win.
Q: Do you think Hakeem Nicks will be more of a big play threat this year?
A: I hope so. I think all of our receivers made a lot of big plays. That's something I think that we've known about these guys is that we have the potential to make a lot of big plays in the passing game. We did that on Sunday, a lot of short throws and these guys made guys miss and get extra yardage. We just have to eliminate the turnovers, and that's been the problem. Just being more consistent, and the drops, the bad throws by me, we need to eliminate those things because our guys are making up big plays. We're going to be okay and we're going to find ways to score touchdowns.
Q: Looking back at the tape, what was the issue with all the tipped passes?
A: Just high balls, a little combination of both. Some I have to pull down. Really, the last one was the one that was way too high and should've been an easier throw. The one Hakeem had, I might have been forcing it a little bit, trying to throw it over a linebacker. I had to put it where it had to be and I have to be careful throwing it high over the middle. If the ball gets tipped, there is a good chance of getting intercepted. It's a combination of both, me and the receivers. I just need to put it a little lower, and sometimes you need the receivers to come and make great catches for you. If they don't have to make great catches, though, don't try and make them.
Q: What changes for you as far as the playbook and plays go when you're down a tight end?
A: You just have to scramble around so the formations and packages that we have put in all of the sudden you can't run. You have to think about certain checks that you have been checking during the week, you can't check certain things. You have to have an offensive lineman like Beatty playing tight end for you. Your packages kind of shrink a little bit, and you have to be conscious of what you're getting with certain checks and protections. We'll have some tight ends up this week. Hopefully, Kevin comes back healthy and can play, but if not, we'll have some other guys in the game. On Sunday, when you only have one tight end, it changes what you can do.
Q: Can Bear Pascoe do the same things that Kevin Boss can do?
A: Yeah. Obviously, Travis (Beckum) has to play well for us. Get Beckum in there and he's very talented, and he can really run and get down the field. He has to help us out in the pass game and the run game. He has to get his assignments down and be comfortable, and a lot of it is that he hasn't had many reps. He didn't get many reps last year during the season, he was banged up. He missed a whole lot of training camp this year. It will be a great week of practice for him, really good. We'll get him a lot of reps and get him comfortable with what we're doing and his decision making. Then, if Kevin can't go or we get another tight end, they have to step up and play well for us and learn everything that's going on. Bear knows that, or whoever they bring up, and we'll be in good shape.
Q: You went to Manningham in some key situations yesterday…has he gotten better at running precise routes and all?
A: I think all the receivers have gotten better, and these young guys. A lot of it is having another year to watch yourself from film. The offseason, we get to look at the film, see your route running and your decision making, and you learn a lot better when it's yourself rather than watching someone else or seeing how it's drawn up in the play book. I think he's gotten better, and again, he's made some big plays. He had a couple catches, made some guys miss, some key first downs, and that's what you get from Mario, an explosive receiver who can make some big plays.
Q: How invaluable is the time you spend with those guys training in the offseason?
A: Oh yeah. That's a key time to get together and talk about different things, situations, work on different routes, and it's very important. Obviously, there is only so much you can do during the offseason and working on certain things. A lot of it comes from training camp, working versus live corners, and working versus different defenses, and that's the most important thing.
Q: Did they tell you anything as far as the Colts and how they'll come after the offense?
A: No, but I think this week that the defensive ends are much better. No, they haven't said much.
Q: How do you feel you did after film?
A: It's a lot of little things, whether it's my technique or my high placement. Like I said yesterday, it's things that can be easily corrected and that's one of the positive parts about a mistake is that you can just know that if you have your hand on the other side, you can turn that block into a 50-yard run as opposed to a five-yard run.
Q: Do you think playing that many reps would be different if you had a week to prepare for it?
A: I mean obviously the more reps, it's going to be better. Would I have liked to rep more during the week? Yes. Thinking about it, we did a lot of things as far as our offensive line goes during that game. I feel much more confident doing that. Obviously, it's my first time doing a bunch of those things but now going back and looking at it, and going through with the corrections, I feel a lot more confident.
Q: Are you totally where you want to be having missed a significant portion of training camp?
A: I mean, yes and no, there is always room for improvement. I can say where I was in the beginning of the week as opposed to the end of the week last week was a very big difference. I was pretty rusty coming back on Wednesday and Thursday was better. On Friday, I really felt like I was in my groove. It just kept going up from there.
Q: When you were put in, were you asked to do something that maybe you weren't asked to do during the week in practice?
A: See that's the thing. Practice during the season isn't like training camp. You don't have five tight ends, and every tight end doesn't get a rep on that play during the season. That's the difference between training camp because everybody gets a couple reps at each play. I'd say that's the biggest part, but you just have to step up and do what they ask.
Q: Give me an example of something like that:
A: It's not that as much as it is the positioning. There aren't very many times where you'll see me lined up at the Y position. I'm always going to be out wide or in the slot. Now, it's just something that I was getting out, and the coaches kept on harping on me about making sure I'm getting all my stuff up the slot and in the Y position. Getting thrown in there at the Y was different. It was stuff that I had done before but had not repped during week but was definitely familiar with. Like I said, I've made some mistakes but it's definitely a learning experience. I'm glad I was in there to be able to do that and learn from my mistakes, and be able to be more versatile during the season as far as playing the Y.
Q: The injury…
A: Same thing. Same kind of injury. Just got hit on the outside of the same knee. We'll see how it goes taking it one day at a time. Start my rehab back up and hopefully get back. Hopefully it won't be as long of an off-time this time.
Q: Thoughts when it occurred. You had to be thinking, 'Not again.'
A: Basically. 'Are you kidding me?' That was basically my thought, 'Are you kidding me?' But it is what it is. It's part of football. Injuries happen, and like I said, I just have to rehab and bounce back.
Q: Still the MCL?
A: Same type of thing. Same knee. Right knee.
Q: But it doesn't feel as bad as it did the first time around?
A: I feel like it's more stable this time. I feel like I'm at a better starting point than I was the last time. Last time it was real wobbly, real loose. This time I have at least some stabilization in it, and hopefully the rehab will be shorter.
Q: The last cost you three weeks. Are you thinking maybe about a week with this one?
A: Hopefully not even that. We'll see. We've got a good trainer so as quick as they can get me back, I'll be doing everything I can to get there.
Q: Was Jonathan Goff in your spot on that blocked punt there? Or was that his regular spot?
A: He was in for me at left guard.
Q: Did you see that play?
A: I saw it today on film. Got to get better on protection.
Q: I know you don't want to talk for him, but…
A: I don't know. You all watched the film. We've got to protect. Everybody's got to protect. In that position we're up 15 points, we've got to know protection first. It was four and a half minutes or six and half minutes left in the game, we've got to know to protect.
Q: You weren't on the field for a lot of it, but the special teams play was not what you guys were looking for.
A: Definitely. We still have people to step up. I think honestly Jason Pierre-Paul played a heck of a game on special teams. If you all watched '90' run down the field on kickoffs and stuff, he did a lot of good things for us on every special team. Now we need more guys to step up, including myself, so I can get back healthy and get out there on the field. We need a lot of guys to step back up.
Q: You have embraced this role on special teams. Do you think more guys need to embrace it?
A: Definitely. That's part of my job. They elected me special teams captain for a reason, and that's one thing I've got to do. I've got to bring the unit together because what we did yesterday wasn't acceptable for our positions. Take it upon yourself, and if every player does their job, we will make a lot of good things happen on special teams this year.
Q: Do you say anything to Matt Dodge? You are the special teams captain. Do you say anything to him today?
A: Just tell him to keep his head up. He's a rookie, his first game, get the jitters out, play. He got drafted for a reason. He can punt the ball, and he can do it well. Just play and get those cobwebs out and everything else he's got going on-any mind tricks he's got and go play. Take the practice to the field.
Q: I'm sure you're not talking about the technical aspects of it. Is that something you look at like, 'OK, I've got to make sure his mind is right?'
A: That's how it is with anything. If you're blocking on kick return and you had some bad games, it's a mental block. You feel like, 'Alright, now this time I've got to try to jump him on the outside. This time I've got to get my leverage farther in.' Then he beats you backdoor. So it's a mind game you play with yourself. You know how to do it. You've just got to remember how to do it over and over every time.
Q: When you talk about special teams and guys stepping up, I mean it takes a certain mentality.
A: That's what we were talking about was the fact that people have to buy into these roles. And if you're not a starter on the team, that's your role. So that's the thing we've got to buy into, and everyone go out there with the same mentality and we'll get things done.
Q: I mean that was not hard for you obviously.
A: That was my get-in from the front door.
Q: Do you see how it might be hard for somebody else?
A: I can definitely see. But look at we've got first rounder Jason Pierre-Paul. First round draft pick, he bought into it yesterday. You watch him on film and you'll see he bought into it.
Q: Was it simple things you guys were messing up?
A: Definitely. Everything is correctable. That's the one thing about it like the blocked punt is correctable, completely correctable. Just protection first. Get in our lanes. Our kickoff coverage, including myself, I went to chip a guy to help a double team, and I just couldn't get back in my lane in time. So that's one thing. I recognized it right away. I told Jason afterwards, 'Look, you're on your own on double teams from now on because I can't get over to you. I need to get back in my lane.' And he didn't need it. He really didn't.
Stay tuned to Giants.com for more player quotes...