EAST RUTHERFORD, NJ - Justin Tuck and Chase Blackburn joined the Giants together in 2005. Well, not actually together. Tuck was a highly-regarded defensive end prospect from Notre Dame who was chosen on the third round of the NFL Draft in April. Blackburn, a free agent linebacker from Akron, signed two months later, ostensibly because the Giants needed someone to take training camp reps.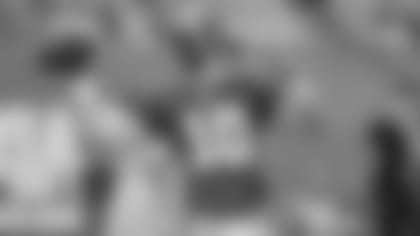 Since their arrival, both players have performed at a high level and have been outstanding ambassadors for the organization off the field. Yesterday, Tuck and Blackburn were honored by their teammates when they were elected captains – along with quarterback Eli Manning – of the 2010 Giants. While this is Manning's fourth go-round as captain, it is a first for Tuck and Blackburn.
"It means a lot," said Tuck, who will play as a captain for the first time Sunday, when the Giants open their regular season against the Carolina Panthers in the New Meadowlands Stadium. "Obviously getting elected captain by your peers, it means they have a respect for you. I don't think it's going to change much. You've just got a 'C' on your chest now, but I'm still going to be the same old Justin. I'm just trying my best to get everybody to understand what we need to do to win this football game."
"It's an honor," Blackburn said. "To me, I feel like as a special teams guy, it's great everybody on the team voted on it. Offense and defense both vote on that, so it's definitely an honor to be voted by my teammates. I'm going to do the best I can do being a captain. I'm going to lead by example."
He's already done that, leading the Giants in special teams tackles each of the last five seasons. But his teammates might see a different Blackburn now that he'll have that 'C' on his jersey.
"My number one thing is to continue what I've been doing," Blackburn said. "Secondly, I feel like I have a responsibility and a position where now I can kind of get on people if they're not doing the right thing a little bit. Before, you kind of sit back and you don't feel like it's your place to say things. Now we have to make sure. I'm in charge of a unit now, so I have to make sure we're performing. If we're not, we've got to get it together."
Tuck is also cognizant he has more responsibility in the locker room and on the field.
"Everybody is looking up to you when things are good or when they are bad," Tuck said. "When they're bad they're looking at how you're going to respond, and you have to be a leader -unfortunately with your mouth, but definitely also with your actions, more with your actions. So I think the team takes the pulse from you. Sometimes there are a lot of things that coaches can't see that maybe your teammate or somebody will rely on you.
"It's a lot of things that me, Eli and Chase will have to kind of relate back to the coaches and let them know, 'This is what we see.' So it's a lot of responsibility, but I think we have three good ones and we're going to do a good job as far as just delegating things for each other."
Last season, Manning, Antonio Pierce and Jeff Feagles were the Giants captains. Pierce and Feagles have since retired.
Head coach Tom Coughlin will name two additional game captains on a weekly basis.
*The Giants welcomed a very special guest to practice today: Gen. Raymond T. Odierno, who was the Commanding General of the U.S. forces in Iraq until Sept. 1. Odierno, who grew up a fervent Giants fan in nearby Rockaway, N.J., has visited practice and training camp in the past. He will attend Sunday's opener. Odierno hosted Coughlin and four other NFL head coaches in Iraq last year on the inaugural NFL-USO Coaches Tour.
"We were excited about seeing him," Coughlin said. "I know he had some things that he was doing here in New York – did some shows and stuff.  The Vice President was with him, as normally occurs. And it is good to see him home. (He spent) four and one-half years in Iraq.  Obviously mixed, mixed emotions about leaving and very devoted to his men. But it is great to see him."
Coughlin never wastes an opportunity to have Odierno address the team. So after practice, the players formed a semicircle around the general, who spoke to them briefly.
"(He spoke about) just team, about team," Coughlin said. "About mental, physical toughness, resiliency, about overcoming anything and everything and that if you believe in one another and have each other's back.  He equated that to the group of soldiers that captured Saddam Hussein."
"He talked about taking care of the guy to your left and the guy to your right," said center Shaun O'Hara, who traveled with the general during his Iraq visit in the spring. "A lot of people try to put a lot of parallels in Army and in football and war and they're really two totally different things. But what he was stressing was the accountability aspect. If you are in a corps, you're in a battalion or a squadron, you're counting on the guys in that group, and football is no different."
Odierno received an ovation from the players, many of whom approached him for a personal greeting.
"It's always inspirational whenever you have a guy who, number one, has accomplished so much in his life but also the fact that he spent four and a half years in Iraq defending this country," defensive end Mathias Kiwanuka said. "And whether or not you agree with the war, you have to respect everything he's done for us."
"Anytime you have anybody that has been in the service come to visit you, we're really thanking them," O'Hara said. "To have General Odierno here, a four star general, I think everybody is pretty much hanging on his every word. Of course, it's nice to hear from someone other than coach once in awhile, but it was just great to see him. I had a chance to visit with him and spend some time with him over in Iraq, and it's a lot better to be here watching charter planes fly over instead of (military) helicopters. I think we're just really grateful for all the service that he did, everything he did for us as a country, and we're glad to have him back."
No one was happier to see Odierno than Coughlin, who has become close friends with the general.
"(His visit is) very, very, very significant for me," Coughlin said. "When you stop and think about the devotion that people such as the general have, to our country, and to the opportunity for the rest of us to sleep under the blanket of freedom, it is incredible what sacrifices are made by our brave and loyal soldiers."
*Running back Ahmad Bradshaw said he expects little change in his role now that he is slated to become the starting running back.
"I think I might get more touches just being the starter," Bradshaw said. "Other than that, it's going to be me and Brandon getting the ball most of the time. Regardless of it's me in there, and they're handing off to me, or if Brandon is in there, we still have the same responsibilities.
"I think I might get more touches just being the starter. Other than that, it's going to be me and Brandon getting the ball most of the time. Regardless of it's me in there, and they're handing off to me, or if Brandon is in there, we still have the same responsibilities."
Bradshaw, who started just one of the 42 games in which he played his first three seasons, clearly looks forward to taking the first snap.
"This is what I play this game for," he said. "I just want to take pride in being the starter and doing my job. Whatever I can do for this team."
*Cornerback Aaron Ross (foot) returned to practice on a limited basis.
"He got a little better, moved a little better," Coughlin said. "He played some from scrimmage. He took some plays. I thought he warmed up well. I thought he moved around pretty well."
Coughlin would not say that meant Ross will play Sunday.
Rookie linebacker Phillip Dillard (hamstring) was the only Giant who did not practice. Blackburn (knee), O'Hara (ankle/Achilles), defensive tackle Chris Canty (groin), cornerback Corey Webster (groin) and linebacker Gerris Wilkinson (groin) all practiced fully.
For Carolina, running back Tyrell Sutton (shoulder), tackle Jeff Otah (knee) and linebacker Jordan Senn (ankle) did not practice.
*The Giants are inviting all fans to celebrate the arrival of the inaugural season in their new home with a Kickoff Tailgate Party tomorrow (Friday, Sept. 10) from 6-8 p.m. in the New Meadowlands Stadium. Admission and parking to this pep rally event are free. Safeties Antrel Rolle and Deon Grant will kick off the event with a joint speech to the crowd and defensive end Justin Tuck will close the festivities with a fiery talk that will surely pump up the fans. Kevin Boss and Victor Cruz will also attend. The West Plaza entrance of the stadium will host appearances by Giants legends – Joe Morris, Ottis Anderson and Carl Banks will be on hand to sign autographs - youth football activities for kids, and music. In addition, fans can get their first look at the new team store and the fantastic new Giants Legacy Club presented by New York Presbyterian – the team's new Hall of Fame museum – will be open for tours. The Club features hundreds of Giants artifacts that will take fans through the team's history.