EAST RUTHERFORD, N.J. –** Tom Coughlin said today he wants to continue coaching. Jerry Reese said he "absolutely" wants Coughlin to remain on the Giants' sideline. John Mara spoke to Coughlin and "I expressed to Tom this morning that we do want him back as our head coach."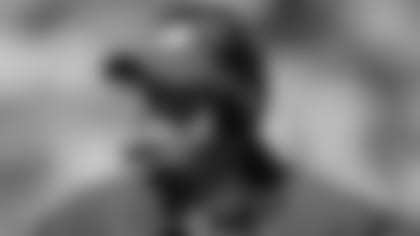 Read Quotes from Monday's Interviews Coughlin's 10th season as Giants head coach ended yesterday with a 20-6 victory over the Washington Redskins, concluding a disappointing 7-9 year.
"I do want to coach," Coughlin said. "We do have meetings scheduled throughout this week, perhaps this week, with ownership and management, and we'll try to evaluate everything at that point in time. I'm sure there will be many, many questions asked about going forward, so we'll talk our way through some of those, I'm sure, at another point in time."
Mara, the team's president and chief executive officer, and Reese, senior vice president and general manager, each strongly support Coughlin.
"We still have every confidence in him," Mara said. "Beyond that, in terms of his contract and everything else, that's a discussion for a later date, but we do want him back as our coach in 2014."
"We haven't had a conversation," Reese said. "Later this week we'll sit down with Tom. But do I want him to come back? Absolutely, I want him to come back."
The postseason evaluation will run the gamut from player personnel to coaching and beyond. A focal point of the analysis will be the Giants' offense, which finished 28th in both yards (307.5) and points per game (18.4). The Giants scored 293 points, the first time in the Coughlin era they failed to finish with at least 300 points.
Nobody will use injuries as an excuse, but the Giants started six different running backs and seven offensive line combinations. And quarterback Eli Manning struggled much of the season, finishing with a career-high and franchise-record 27 interceptions.
"I think our offense is broken right now and we need to fix that and we need to make some improvements on defense, too," Mara said. "But, obviously, the offensive side of the ball, we've got to improve there and we can't go into next season with the same personnel."
The coaching staff will be a topic of discussion when the three men meet to discuss the future. Mara was asked if he would force staff changes or let Coughlin make those decisions.
"I'm not sure how to answer that," Mara said. "I have opinions and Jerry has opinions. I'd like to think that at the end of the day, we're all going to be on the same page, so I don't think it would ever come to that."
Would he be willing to keep the staff intact after a season that began with six consecutive losses and finished far short of expectations?
"That's obviously one of the main topics of discussion that we're going to have at the end of the week, and until we have that, I don't want to comment on it," Mara said. "Certainly, there are some changes that need to be made within the entire organization and whether that ends up being one of them or not, I'd rather wait until we have those discussions first."
Reese was also asked if he would welcome back the entire staff.
"I'm not going to answer until we talk to the coach," Reese said. "That's disrespectful to some people who have been here for a long time and helped us win a lot of football games. Until we talk to the head coach about those things, it's inappropriate to talk about them right now."
Coughlin is fiercely loyal to his staff and remained so when asked about potential changes.
"That certainly will all be discussed throughout the course of this week," Coughlin said. "Everything will be evaluated. I have great confidence in this group of men that we've had here as a coaching staff, and I believe in them very strongly."
Coughlin just completed his 18th season as an NFL head coach. He is tied with Hall of Famer Paul Brown as the 14th winningest coach in history and he was won two Super Bowls. Coughlin will be 68 when the 2014 season begins. But leaving the coaching profession is the last thing on his mind.
"I've always been a coach," he said. "My feelings are exactly the same as they always have been. Competitive by nature, I want to be the best that I can be and the people that surround me, I want them to be the very best they can be. The issue with asking me questions of this nature and with my response this year to people that try to ask me these questions is I don't want it to be about me. I don't think it is about me and I don't want to take anything away from our team and what we're trying to accomplish by answering questions about myself and my future. …
"From my standpoint, as I look at a 16-game season and hopefully a postseason, I've always had the energy and the drive and the determination and my answer has always been to those who have asked, I got into this thing a little bit later than most. I became a head coach in Division III when I was very young. At age 45, I got another opportunity to be a head coach in college. I'm just a young guy in this business. Everybody wants to know what's next for me. I hope it's coaching the New York Giants. I don't spend a lot of time thinking about me, and my circumstance, and my situation, it's rather our team. Where we're going and what direction we're in."
Mara today offered his complete support of Reese, who has been the general manager since 2007.
"I firmly believe that he is the right guy going forward," Mara said. "I've spent enough time around him to know that he is the right guy. He is not afraid to make tough decisions and he knows what the risks are and sometimes you have to take those calculated risks and he is a very confident guy. Nobody works harder than he does. I still trust his evaluation skills. I like the way he deals with players. He's very honest and direct with them. He's got a very good relationship with Tom. Yes, I am convinced that he is the right guy to lead us going forward."
Is Mara's job safe? "Well, not according to my mother, it's not," he said. Ann Mara, is the matriarch of the Giants and owner of half the franchise.
The Giants will have the 12th selection in the first round of the NFL Draft. Assuming they keep it, it will be their highest pick since 2004, when they chose quarterback Philip Rivers No. 4 overall. Rivers was sent to the San Diego Chargers in the trade that brought Manning to the Giants.
The Giants today signed seven players to reserve/future contracts: defensive end Kendrick Adams, tackle Steven Baker, running back Kendall Gaskins, wide receiver Marcus Harris and defensive backs Travis Howard, Junior Mertile, Chaz Powell and Ross Weaver. All seven players ended the season on the Giants' practice squad.