EAST RUTHERFORD, NJ - The Giants always seem to be on the move.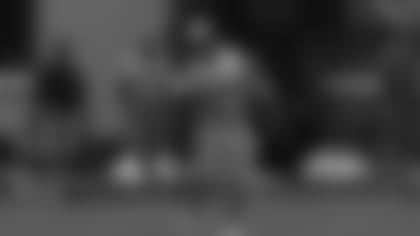 Last year, they began working out of their beautiful new office and practice facility, the Timex Performance Center. This fall, they'll begin playing their home games in the glittering New Meadowlands Stadium. Even the Giants' annual golf outing benefitting the Giants Foundation has moved. This week, the 19th edition of the outing, presented by Toyota, was played at the prestigious Westchester Country Club in Rye, N.Y.
"It was a wonderful venue, a tremendous course and an awful lot of fun," Coach Tom Coughlin said.
The event attracted its usual impressive turnout of current and former Giants players and coaches, sponsors and golfers looking to conquer the difficult layout at Westchester.
Approximately $500,000 was raised for the foundation, including more than $300,000 through sponsorships and more than $100,000 via the silent and live auctions.
The Giants Foundation acts as a network for financial and social support for disadvantaged youth and their families throughout the greater metropolitan region. All grant recipients must be 501 (c) 3 charitable organizations involved in areas such as education, health, youth-related services or civic affairs.
In addition to raising money for a terrific cause, almost 300 golfers had a great time on the course, where the fivesomes played a scramble
The Premier Home Healthcare Group team led by Super Bowl XXV most valuable player Ottis Anderson won the low-gross title by finishing 14 under on the par 70 South course. Playing with Anderson were Vin Iorio, Frank Malara, Tom Rosato and Artie Schwabe. In second place at 11 under par was the Natoli Construction Group, led by tight end Scott Chandler and his teammates, Bob Dathe, Paul Natoli, Marc Walker and Chris Powers.
Former tight end Bob Tucker, who seems to win something in this outing every year, led the Sound Refrigeration team to the South course net title at 22 under par. The team included Greg Ferguson, Alan Hayt, Robert Gulmi and Tony Lombardi. Right behind them was the Morgan Stanley team led by defensive end Justin Tuck and including Bill Healey, Ed Touhey, Craig Martone and Chris Clasen.
On the par 72 West course, the low gross score of 16 under was turned in by Riley Skinner's team. The rookie free agent quarterback – who also turned in the day's longest drive at an estimated 350 yards – was joined by Conor McDade, Ryan Coughlin (not related to the head coach), Shane Ecclesine and Joe Barber. In second place at 12 under was Tiffany and Co., captained by coach Coughlin and his teammates, Paul Campbell, Sean McGuigan, Tom O'Rourke and John Slevin.
Two teams tied for the low net score of 21 under par on the West course. The Christie Family Foundation was headlined by cornerback Terrell Thomas and included B.J. Becker, Todd Christie, Rich Salvadore and Brian Toolan. The Bank of Bermuda II team was led by linebacker Jonathan Goff and included Ashley Parker, James Tammaro and Robert Witkoff.
After leaving the golf course, the participants enjoyed a cocktail hour and dinner, as well as a program hosted by Bob Papa, the voice of the Giants. They bid on the silent auction items and, later, at the live auction.
The former Giants in attendance included Carl Banks, Howard Cross, Brian Kelley, Bill Ard, Chris Godfrey, Karl Nelson, Bart Oates, Stephen Baker, Derek Brown, Scott Brunner and Jeff Feagles. General manager Jerry Reese played, as did many current players, including Eli Manning, Shaun O'Hara and Rich Seubert. Almost all of the Giants coaches were in attendance.
At dinner, the gathering heard from Coughlin, who displayed his sense of humor and whose enthusiasm was typically infectious.
"On 18, Howard Cross' drive was about 40 yards beyond any of the guys in our group – and we had some big hitters in our group," Coughlin said. "I wanted to take Howard in for some HGH testing."
After introducing his coaches Coughlin spoke about the Giants' free agent acquisitions – safeties Antrel Rolle, Deon Grant and quarterback Jim Sorgi.
"I really believe (the acquisition of Rolle) is quite a catch for the New York Giants," Coughlin said. "He's going to be an outstanding football player for us at a position that we need. Deon Grant is a veteran safety that is going to help us very much with his leadership on the back end. Jim Sorgi, the backup quarterback to Peyton Manning for a lot of years, is now in contention as a backup quarterback with us."
Coughlin also expressed his excitement about the Giants' 2010 draft class.
"Jason Pierre-Paul, our number one draft choice from South Florida, is extremely athletic and extremely eager to learn," Coughlin said. "Linval Joseph, our second pick at defensive tackle, is an outstanding young guy."
Coughlin mentioned the rest of the draft choices and reviewed the team's spring schedule, including the mandatory minicamp in mid-June.
"This is an exciting time for the New York Giants," Coughlin said. "I can't even contain myself with pride and emotion. We have a brand new office facility, the Timex Performance Center. And get our new address – 1925 Giants Drive. We're still pinching ourselves over this and our thanks to the Maras and the Tisches for the opportunity to have three grass fields and 60 yards and 120 yards indoors (turf fields), beautiful offices, brand new auditorium and brand new weight room. We're still very much excited about this.
"Then come this fall, a brand new stadium to kickoff the 2010 season. The first preseason game is with the Jets and the first regular season game in the history of the brand new Meadowlands Stadium will be the New York Giants against the Carolina Panthers. So we're excited and very much looking forward to this."
Coughlin reviewed the Giants' regular season schedule and noted the concentration of NFC East games in the second half of the season.
"Whenever we get to the point where we have the , it pretty much kicks it all off for us," Coughlin said. "We're well into our spring work. Our veteran players are very poised. They're very serious. We have a hundred percent attendance in the strength and conditioning program, a hundred percent attendance in the OTAs. We have our minicamp coming up, so it's a very, very exciting time for us. We look forward to the season."
It's on the horizon. You can hear it in Coughlin's voice.
**[ ](http://www.nyg2010.com/)**
If you'd like to submit a question or comment to Michael, click here.