EAST RUTHERFORD, NJ - The Giants today concluded a significant two-day restructuring and reduction of their roster by releasing 24 players to reach the NFL regular season limit of 53 players.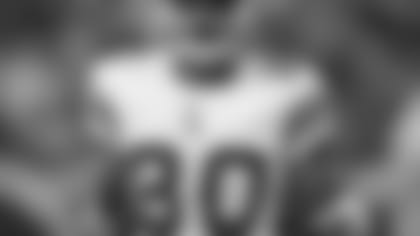 Among those players who were waived were Rhett Bomar, who threw more passes than any other Giants quarterback this preseason; defensive tackle Jay Alford; running backs Andre Brown and Gartrell Johnson; and tight end Bear Pascoe. The club terminated the contract of three veterans: wide receiver Derek Hagan, offensive lineman Guy Whimper and safety John Busing.
Also waived were quarterback Dominick Randolph; fullback Jerome Johnson; wide receiver Tim Brown; tight end Scott Chandler; offensive linemen Jacob Bender, Herb Taylor, Jim Cordle and Todd Londolt; defensive linemen Tommie Hill, Alex Hall, Dwayne Hendricks and Nate Collins; and defensive backs Seth Williams, Courtney Brown, Matt O'Hanlon and Sha'reff Rashad.
Hall and Courtney Brown were waived injured.
The current roster includes two rookie free agent receivers – Victor Cruz and Duke Calhoun, all five of the Giants' healthy 2010 draft choices, and eight linebackers.
It also includes quarterback Sage Rosenfels and running back/return specialist Darius Reynaud, who were acquired yesterday in a trade with the Minnesota Vikings.
"We put the roster together in the best interest of our football team, the best way in which we felt would possibly balance off our numbers and still be very much aware of the way in which you would rank the ability level of all the players on the team," Coach Tom Coughlin said. "You'd like to think you're ready to go in the first game and hopefully we won't have to make a subtle adjustment as we go along."
The Giants open the regular season Sunday, Sept. 12 at home against the Carolina Panthers. If they make no changes, the opening day roster will look like this:
Offense (24)
Quarterbacks (2): Eli Manning, Sage Rosenfels,
Running Backs (4): Brandon Jacobs, Ahmad Bradshaw, D.J. Ware, Darius Reynaud
Fullbacks (1): Madison Hedgecock
Wide Receivers (6): Steve Smith, Mario Manningham, Hakeem Nicks, Ramses Barden, Victor Cruz, Duke Calhoun
Tight Ends (2): Kevin Boss, Travis Beckum
Offensive Linemen (9): David Diehl, Rich Seubert, Shaun O'Hara, Chris Snee, Kareem McKenzie, Will Beatty, Adam Koets, Shawn Andrews, Mitch Petrus
Defense (26)
Defensive Linemen: (9): Justin Tuck, Barry Cofield, Chris Canty, Mathias Kiwanuka, Osi Umenyiora, Rocky Bernard, Dave Tollefson, Jason Pierre-Paul, Linval Joseph
Linebackers (8): Jonathan Goff, Michael Boley, Keith Bulluck, Bryan Kehl, Clint Sintim, Chase Blackburn, Phillip Dillard, Gerris Wilkinson
Cornerbacks (5): Corey Webster, Terrell Thomas, Aaron Ross, Bruce Johnson, D.J. Johnson
Safeties (4): Antrel Rolle, Deon Grant, Kenny Phillips, Michael Johnson
Specialists (3)
Kicker (1): Lawrence Tynes
Punter (1): Matt Dodge
Long Snapper (1): Zak DeOssie
A mild surprise is the inclusion of both Cruz and Calhoun. Cruz, from UMass, seemed to be a lock after an excellent training camp and his performance in the preseason, when he led the NFL with 297 receiving yards and tied for the lead with four touchdowns. Calhoun, a product of Memphis, scored the game-winning touchdown against New Engalnd on a 60-yard reception from Bomar. Their ascension, on offense and special teams, led to Hagan's departure.
"It was a tough call," Coughlin said. "Derek Hagan is a very good special teams player and he made our team a year ago because of that. We felt like our situation, particularly at the gunner spot, had not emerged the way we wanted to. Calhoun did a nice job the other night. He and Reynaud, along with a couple of other guys – D.J. Johnson – will get an excellent opportunity to help us in that regard. We need the power and the speed going down the field because of the young punter (Dodge) and we didn't get many plays made out of the gunner position in preseason.
"We certainly had an eye toward who can help us on special teams and there are always thoughts on that when you put your roster together – who's going to perform in what categories. That had a lot to do with our trade for (Reynaud). It's going to be reflected in the added responsibility we put on a lot of people to help us become a stronger special teams outfit than we were in the preseason. We kept eight linebackers and a lot of thought went into that – not that they're all going to be active. There's always great attention given to special teams. We were a team coming into training camp that had a lot of work to do and a lot of transitional spots that had to be taken care of. We hope we're moving in that direction."
This is Coughlin's 15th season as an NFL head coach and cutdown day never gets easier. A couple of today's transactions were particularly unpleasant.
One was Pascoe, who was the team's only healthy tight end for much of training camp.
"There was an awful lot of sentiment for Bear, because of what he was able to do," Coughlin said. "There was an entire week in practice when he allowed us to practice. I had to cut some snaps out, he was the guy that kept us going. And when you'd go to him and think he might be a little fatigued, he'd say just the opposite – 'Bring it on coach, I can do it.' That attitude is a tremendous thing."
Bomar made tremendous strides this summer. He played the Pittsburgh game because Manning and Jim Sorgi were hurt and his 77 passes were 42 more than any other Giants quarterback threw this preseason. Ultimately, however, the Giants wanted a backup with NFL regular season experience and dealt for Rosenfels.
"Bomar's progress has been outstanding," Coughlin said. "He's worked very, very hard. He did receive a lot of attention, he did make progress and he did show us what he can do."
Alford, a 2007 third-round draft choice who missed all of last season after undergoing knee surgery, got caught in a numbers crunch at defensive tackle.
"It was competitive at that spot this year," Coughlin said. "Even though we still feel like we have a ways to go to have the front that we say we have, it was a very difficult choice to have to make. Based on the competitiveness at the spot and the ability to rank the guys in terms of their production, we really didn't, in all fairness, have a lot of choice."