Flag Football teams enjoy the day while benefiting Special Olympics of New Jersey
Feb. 10, 2007
It was the Hudson County All-Stars who stormed the field of Giants Stadium to win the Championship in the first New York Football Giants "Snow Bowl" flag football tournament to benefit Special Olympics New Jersey on February 10.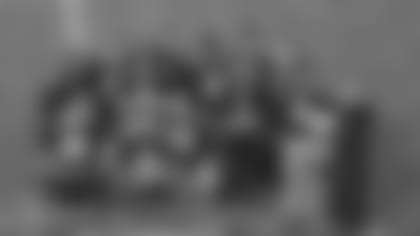 The Hudson County All-Stars celebrate their victory in the first annual "Snow Bowl" benefiting Special Olympics of New Jersey.
The air temperature hovered around the freezing mark as 12 area teams battled head-to-head in the first Snow Bowl Flag Football Tournament. Thrilled to be playing on the gridiron of East Rutherford's Giants Stadium, the Hudson County All-Stars won the final round against the East Rutherford PBA with a score of 23-0.
Participating teams raised a minimum of $1,000 to play in the tournament. All proceeds benefited the more than 15,000 athletes of Special Olympics New Jersey. For additional information on The New York Football Giants Snow Bowl for Special Olympics New Jersey please call 609.896.8000 or visit the website at www.sonj.org.
Special Olympics New Jersey provides free year-round sports training and Olympic-type competition in 22 sports for more than 15,000 children and adults with intellectual disabilities or other closely related developmental disabilities. ](http://www.jointheteam.com/)