EAST RUTHERFORD, N.J. – Giants Stadium was alive with action today as 120 athletes from six New Jersey High schools participated in a skills camp in which they received instruction from Giants players.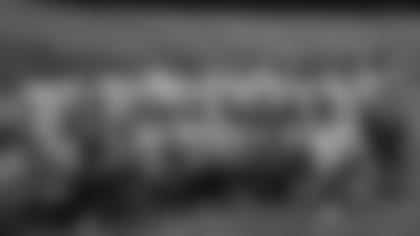 RB Brandon Jacobs is pictured here with students from Kennedy High School.
The 15 Giants who put in a full day of teaching have participated in the NFL's High School Coaching Internship Program since the team's offseason conditioning program commenced. They players were placed at one of the six schools and spent three or four afternoons a week there, helping the students with everything from strength and conditioning techniques to life skills to the importance of education.

The internship program has been an important part of many players' offseasons for many years, but this is the first time it ended with a full-scales skills camp in the stadium.

The high school players went through morning drills run by the players. During lunch, offensive quality control coach Sean Ryan spoke to the players about what his job entails and what he looks for in a player. The day concluded with 7-on-7 games in which the Giants players switched roles and became coaches.

The participating players came from the following high schools: Eastside, Secaucus, St. Anthony, Kennedy, Parsippany and Westside.

The Giants players who taught them were Adrian Awasom, Titus Adams, R.J. Cobbs, E.J. Underwood, James Davis, Tommy Davis, Robert Douglas, Jonathan Dunn, Ryan Grant, Brandon Jacobs, Michael Jennings, Darcy Johnson, Todd Londot, Gerrick McPhearson and Tyson Smith.