EAST RUTHERFORD, NJ - A second consecutive disheartening defeat and a three-night stay in Appleton, Wisconsin left Chris Snee in a less than celebratory mood Tuesday morning.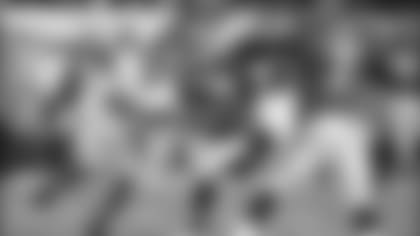 Then the Giants team buses finally pulled into the Timex Performance and Snee's day went from bad to worse.
"It was a tough couple of days with that game and then being stuck in Appleton (where the Giants were forced to wait out a blizzard that shut down the airports in the New York/New Jersey area)," Snee said. "Then I got to the (complex) and I had a flat tire and my battery was dead and I said, 'What else could possibly go wrong here?'"
By the end of the day, Snee was enjoying some good news. He was one of four Giants players selected to play on the 2011 NFC Pro Bowl team.
None of the four are first-time Pro Bowlers. Snee, the team's right guard, and center Shaun O'Hara will play in their third consecutive Pro Bowl. Defensive end Justin Tuck will play in his second; he was also chosen in 2008. It's the second straight Pro Bowl for safety Antrel Rolle, who played last year as a member of the Arizona Cardinals.
Snee was voted in as a starter, while O'Hara, Tuck and Rolle are reserves.
While they are excited to be selected, none of the four hopes he actually plays in the game. For the second year in a row, the Pro Bowl will be played the week after the conference championship games (though it is returning to Honolulu after a one-year stop in Miami). The players selected from the Super Bowl teams will not participate in the Pro Bowl.
All of the honorees responded with similar sentiments regarding their selection. They're thrilled to be chosen and happy to go Honolulu (who wouldn't be?), but they are far more concerned with helping the 9-6 Giants earn a postseason berth. The Giants need a victory in Washington coupled with a Chicago defeat of Green Bay to join the NFC postseason field.
"To be honest, I hope I'm not able to get over there – I'd much rather be playing in Dallas (the host city of Super Bowl XLV)," Snee said. "I'm happy about the selection and the honor, but the team comes first. I'd give that up in a heartbeat to be in the playoffs and make a run at the Super Bowl."
"It's an honor, but my focus is on getting this team into the playoffs," said Tuck, the Giants' defensive captain. "As great an honor as this is, I play this game for my teammates. I'd rather get team accolades than individual accolades any day. I'd trade a Pro Bowl for a Super Bowl any day, without question."
All four Giants selected to the Pro Bowl have also played in Super Bowls – Snee, O'Hara and Tuck were winners with the Giants three years ago, while Rolle's Cardinals narrowly lost to the Pittsburgh Steelers the following season.
"Having played in both a Pro Bowl and a Super Bowl, there really is no comparison," O'Hara said. "Football is the ultimate team sport and nothing compares to a Super Bowl. In a perfect world, I'll be watching the Pro Bowl from a hotel room in Ft. Worth or downtown Dallas. That's where my mindset is."
"Pro Bowl is a great achievement and you can't take anything from that," Rolle said. "But if I had a choice of going to the playoffs as a team or making the Pro Bowl myself, a hundred out of a hundred times, I'd take going to the playoffs as a team."
If Snee, O'Hara, Tuck and Rolle all make it to Hawaii for the game on Jan. 30, the Giants will have four players in the Pro Bowl for the second consecutive season. Last year, wide receiver Steve Smith and offensive lineman David Diehl joined O'Hara and Snee in the game, which was won the by the AFC, 41-34, in Miami.
O'Hara and Snee are the first Giants offensive linemen selected to three Pro Bowls since center Bart Oates in 1990, '91 and '93 and the first chosen in three consecutive years since Hall of Famer tackle Rosie Brown was selected to six in a row from 1955-60.
"That's pretty impressive, to even be mentioned in the same sentence with Rosie," O'Hara said. "You'd have to add up both of our Pro Bowl accolades to equal his. We're not on his level by any means."
Snee has started all 15 games this season, all 95 since the beginning of the 2005 season (the Giants' second-longest starting streak behind Eli Manning's 102) and all 106 games since joining the Giants as a second-round draft choice in 2004.
O'Hara also joined the Giants in 2004 and has since been a mainstay at center. He did not miss a regular season game from 2007-09, but has sat out nine this year, three with ankle and Achilles injuries and six with a sprained foot before returning on Dec. 19 vs. Philadelphia.
Snee did not think it unusual that O'Hara, an 11-year veteran, would be selected despite playing only six games.
"I told Shaun in 2007 I was an alternate to Larry Allen, who played five games," Snee said. "It just tells you the respect people have for Shaun. I'm sure they were aware of what he was battling all year."
"I missed some games this year, so this is strange for me in that aspect," O'Hara said. "I didn't really expect it this year because of the time that was missed. So it's a very unexpected honor."
Snee and O'Hara were both quick to credit their fellow linemen for helping them get elected to the Pro Bowl.
"It's a reflection of our team's success and the group of guys up front that I play with," Snee said. "Without having Kareem (McKenzie) next to me and guys like Rich (Seubert), who played center most of the year, it wouldn't have happened."
"There are a lot of guys who work extremely hard and don't get the recognition," O'Hara said. "Obviously, Chris and David Diehl help me out immensely. I think Kareem has had an outstanding year and hasn't gotten the credit he deserves. Rich Seubert is the guy who to me has been our MVP this year. The things he's been able to do, coming back from shoulder surgery last year and seamlessly moving to center when I missed time. I think he did a great job. He really deserves a lot more credit than he gets. Those two guys have really toiled under the radar.
"As an offensive lineman, I take more pride in recognition for our offensive line group and more importantly for our team. This is an award for the five offensive linemen. It's for the guys that I play with and not just me."
Tuck is the second current Giants defensive end to be voted to the Pro Bowl twice in three seasons; Osi Umenyiora played in the game in 2005 and 2007.
Tuck has started all 15 games at left defensive end. He leads the Giants in tackles with 97 (including 49 solo and 21 for losses) and sacks (11.0, which is tied for eighth in the NFL). Tuck leads the league with five fumble recoveries. He has also forced five fumbles and been credited with 30 quarterback hits.
"Individually, I think I've had a pretty good year," Tuck said. "You put a lot of interest in these individual awards because you're voted in by the coaches and the players – those are your peers. Those are the people who know the ins and outs of the game. It shows they respect what I do on the football field. In that regard, it's an honor.
"But I'm always looking for ways to get better and for ways to make my team better. I'm always looking for ways to help the team win more games and not have to go into this last game of the season needing help to get into the playoffs."
Rolle is the first Giants' defensive back selected to the Pro Bowl since safety Terry Kinard in 1988. Cornerback Reyna Thompson went as a special teamer in 1990.
Rolle signed with the Giants as a free agent on March 5 after five seasons with the Arizona Cardinals.  He has started every game at free safety and is second on the team in tackles (behind Tuck) with 94 (72 solo, including seven for losses). He has one interception, three passes defensed, two fumble recoveries and a forced fumble. Rolle has teamed with Deon Grant and Kenny Phillips to give the Giants a productive three-safety rotation.
Last year, he was voted a Pro Bowl alternate and was added to the NFC team later (as were Smith and Diehl).
"Last year, I didn't quite make it the way I wanted to make it, which was flat-out, like I did now," Rolle said. "I was extremely excited about it, but now it's a different feeling. I'm in a new place, a great place. I'm with an outstanding organization surrounded by outstanding coaches and players and the fans and the media.
"When I look at Pro Bowl, I see it as an overall team achievement," Rolle said. "I wouldn't have made it if it wasn't for them, I wouldn't have made it if it wasn't for the coaches and I definitely wouldn't have made it if it wasn't for the fans. One person might be going as a representative, but it's a team achievement, it's a community achievement – it's whoever is affiliated with the Giants."
*The Giants also had six players selected as Pro Bowl alternates. Running back Ahmad Bradshaw and defensive end Osi Umenyiora are second alternates. Quarterback Eli Manning and wide receiver Hakeem Nicks are third alternates. Diehl is a fourth alternate and defensive tackle Barry Cofield is a fifth alternate.