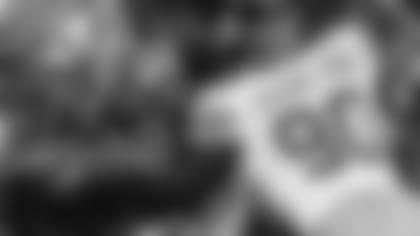 1) Stop the run, run the ball.** It's a simple formula for a matchup that boils down to the basics. For the Giants, the challenge comes against the 49ers' No. 1 rushing attack and their No. 7 run defense.
2) Mix it up on Vernon. In two games against the Giants last season, tight end Vernon Davis had just six catches, but three of them were touchdowns. Two came in the NFC Championship, including a 73-yarder. Linebacker Jacquian Williams could be used to match his speed, but a mixture of looks has led to success for the Giants defense against elite tight ends.
3) Patience. Aside from the last game being as physical as it was, players all week have been talking about the mental aspect. The offense had to pick its spots against the 49ers in January, and the same went for the defense and special teams. Don't force anything. Capitalize on opportunities when they present themselves.
4) Find a way. The entire defense was shut out in terms of sacks last week against the Cleveland Browns. Meanwhile Jason Pierre-Paul (1.5), Osi Umenyiora (2.0), and Justin Tuck (no sacks) have just 3.5 sacks combined through five games. They need to find a way to throw off quarterback Alex Smith, who currently has an NFL-best 108.7 passer rating.
5) Keep Eli upright. As memorable as the images have become of Eli Manning bouncing back up after each hit in the NFC Championship, why go through that again. And it's not all about the offensive line. Not only do wide receivers and tight ends have to block, they have to fight to get open in order for Manning to get rid of the ball quickly against a talented front seven.
6) Control the clock. It's what the 49ers try to do with their run game led by Frank Gore. A team that manages a favorable time of possession will often have success against the 49ers, or any team for that matter. On offense, any gain – no matter how small – is a good gain.
7) Be special. You can't talk about this rivalry and not bring up special teams. Field position will be key while two quality placekickers go at it.
8) Minimize mistakes. It's no coincidence that the team that won the turnover battle came out victorious in their two meetings last season.
9) Survive the first wave. It will be a hostile environment against a team – and fan base – that the Giants sent home early en route to the Super Bowl. The 49ers have outscored their last two opponents 79-3, and both were sparked by dominant first halves.
10) Beat the man in front. Schemes and adjustments can only take you so far. Sometimes a player just needs to beat the man in front of him and make a play.
![](http://www.pjtra.com/t/R0BKSkZKQ0BLRkVESEBISEtERw)