Win the turnover battle.** The Giants are a league-worst minus-eight in turnover differential. The defense can also help out in this department, having forced just two of its own (second-to-last in the NFC). The Giants were plus-five against the Panthers in their 2012 matchup.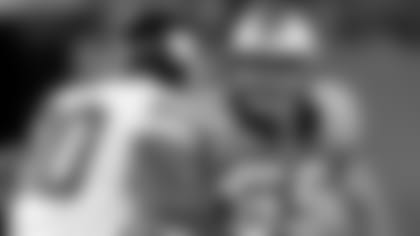 Read More Fact or Fiction](http://www.giants.com/news-and-blogs/fact-or-fiction.html) 2. Win the battle up front.A lot of the Giants' problems in the 0-2 start can be solved at the line of scrimmage – on both sides of the ball.
3. Find a balance. This applies mostly to run vs. pass, as the Giants are currently heavily tilted toward the latter. Balance also applies to the risk-reward of hitting big plays on offense vs. the chance for interceptions.
4. Wrap up. The great -- but not-so-mobile -- Peyton Manning eluded a few near-sacks last week. This week they face quarterback Cam Newton, who is a threat with his legs as much as his arm. There was a major emphasis on option-type quarterbacks for the Giants coaching staff in offseason studying.
5. Take shots. The Panthers have some injuries in the secondary on defense, including losing starting safety Charles Godfrey for the year. Meanwhile, Victor Cruz goes for his third-straight game of 100 yards or more.
6. Limit big plays.The Giants defense is tied for sixth in the NFL giving up just six plays of 20 yards or longer. New York will need to continue to do so against Carolina's top targets of wide receiver Steve Smith and tight end Greg Olsen.
7. Long and out of bounds. The Giants gave up a long punt return for a touchdown last week. They will face another top 10 specialist this week in Carolina with Ted Ginn. From the long snapper to the punter to the gunners, the Giants will need a better team effort on specials.
Where is 59?** Cam Newton gets most of the attention with the Panthers, but middle linebacker Luke Kuechly is becoming – or already has become – a dominant player in the NFL. He led the league in combined tackles as a rookie last season, but he also has four career interceptions. He notched one just last week. Locate him.
9. Stop the run.The Giants took the air out of the Panthers last season by stopping the run early and holding Cam Newton to just six yards on six rushes. Meanwhile, running back DeAngelo Williams is taking on a full workload, averaging 20 carries per game.
10. Step up. The Giants beat the Panthers convincingly this time last year due to the play of backups, such as Andre Brown, Jayron Hosley, and Stevie Brown. The Giants are in need of a spark.
[
VIEW 5 PLAYERS WHO NEED TO HAVE BIG GAMES ON SUNDAY](http://www.giants.com/photos/photos/Players-to-watch-vs-Carolina/87b7bfeb-e40d-43a9-a0bd-30dbb00fc95a)