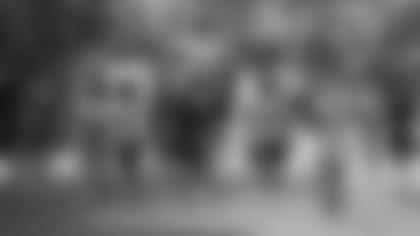 EAST RUTHERFORD, N.J. – The New York Giants, the American Heart Association and the New Jersey Education Association have completed year one of What Moves U, a joint initiative that encourages physical activity among middle school students. Free activation kits have been created for every school in the greater metropolitan area, and Giants players have visited 14 schools in the past year to promote physical fitness. To commemorate the occasion, a new What Moves U PSA featuring Giants quarterback and What Moves U spokesman, Eli Manning, will be released this week.
"I'm glad to be able to encourage kids to be more physically active through this PSA," said Manning. "We've been working for over a year on this program with the American Heart Association and the New Jersey Education Association, making numerous school visits, but this PSA will hopefully allow us to bring our message to more kids and Giants fans. We had a lot of fun filming the piece with the kids, and I think that will be pretty evident when you watch it."
The PSA was filmed throughout the state, including Trenton, NJ, where students from the Hedgepeth-Williams School made their acting debuts after participating in a physical fitness assembly with Manning earlier in the day. The PSA encourages kids to identify "what moves you," and will feature Eli and the kids engaging in various outdoor activities along with Eli running throughout the greater metropolitan area.
The Giants' new PSA will make its television debut during "Giants Access Blue", the team's new magazine show on WWOR My9, this Saturday, September 15th, from 10:30-11:00 p.m. (EST). The PSA will also make its Giants Stadium debut during the Giants home game against the Green Bay Packers this Sunday, September 16th, at 1pm.
Responding to the continuing decline of physical education programs in many of America's schools and the lack of physical activity for today's youth, the NFL and American Heart Association created What Moves U, a national youth movement and awareness campaign designed to promote physical fitness and healthy living to an increasingly inactive generation of children. In the fall of 2006, the New York Giants launched the What Moves U program in New Jersey, New York and Connecticut schools, making the promotion of physical activity their priority in the community. Unique from other physical fitness programs for students, the What Moves U in-school activation kit is designed for teachers of various academic disciplines to help them find ways to integrate physical activities into their existing lesson plans.
The program also has an interactive fitness-focused website for children (www.whatmovesu.com). By visiting this website, kids can learn the moves that NFL players use to stay fit, keep track of their physical activity in the Activity Journal or play games and take quizzes about health and fitness. Teachers can use (whatmovesu.com/teacher) to download all the materials in the What Moves U curriculum and even submit new lesson plans that incorporate physical activity into the classroom. More than 25,000 middle schools nationwide received the What Moves U activation kit.
Thanks to a partnership with the NJEA, every school that receives the Giants' What Moves U kit will also receive an additional "Get Fit Kit," which provides educators with an additional resource full of fun activities to motivate students to exercise. The kit includes easy lesson plans that can be used during physical education classes, recess, or in after-school programs. Students can also share what they've learned with their families thanks to a take-home component.
According to the American Heart Association, physical inactivity is a major risk factor for developing coronary artery disease. It also increases the risk of stroke and other major cardiovascular risk factors such as obesity, high blood pressure, low HDL ("good") cholesterol and diabetes. All children age 2 and older should participate in at least 30 minutes of enjoyable, moderate-intensity activities every day.
For more information on what the Giants are doing in your community, please visit www.giants.com.