Super Bowl XXI Champion Joe Morris will have his jersey number retired by Syracuse this fall:
EAST RUTHERFORD, N.J. – One of the best running backs in Giants history is going to receive a high honor from his alma mater.
Joe Morris, who was the Giants' career rushing leader when he left the team prior to the 1990 season, will have his No. 47 jersey retired by Syracuse University – where he still holds or shares 15 records, 37 years after playing his last game for the Orange.
The number will be formally retired when Syracuse hosts Connecticut on Sept. 22.
"I'm still in shock," Morris said. "I'm stunned, because this is not something that I thought was going to happen. I'm still trying to get my head around it. But I'm thankful. I'm just overjoyed, I'm happy, I'm appreciative and I'm humbled. It was unexpected, it was surprising - I'm happy, but I'm overwhelmed."
Morris will join four other Syracuse legends whose numbers have been honored: Larry Csonka (39), John Mackey (88), Donovan McNabb (5) and Don McPherson (9). Syracuse has also retired No. 44, which was worn by running backs including Jim Brown, Ernie Davis and Floyd Little, all of whom are enshrined in the College Football Hall of Fame.
Morris learned of the event at the Tampa-area home of John Lally, who was Morris' Syracuse teammate for three years. He had traveled to Florida for what he thought was an alumni event. But Lally instead hosted a surprise party for Morris that was attended by approximately 30 of his former teammates, his brother Michael (who also played at Syracuse), athletic director John Wildhack and football coach Dino Babers.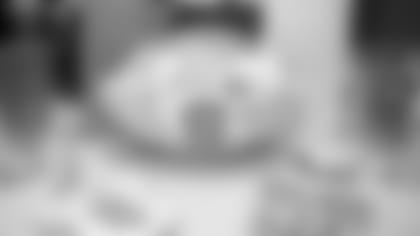 "John got up and said, 'We've had some great running backs to come out of Syracuse,'" Morris said. "'Larry Csonka is retired and the 44 is retired, we have Donovan McNabb and Donnie McPherson's number retired. And we're going to add Joe Morris' number to that.' I sat there with my mouth wide open."
When Morris arrived at Syracuse in 1978, he was given little chance of being a big-time player because he was a short 5-foot-7. But he rushed for 1,001 yards as a freshman. A year later, he ran for 1,372 yards, which is still the school record. So are his 252 yards vs. Kansas on Oct. 6, 1979, and his career total of 4,299 yards – despite missing five games of his junior season with a shoulder injury.
"Many doubted Joe Morris would play major college football," Wildhack said in a statement. "He arrived at Syracuse University in 1978 and left four years later as the school's all-time leading rusher. It's a record that still stands to this day. Given the amazing lineage of running backs here, Joe's accomplishments truly stand out. We are proud to honor him and display his jersey alongside those of other Syracuse football greats."
The Giants selected Morris on the second round of the 1982 NFL Draft. Their first-round choice was also a running back, Michigan's Butch Woolfolk. Once again, the odds seemed weighted against Morris. Actually, they were against anyone who doubted him.
Woolfolk rushed for 1,388 yards in 40 games over three Giants seasons. Morris played in 94 regular-season games and seven postseason games in seven seasons and rushed for 5,296 yards. Only Tiki Barber and Rodney Hampton have run for more yards in a Giants uniform. Morris rushed for 1,336 yards in 1985 and a career-high 1,516 yards the following year, which ended with the Giants' dominant victory against Denver in Super Bowl XXI. He scored 21 touchdowns in '85, four more than any other Giants player has ever scored in a single season.
The Giants and Syracuse have had a strong connection since 1925, when five former Orange players suited up for the Giants' inaugural team. Twenty-three Syracuse players are listed on the Giants' all-time roster, including first-round draft choices Will Allen and Justin Pugh.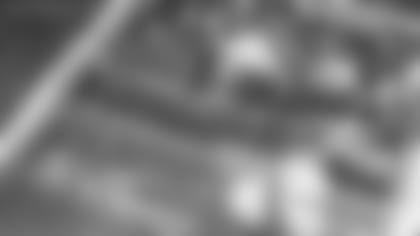 But the most important link between the school and the team is Tom Coughlin. Long before he was an assistant coach on the Super Bowl XXV team and he produced two Super Bowl champions in his 12-year tenure as head coach, Coughlin bled orange. He played in a backfield with Hall of Famers Little and Csonka, and he was Morris' offensive coordinator for three seasons.
"I had two wonderful position coaches, Tom Coughlin and Bill Maxwell," Morris said. "I had two offensive coordinators, Tom Coughlin and Jim Tressel, who took full advantage of what I was able to do."
Coughlin remains a big Morris fan and believes the jersey retirement is long overdue.
"I'm elated that Syracuse has chosen to finally recognize the fact that this young football player is among the elite of all time," Coughlin said in a phone conversation from Jacksonville, where he is the Jaguars' executive vice president of football operations. "We talk about the great, great players like Jim Brown and we talk about Ernie and we talk about Floyd, and we talk about Larry Csonka. I'm going to tell you something, this young man deserves to be in the same breath because of the things that he accomplished. And I would say in all honestly, without necessarily a great offensive line in front of him."
Morris was often dismissed by people who doubted he could succeed because of his size. For that reason, he played with a hardened chip on his shoulder.
"I liked it," Coughlin said, laughing. "I liked it because all I had to do was remind him that Pitt didn't want him and Maryland didn't want him and Penn State didn't want him. I said, 'Joe, you're going to have to go out there and show these staffs that they made a big mistake.' And he pretty much did.
"He broke all the rushing records and he still holds 15-20 of those records and rightfully so. After all these years and all the outstanding football players that have come through Syracuse, he still holds them all, and that says a lot about him."