Because he is such an outstanding pocket passer, Eli Manning doesn't move much when he is on the field. But the Giants' quarterback has spent much of his time off the field this season encouraging children to move as much as they can and to exercise as often as possible.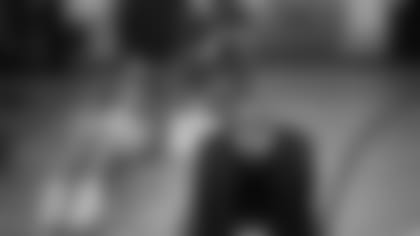 Giants QB Eli Manning gives encouragement to students as they participate in the Giants' launch of "What Moves U" with the AHA.
Manning is the Giants' primary spokesman for What Moves U, the most significant new initiative undertaken this season by the team's community relations department. What Moves U, is the NFL's physical fitness curriculum that was developed in partnership with the American Heart Association for America's middle schools. The Giants have made reducing childhood obesity their featured community initiative for the foreseeable future, and plan to bring this curriculum to every middle school in the New York, New Jersey, Connecticut metropolitan area.
To date, Manning and the Giants have visited six schools to introduce the curriculum and to speak about the benefits and enjoyment of physical activity. Many more visits will occur in the coming months, and there are plans for an end of the school year fitness celebration for participating schools.
"The What Moves U program was developed by the NFL and the American Heart Association to ensure that students are getting enough physical activity in their daily routine," Manning said. "I joined this program, its objective is very important to me. As a member of the President's Council for Physical Fitness and Sports, I know that childhood obesity is a major problem in this country. As a child, I never thought of playing sports as a way to get physically fit or stay healthy in the long run. It was about having fun and finding something that gets you excited, makes you laugh, and creates life-long friends.  Our goal is to provide a program that encourages kids to rediscover the enjoyment of physical activity."
The NFL and AHA responded to the continuing decline in physical education programs in many of America's schools – and the lack of participation in physical fitness activities by increasing number of children and adolescents – by founding of What Moves U. It is a national youth movement and awareness campaign designed to promote physical fitness and healthy living to an increasingly inactive generation of children. Manning and other Giants have brought a fun and creative message of physical fitness to the region's middle schools our schools in order to accomplish the Giants' goal of creating a healthy and bright future for local youth.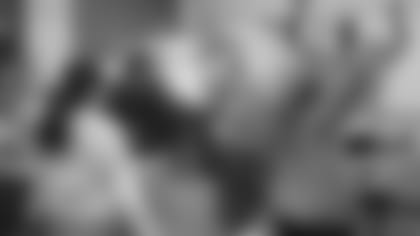 Giants LBs Chase Blackburn and Reggie Torbor get into the action by teaching a "What Moves U" lesson in class.
"We are so pleased to work with the Giants and the NFL," said Deborah Goodman, Sr. Vice President of Field Operations for the AHA. "Childhood obesity is such an important health issue. Hopefully, this program will help us to see behavior change. Children look to the NFL players as role models and I think that with the children getting the tools and information they need through the curriculum that is being distributed to the schools, we can help them make the right decisions about physical activity, heart-healthy lifestyles and good nutrition. That is really our hope, that we will be able to help these children change their behavior, have a positive experience, and that the movement will then affect other children as well."
The New Jersey Education Association (NJEA) is also involved, introducing an additional curriculum component that can be used by physical education or after-school teachers to create new and enjoyable activities for kids to participate in both in school or at home. 
What Moves U differs from other physical fitness programs for students because it has been developed for teachers of various academic disciplines to help them find ways to integrate physical activities into their existing lesson plans. The program incorporates several key elements: an in-school activity kit created for teachers, by teachers, which includes curriculum-based activity sheets, program–specific learning materials and school promotional materials; and an interactive fitness-focused website for children. The program will also include a national public awareness campaign utilizing television, radio, print, movie cinema public service announcements and community outreach events.
The What Moves U program was just one of the many community endeavors the Giants were immersed in this year. In times good and bad, in and out of season, the Giants are a franchise that is committed to helping people in the large and diverse New York/New Jersey community. The commitment begins with the team's ownership and management, extends through head coach Tom Coughlin and continues on to the players, who are always willing make appearance or lend a helping hand, even as they endure tough times on the field.
When 2006 comes to a close next week, Giants players will have made approximately 400 appearances at more than 125 different community events in the tri-state area. The team's community relations department will have donated items to approximately 3,000 tri-state organizations to support them in their fundraising efforts, providing an estimated $300,000 in value this year alone.
The Giants and the Giants Foundation combined to donate over $1 million in direct financial assistance to non-profit organizations in 2006.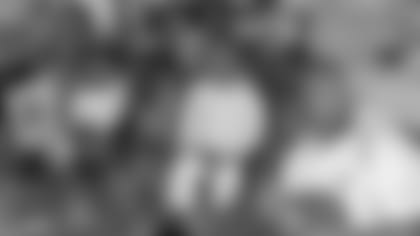 OL Grey Ruegamer joined teammates to visit patients at the Elizabeth Seton Pediatric Center during the season.
"Professional athletes have a responsibility that extends beyond the playing field," said Allison Stangeby, the Giants' director of community relations, who, with assistants Ethan Medley, Jen Conley and Joann Lamneck, spearheads the team's involvement in scores of off-the-field ventures. "They have an obligation to step forward and to help those in the community who are less fortunate than they are. Athletes can have a profound impact on someone, particularly children, simply by making an appearance and spending a few moments with them."
Star players like Tiki Barber and Michael Strahan are in constant demand to appear at a wide range of functions. Despite extremely busy schedules, they are heavily involved in community and charitable works.
"The awareness being an athlete brings to some of these things is invaluable," Barber said. "That's our biggest power as athletes, or any kind of entertainer or someone in the spotlight. It's influence. Encouraging people to do the right things and support those who are less fortunate. That sounds like an awesome responsibility, but I think the more you do it, the more joy you find in it."
Giants players blanketed the community this year. They continued their involvement in the National Education Association's Read Across America celebration, an annual reading motivation and awareness program that calls for every child in every community to celebrate reading on or around Dr. Seuss's birthday. This year was the ninth annual celebration and with nearly 45 million participants nationwide it was the largest to date, bringing together celebrities, athletes, politicians, education leaders and other notable public figures for a very special cause.
The event created the perfect opportunity for Giants players to read to children throughout the tri-state area. They included Antonio Pierce (who visited Odyssey House in Harlem to read to the children whose parents are undergoing treatment for chemical dependency); former fullback and current Director of Player Development, Charles Way, read to students at St. Anthony School in Paterson and Shaun O'Hara, who read to first and second grade students from Sparta and Montclair at the Yogi Berra Museum and Learning Center.  He also read to several classes at the Mountain View School in Flanders, N.J.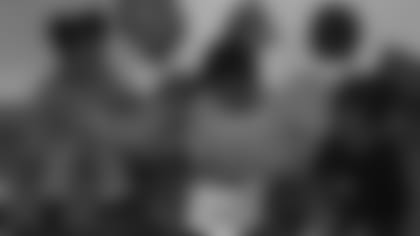 Giants LB Antonio Pierce read to kids at the Odyssey House in Harlem during Read Across America.
On Valentine's Day, several Giants – including O'Hara, Justin Tuck, Tim Carter and Reggie Torbor – visited the Tomorrows Children's Fund, located in the Don Imus-WFAN Pediatric Center at Hackensack University Medical Center, to deliver candy and spend time with some the kids. Since the inception of the Tomorrows Children's Fund in 1987, the Giants organization and its players have visited children there several times each year. One of the team's major annual events is the Rookie Halloween Party, where rookie members of the Giants make a special appearance to deliver candy and paint pumpkins with children undergoing treatment.
Tomorrows Children's Fund is a non-profit, privately funded organization that is created and governed by parents of children with cancer and blood disorders. TCF addresses the critical needs of families facing the anguish of these diseases by providing state of the art medical care, a warm, healthy and loving atmosphere for children in treatment, a wide range of services to relieve emotional and financial stress, and funding for research.
As always, the Giants were actively involved with the United Way. At the annual Gridiron Gala in April, kicker Jay Feely was honored as the team's Hometown Hero. Feely, inspired by his late older brother, Michael, was selected as the Giants Man of the Year for ceaseless commitment to charitable endeavors and is tireless devotion to help others.
Feely is a member of the board of directors of Easter Seals New York and he has a long association with the Muscular Dystrophy Association. In training camp this year in Albany, N.Y., Feely hosted children from Easter Seals New York's Camp Colonie to spend a day with him. The young boys and girls watched practice from a front row seat along the sideline. After practice, they met some players, got autographs, then enjoyed a pizza party picnic, which Feely had arranged for them.
Feely also hosts an annual Punt, Pass & Kick competition for Special Olympics of New Jersey at Giants Stadium and was a member of the MDA's 2006 Muscle Team, amongst many other charitable activities.  Feely frequently brings his six-year-old daughter, Alexandra and son Jace, on his community service outings.
"It helps them develop empathy toward other people, teaches them how blessed they are," Feely said. "It shows them that their engagement has an impact on other people's lives."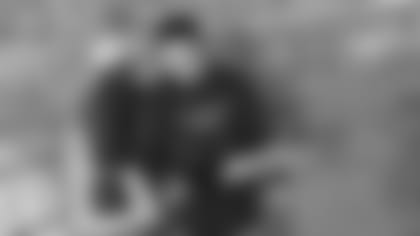 K Jay Feely shows his son Jace how to build a wall during the United Way Hometown Huddle as KR Chad Morton works in the background.
Feely is one of many Giants who led their time and energy to good causes. Two days after a victory over Washington, several Giants demonstrated their handiness by volunteering to help construct a new community center in Fairview, N.J. as United Way Hometown Huddle program. Corey Webster, Chad Morton, Frank Walker and O'Hara all participated in the project. The players joined numerous other volunteers to put up dry-wall, perform masonry and paint rooms.
Once finished, The Franciscan Community Development Center, which is being built in the basement of St. John the Baptist Church, will offer programs and services such as a day labor center, primary healthcare, adult education, immigration assistance, food bank and spiritual support. By creating a safe, healthy and humane environment, their goal is to improve the lives of the hundreds of immigrant men, women and children, who line the streets of Fairview each morning looking for opportunity.
"United Way represents something that everyone can relate to," said O'Hara, the Giants' 2004 Hometown Hero. "They are always giving back to those in need, in a great environment that's welcoming for all."
The Giants designate several games throughout the season as days to host various drives. Among the stadium donation drives that the Giants hosted this season were the Stuff the Bus school supply drive, Breast Cancer Awareness Month, Voter Registration Day, Food Drive, Coat Drive, and the Toys for Tots drive.
The team's annual fundraiser for the Ronald McDonald House was held on Oct. 16 at the New York Athletic Club in Manhattan. Most of the Giants players were in attendance, including Barber, Manning and Jeremy Shockey. With autographed jerseys, footballs and helmets, as well as game tickets, golf outings and road trip packages, auctioned off, the event raised approximately $600,000, easily a record for the event.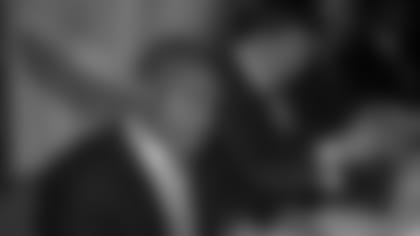 Giants RB Tiki Barber leads a group of Giants in signing autographs at the Giants annual fundraiser for the Ronald McDonald House of NYC
The Giants began working with the Ronald McDonald House in September, 1997. Since then, it has been one of the organization's most rewarding charitable endeavors. Giants players have visited the house for Halloween and holiday parties, or just to spend time with the kids living there. Many of those children have attended games and had a chance to spend time on the field prior to kickoff.
This year, the Giants made a financial contribution to assist in the complete renovation of RMH's playroom for the children who reside there. Because of this contribution and due to the Giants involvement at the house over the years, the House administrators asked the Giants if they could dedicate the room in honor of the team's late owners, Bob Tisch and Wellington Mara. The dedication took place on October 9th, with members of both families in attendance, and today, kids who stay at the house enjoy the new playroom on a daily basis.
"It's great that the Giants are so involved," said Bill Sullivan, the president of the Ronald McDonald House. "First, it shows great community service. And the second thing is, the kids really love it. The kids love the Giants. The Giants frequently bring players to the house to interact with the kids. It's important, because the Giants are such a force in the community. The kids love them and the adults love them. It's kind of a match made in heaven."
The 15th annual Giants golf outing was presented by Toyota and held on May 31 at the Canoe Brook Country Club in Summit, N.J. Approximately $370,000 was raised for the Giants Foundation: $295,000 through sponsorships and another $75,000 via the silent and live auctions.
The Giants Foundation acts as a network for financial and social support for disadvantaged youth and their families throughout the greater metropolitan area. All grant recipients must be 501 (c) 3 charitable organizations involved in areas such as education, health, youth-related services or civic affairs.
Many players headlined their own charity or community endeavors. Pierce held a free football camp in his hometown of Compton, Calif., while Walker Football did the same in Tuskegee, Ala. Barber and Strahan hosted their own charity golf tournaments. Eli Manning joins his family to host the "Manning Passing Academy" football camp.  David Tyree hosted a charity bowling tournament. Feely hosted Easter Seals kids at Training Camp. Will Demps organized a holiday shopping spree for underprivileged children.
Pierce also founded his "Antonio's A-List" program for the students in Giants Academy, promising that he will personally reward every student who maintains a B average including at least one A in a major subject. This achievement is recognized every semester, with a very special reward going to any student who can maintain that standard throughout the entire school year.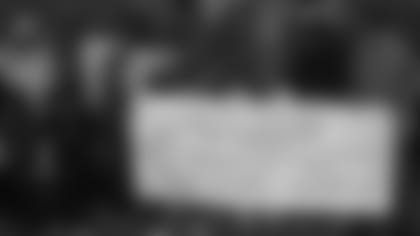 LB Antonio Pierce hosted students from Giants Academy when the Giants played Tampa Bay as part of his on-going initiative at the school.
Giants Academy is the Giants charter academic program located in Louise A. Spencer School in Newark. It opened in September 1994. The program is a cooperative effort between the New York Giants and Communities in Schools to create a heightened learning environment sixth, seventh and eighth graders in the school who are designated as "at risk" students. It consists of approximately 50 students and focuses on improving math, reading, leadership skills, as well as social skills.
Pierce visits the school and talks to the students regularly. He also hosted a special session with their parents. Pierce hosted about 30 of the students at Giants Stadium for the Tampa Bay game on Oct. 29.
"When I first got here I told Ethan I'll do anything if it has to do with kids," Pierce said. "City kids, kids that are struggling. He told me about this school where kids are kind of satisfied with just getting C's and D's and just getting by. I said I'd check it out. When I went out there, I knew I could do something. I think I can help out and be kind of an influence to these kids. So we started the A List and the whole goal is to actually get the kids to shoot for B's and a B average. I said, 'That's good, but let's raise the bar higher.' So when I went there, I said our goal is to get everybody to at least average a B. But I said the ultimate goal is to get an A.  If you get an A, we're going to have to party and the most fun you've ever had this year. The fun part about it is, you know that you might not be able to get all of them, but if you can influence half or more I think you're accomplishing something."
The players aren't the only Giants with big hearts. Coughlin has been helping families of children with cancer since he founded the Jay Fund Foundation in Jacksonville 10 years ago. In May, the foundation's 11th annual Celebrity Golf Classic netted almost $250,000, the largest total in the history of the event. Since Coughlin started the Jay Fund, the foundation has donated approximately $1.6 million to pediatric leukemia patients and other childhood cancer patients and their families.
On Sept. 15, Coughlin and New York Jets running back Curtis Martin were co-hosts of the second annual Pigskin Ball, which benefited both the Jay Fund and the National Law Enforcement and Firefighters Children's Foundation (NLEAFCF). Martin spearheaded the NLEAFCF fundraising effort. The National Law Enforcement and Firefighters Children's Foundation is a non-profit organization dedicated to helping the children of law enforcement and firefighting personnel who have been killed in the line of duty.
The fundraiser, held at Cipriani's in Manhattan, was attended by 500 people, including 50 current and former Giants and Jets. The gala featured a performance by Daniel Rodriguez, the now retired NYPD officer who rose to fame with his beautiful a cappella performances of "God Bless America" and the National Anthem. Most importantly, more than $600,000 was raised at the event. The money will be split between the two charities.
"We all want to make a difference in this life," Coughlin told the capacity crowd at the Jay Fund dinner that is held in conjunction with the golf tournament. "Each of us is here on earth to leave our mark and we all want to make a difference. And we all are inspired to do so by that which is special. In truth and in humility, in the long run each one of us is going to be judged by what we have done to help our fellow man, to help those in need, to help those that are less fortunate."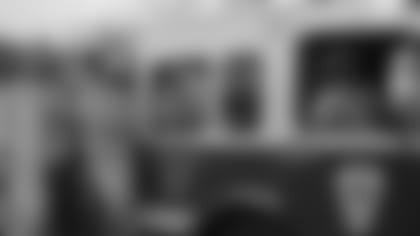 Members of the Giants have a little fun as they adopt firehouses in Paterson, NJ.
For the past five years, the Giants have set aside a day to honor local firefighters who operate in consistently dangerous conditions in order to keep our neighborhoods safe. On a Tuesday in November, several players and representatives from Sharp Electronics visited Irvington, N.J. to donate four new Aquos 32" flat-panel televisions during a luncheon ceremony. The televisions were placed in firehouses throughout Irvington and will continue to allow the houses to utilize the newest fire service training programs.
The Adopt-a-Firehouse program is the New York Giants continuing effort to honor the firefighters who gave their lives on September 11, 2001.  This event was the fifth in a continued partnership between the New York Giants and the Professional Firefighters Association of New Jersey (PFANJ).  Since 2002, the Giants have adopted firehouses in Jersey City, Hackensack, Hoboken, Englewood, Edison, Woodbridge, Perth Amboy and North Plainfield.
The Giants again turned one of the most important days of the year into a great event for their fans biggest by hosting the fourth annual Giants Draft Day 5K, benefiting the Giants Foundation. More than 1,000 runners participated in the run. They were comprised of Giants fans and 5K runners from the tri-state area, as well as other regions of the country. Offensive lineman Rich Seubert served as the official starter for the day. Terrance Armstrong of Pompton Lakes, N.J. was the first to cross the finish line on the Giants Stadium field. His winning time was 15:31. Alison Hiten, from Cheshire, Conn., was the fastest female with a time of 19:16.
On Aug. 13, the Giants hosted their first annual Youth Day at training camp. More than 1,000 youngsters from summer camps and football teams across the tri-state area watched practice, heard from some of their favorite players, received autographed giveaways and participated in a Giants trivia competition.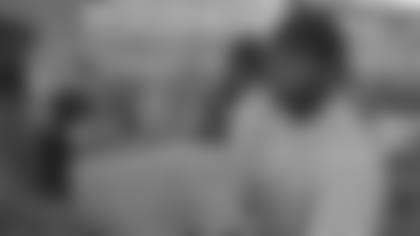 CBs Frank Walker and Sam Madison join troops to load donated food and supplies for distribution during Lift Up America.
A month later, on Sept. 12, the Giants joined Lift Up America to launch its nationwide fall food distribution at historic Pier 92 in New York. Jeff Feagles, Feely and his son, Jace, Torbor and his wife, Michelle, Morton, Sam Madison and his wife, Saskia, and Walker joined Tyson Foods, Lenscrafters, the Starkey Hearing Foundation, Interstate Batteries and members of the United States Armed Forces to distribute food, hearing aids, glasses, toys and other supplies to local charitable agencies.
More than 100 hundred vans and small trucks representing service organizations from the city lined up along the piers to receive the generous amount of supplies that were donated during the event. Giants players were stationed throughout the supply route, loading the passing trucks with the much-appreciated items.
Across the country, Lift Up America is bringing corporate America together with professional and university sports teams in a unique partnership to provide far-reaching compassionate aid to the less fortunate. Large-scale product donation events, combined with the high visibility of the sports teams, can help capture the attention of the entire nation to help lift up America.
In November, numerous Giants paid a visit to the Bowery Mission of New York City to help serve a warm meal to members of the community, and to help other volunteers begin to prepare for the six Thanksgiving meals they served. The players helped unload turkeys off of the trucks and into the Mission's walk-in freezer. They then loaded up trays with hot food, as well as cake and cookies for the 70-100 community members that arrived looking for a nice meal on a chilly November day.  It was a perfect opportunity for Giants players to offer a friendly hello and smile as they served meals to eager individuals.
Giants players unable to visit the Mission that day still found a way to help out. Chad Morton organized a collection amongst the entire team, and $10,000 was donated to the Bowery Mission to assist them with the many meals and programs they provide for the men and women of New York City.
The Giants are also doing their part to help the some of the six to eight million pets that are placed in shelters each year by teaming up with Pet Rescue, a non-profit animal rescue organization founded in 1982 by volunteer workers who met at a "no-kill" animal shelter. Before the Giants' home game against Tampa Bay, volunteers from the Pet Rescue organization handed out flyers with information on adopting pets, and collected donations so that they can continue to find homes for the numerous pets who are in need.
Pet Rescue is not a formal shelter. It is a small group of volunteers that fosters dogs and cats until they are adopted. Some animals are fostered by group members and outside volunteers, while other animals are housed at local boarding facilities.
The have selected Chet Parlavecchio of Elizabeth (N.J.) High School as "The Lou Rettino 2006 High School Football Coach of the Year." After taking over as head football coach for Elizabeth in late June, Parlavecchio led to team to an 8-1 overall record and captured the North Jersey Section II Group IV State Championship with a 14-9 come from behind victory over Phillipsburg.
The Lou Rettino High School Football Coach of the Year Award, started in 1996, is part of the Giants' continuing effort to promote youth football.  The Giants elected to name the award in memory of former Union High School (NJ) coach, Lou Rettino, for his fine commitment to the game of football, his community and the betterment of his athletes' lives.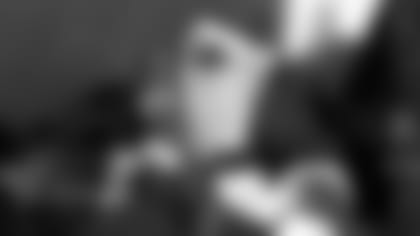 OL Jon Dunn puts a huge smile on the face of a boy as he dresses as Santa to give out brand-new toys, duffle bags, hats and sweatshirts during the Giants 2nd annual Jingle Jam.
The Giants ended the season with one of their biggest events of the year, the second annual Jingle Jam, held last Monday in the bubble outside the West end of the stadium. Thanks to the players' collection organized by Morton, the Giants were able to host the party and give each of 750 New Jersey foster children an age appropriate toy, backpack, Giants winter hat and sweatshirt.

For the party, the bubble was transformed into a winter wonderland. As the children entered, they were greeted with music, favorite children's foods, interactive football games that allowed them to feel the pressure of being an NFL quarterback or kicker, magicians, face painters, clowns, and many of their favorite players.

The Giants are looking forward to expanding their work in the community in 2007. On Feb. 10, they will host their first annual "Snow Bowl" flag football tournament in Giants Stadium to benefit Special Olympics of N.J. ](http://www.jointheteam.com/)