EAST RUTHERFORD, N.J. –** One day after adding Ben McAdoo as their new offensive coordinator, the Giants continued restructuring their coaching staff with the departures of longtime assistants Michael Pope and Jerald Ingram.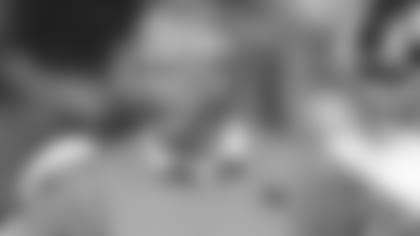 Pope has been the Giants' tight ends coach since 2000, while Ingram has mentored the running backs since Tom Coughlin's arrival in 2004.
"Both of these men are very good talent evaluators and, in their own way, are very good teachers," Coughlin said. "I decided to make a change in our staff that I believe will be productive going forward. These are very difficult decisions, but I felt they were in the best interests of the Giants moving forward."
Pope recently completed his 31st consecutive season as an NFL assistant coach and his 14th season in his second tour of duty with the Giants. In his two stints with the Giants (1983-91 and 2000-13), Pope coached for 23 years, longer than any assistant in franchise history. He is the only coach to participate in each of the Giants' five Super Bowls and the only Giants coach to have his name inscribed on the team's four Lombardi trophies. He also coached in the Super Bowl with the New England Patriots in 1996.
The list of standout tight ends who learned their craft under Pope includes Mark Bavaro, Jeremy Shockey, Kevin Boss, Jake Ballard and Martellus Bennett.
"Mike and I coached together on the Giants staff back in the 1980s," Coughlin said. "When I returned as the head coach, I didn't intend to keep anyone from the previous staff. I visited with Mike and made a decision that I wanted him as a part of our new staff going forward, and it was certainly the right decision.
"He has coached many, many outstanding players in the years that we've been here, guys that have made great contributions to our success. Mike has four Super Bowl rings from all four championships the New York Giants have won in the modern era."
Ingram has worked with Coughlin for more than 20 years, first at Boston College (1991-93), then with the Jacksonville Jaguars (1994-2002) and the Giants (2004-13). Ingram helped develop recent standout backs Brandon Jacobs, Ahmad Bradshaw and Andre Brown.
"He's an outstanding football coach," Coughlin said. "He has done a very good job here. I think the record speaks for itself in terms of the guys that have played for him and are very loyal to him. He's a man of principle and has been a very loyal assistant for a lot of years.
"Jerald demonstrated again last season what a good teacher he is when we had injures at the running back position and we signed Peyton Hillis. In one week's time, Peyton started in the third-down nickel package, which, in our system, is a complex job."