Garfield, NJ – The Giants and Bergen County's United Way joined forces on Tuesday to install fitness equipment for parents and their children at 20th Century Field in Garfield, NJ. LB Kawika Mitchell, WR David Tyree, S Craig Dahl and WR Brandon London joined Garfield employees to finish off two of the seven fitness zones that will eventually complete the park's walking path. Very appropriately, several players were joined by their families at the event. David was joined by his wife Leilah, and Kawika was joined by his wife Billie, son Lewai and daughter Elaiza.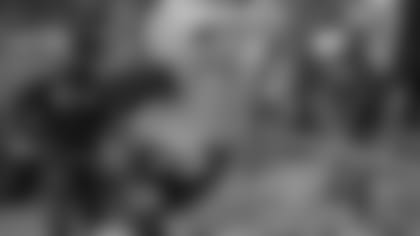 LB Kawika Mitchell and his son Lewai prepare to put the final touches the Giants Family Path in Garfield, NJ along with S Craig Dahl, WR David Tyree and WR Brandon London
"It is great to spend the day helping out in Garfield," said Mitchell. "This is a good project, and hopefully it will fulfill its purpose of encouraging parents to play with their kids. I'm glad I was able to bring my kids with me, not only so they can play, but so they can also learn about what it means to give some of your time to be helpful to others."
The United Way Hometown Huddle is an annual NFL-wide day of service that provides NFL players, coaches, wives, and staff from each team the opportunity to participate in a variety of community-service activities. Started in 1999 by the NFL and United Way, Hometown Huddle continues to help make a difference in local NFL communities.
This year, the Giants wanted to ensure that the day was used to provide increased opportunity for parents to engage in physical activity with their children. The city of Garfield has been very passionate about the same issue and has become a leader in the state of New Jersey at working to lower childhood obesity rates amongst their residents.
The new Giants Family Path is comprised of developmental exercise play stations that allow parents to exercise while their children play on the same apparatus in front of them. All of the children's activities promote play that will enhance motor skills, reasoning, and general strength, while the adult components focus on core strengthening exercises.
Bergen County's United WayBergen County's United Way is how our community uses its head, and its heart to lend people a hand. For 45 years, BCUW has been at work to ensure that the critical human service needs of our community are being met. The non-profit organization helps people in direct and vital ways, 24 hours a day, everyday, wherever help is needed. For more information about how Bergen County's United Way makes help happen, please visit www.bergenunitedway.org ](http://www.jointheteam.com/)