The Giants worked through the weekend. **After adding running back Rashad Jennings and offensive linemen Geoff Schwartz and J.D. Walton in the first week of free agency, the Giants shored up the defense over the weekend. Big Blue officially inked free agent linebacker Jameel McClain on Friday afternoon, followed by cornerback Walter Thurmond and safety/returner Quintin Demps on Sunday.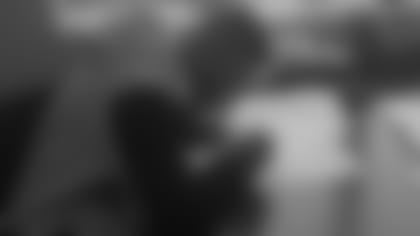 2. NFL: 471 players became free agents on March 11 at 4 p.m. ET.The 2014 League Year is less than a week old, but there have already been significant developments in team building. Whether through free agency or trades, teams are making moves that alter the landscape of the upcoming season. A complete list of player signings through the free agency system is updated daily on www.nflmedia.com.
Players are either "restricted" or "unrestricted" free agents. Within the categories are also "franchise" and "transition" players. The time period for free agency signings in 2014:
Restricted Free Agents – March 11 to May 2.
Unrestricted Free Agents (who have received June 1 tender from prior club) – March 11 to July 22 (or the first scheduled day of the first NFL training camp, whichever is later).
Franchise Players – March 11 to November 11, the Tuesday following the 10th week of the regular season.
Transition Players – March 11 to July 22.
3. Jon Beason has only scratched the surface. While the Giants added some new faces in the first week of free agency, they also welcomed back a familiar one. Linebacker Jon Beason re-signed with the team after establishing himself as a team leader when he was acquired early in the 2013 season in a trade with Carolina. "I think what we were able to build last year in a short period of time was scary," Beason said. "I'm a big fan of building camaraderie and sweating with the guys in the offseason, that's where you build those championships and we missed that – well, I missed that because I came in early in the season. But for me, at this point, I know we have that coming up in April, get out there and earn the right to be a champ. It's going to be big this year."
4. And with the 12th overall pick, the Giants select...ESPN's Mel Kiper Jr. recently released his Mock Draft 3.0 and has the Giants taking tight end Eric Ebron out of UNC. "The Giants also need a linebacker here, but I don't see the value lining up with the pick slot anymore -- and they haven't traditionally hit that spot in Round 1, anyway," Kiper wrote. "Ebron is a player I can see landing in the top 10, so the value is pretty good here."
5. Let the great debate begin. Later today Giants.com will be launching its annual bracket challenge. This year, the competition will be to decide the best play in Giants history. We have sorted through 89 seasons of Big Blue football to find the top 32 plays -- 16 offense and 16 defense -- and you will be able to vote on which you think are the best in the coming weeks. You'll want to stay tuned to Giants.com for that as we will provide vintage footage, from the days of Y.A. Tittle up to the Eli Manning era.