EAST RUTHERFORD, N.J. – Erich Barnes, whose four years with the Giants included three trips to the NFL Championship Game and a Pro Bowl selection in each season, passed away on Friday, April 29, after a long illness. He was 86.
A defensive back, Barnes played 14 seasons in the NFL (1958-71). He played three seasons for the Chicago Bears prior to joining the Giants and seven years with the Cleveland Browns after leaving New York. Barnes was a six-time Pro Bowler, a first-team All-Pro in 1961 (his first season with the Giants) and a second teamer in 1959, 1962 and 1964.
Barnes intercepted 45 passes in his career, including 18 for the Giants, which ties him for 15th on the franchise's career list.
Barnes was a halfback and then offensive end at Purdue University, where he caught a 95-yard touchdown pass from Pro Football Hall of Fame quarterback Len Dawson.
The Bears selected him in the fourth round of the 1958 NFL Draft and sent him to the Giants in 1961 as part of a three-team trade in which standout defensive back Lindon Crow went from the Giants to the Los Angeles Rams and quarterback Billy Wade to Chicago.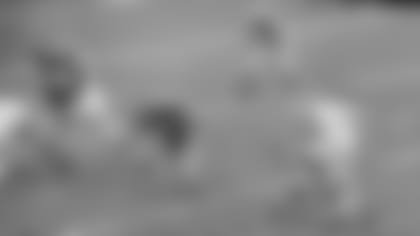 On Oct. 15, 1961, Barnes set a Giants record that still stands and tied the then NFL mark when he intercepted a pass in the Cotton Bowl in Dallas and returned it 102 yards for a touchdown. He joins Henry Carr (101 in 1966) as the only players in Giants history with interception returns of 100+ yards. It was one of his seven interceptions that he returned for 195 yards that season, the latter figure still the fifth-highest single-season total in franchise history.
Barnes intercepted six, three and two passes in his final three seasons with the team.
Beginning in 1961, the Giants lost three consecutive championship games: 37-0 in Green Bay, 16-7 to the Packers in Yankee Stadium, and 14-10 in Chicago. The game in New York was played in frigid and windy conditions. Barnes set up the Giants' only score when he blocked a punt that was recovered by teammate Jim Collier in the end zone.
After the Giants finished 2-10-2 in 1964, the Giants traded him to the Cleveland Browns – the team he had rooted for growing up in Elkhart, Ind. – for linebacker Mike Lucci and a 1966 third round draft pick, which the Giants then traded to Detroit for quarterback Earl Morrall.
After his football career, Barnes went on to work in the New York City area as a corporate special events planner. He was elected to the Indiana Football Hall of Fame in 1986 and the Purdue University Intercollegiate Athletics Hall of Fame in 2009.
A funeral service for Barnes will be held on Saturday, May 14, at Dieterle Memorial Home, 11205 Broadway, Montgomery, Ill.