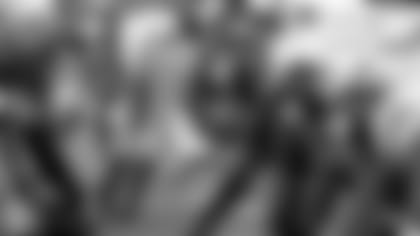 Giants vs. Patriots Broadcast Info](http://www.giants.com/games-and-schedules/game/2013/preseason4) EAST RUTHERFORD, N.J. – This goes under the heading, How Times Have Changed in the NFL…
In 1987, the Giants played their fourth and final preseason game on Saturday, Sept. 5, in Pittsburgh. The starting quarterbacks were Phil Simms, less than eight months removed from his MVP performance in Super Bowl XXI, and Mark Malone.
Each veteran quarterback took every snap for his team. Nine days before the Giants' Monday night opener in Chicago (a highly-anticipated meeting of the previous two Super Bowl winners), Simms threw 35 passes. He completed 22 of them, including a 20-yard touchdown to Lionel Manuel – another starter - with 13 seconds remaining that gave the Giants a 26-20 victory. Simms was sacked three times. Joe Morris, who had a career-high 341 rushing attempts the previous season, tuned up with 15 carries in Three Rivers Stadium.
For the Steelers, Malone threw 38 passes – also completing 22 – and absorbed five sacks. Pittsburgh running back Earnest Jackson had 14 carries.
Today, the chances of two starting quarterbacks playing four quarters in a final preseason game are about the same as the Super Bowl being held in Moscow. Back then, the fourth preseason games more closely approximated those played in the regular season. Now they're played mostly by youngsters trying to secure a spot on the final roster or even the practice squad. Because keeping the starters healthy is the primary concern, they play little or not at all.
Consider that in his first nine seasons, Eli Manning started the fourth preseason game five times (he played behind Kurt Warner as a rookie in 2004 and did not play in 2005, 2008 and 2011). In those five games he threw a total of 33 passes, or two less than Simms tossed against the Steelers 26 years ago.
Manning will have a quick night of work again tomorrow, when the Giants conclude their preseason at New England. Coach Tom Coughlin said the starters will get about 12-15 snaps, just enough for them to perspire a little bit.
Coughlin won't waver even if the struggling Giants offense remains in its funk. In three games, the Giants have scored two touchdowns. They have converted only 12 of 49 third down opportunities (24.5 percent). Manning and his three backups have completed just 46.5 percent of their passes and been sacked 14 times. In eight trips inside their opponents' 20-yard line, they've kicked six field goals and come away empty twice.
Would Coughlin extend the starters' playing time if they show no progress, or will he get them out of harm's way with the regular-season opener in Dallas just 10 days away?
"I would take the latter as being the choice that I would make right here," Coughlin said. "I would err on the side of safety of the first game."
But he still has some very specific expectations for the unit.
"I'd like to see some continuity and some execution, some performance," Coughlin said. "I'd like to see us get the ball in the end zone. I'd like to see us do well on third down. I'd like to see our passing game with our protection look like some type of an efficient operation. I'd like to see progress. That's really what I would like to see."
He's not alone. Manning has retained his customary tranquil demeanor, but he wants to see some improvement before the Giants begin preparing for the Cowboys.
"We have to play better," Manning said. "We have to be better in the red zone and convert on third downs, so there's some room for improvement. I thought this past week against the Jets we did a pretty good job of picking up some of their blitzes and overload blitzes and a lot of different looks, things we haven't exactly prepared for. They showed some things that we hadn't seen on film, but we made adjustments and gave ourselves some opportunities in making some plays. We just didn't quite make them and a lot of that just in the passing game and so that's what preseason is for. We have to learn from these things and make adjustments and make sure they carry over to the practice field and we're practicing at a high level, at a fast pace. We have one more preseason game to correct some things and make sure we're working on getting improvement and then we'll be getting ready for Dallas."
Manning will be followed in the quarterback rotation by rookie Ryan Nassib. Coughlin said he also hopes to play both David Carr and Curtis Painter.
This is the ninth consecutive year the Giants and Patriots are closing the preseason by facing each other. The Giants won last year, 6-3, and lead the preseason series, 14-8.