EAST RUTHERFORD, N.J. –** Jim Cordle, the Giants' starting center in seven of the last eight games, was today placed on season-ending injured reserve with an injury to his patella tendon, which he suffered Sunday in a loss to the Dallas Cowboys.
Upon Further Review
The Giants players are still motivated to compete and win the final games...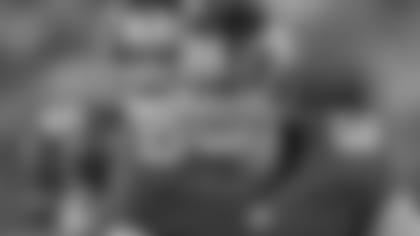 His place on the roster was taken by Stephen Goodin, who has spent the entire season on the Giants' practice squad.
Cordle, a third-year pro, has played in every game since the start of the 2012 season. After Baas suffered a neck injury, Cordle started three consecutive games, beginning Sept. 29 in Kansas City. Baas returned on Oct. 21 vs. Minnesota but hurt his knee, the injury that sent him to I.R. Cordle started the last four games.
Cordle swells the Giants' injured reserve list to 10, including eight players who started at least one game this season: David Wilson, Aaron Ross, Henry Hynoski, Shaun Rogers, Da'Rel Scott, Baas, Snee and Cordle.
When Cordle was injured in the first half on Sunday, Kevin Boothe moved from left guard to center and James Brewer played guard. Brewer, Brandon Mosley, Dallas Reynolds and Goodin are now the Giants' backup linemen.
Goodin, 6-6 and 308 pounds, was originally signed by the Giants as a rookie free agent from Nebraska-Kearney on May 11, 2012. He was waived at the end of training camp and was signed on Nov. 21 to the practice squad, where he remained through the end of the season.
This year, Goodin was waived on Aug. 31 and signed to the practice squad the following day. He played in all four preseason games for the Giants, but has never played in a regular-season game.
*The Giants also made a change on their practice squad, signing offensive lineman Steven Baker and terminating the contract of defensive back Brandon Jones.
Baker was previously on the practice squad from Sept. 4-12 and Sept. 24-Oct. 1. Jones had been on the squad since Nov. 4.