Just two days after a tough loss on the road ended the Giants Super Bowl hopes for the season, several members of the team used the MDA's 10th annual Muscle Team® dinner to find a reason to smile once again.  P Jeff Feagles, K Jay Feely, CBs Frank Walker and Sam Madison and DE Justin Tuck joined Giants alumni OL Karl Nelson and RB Keith Elias to show support for the great cause.  The event was held at  Chelsea Piers, and was enjoyed by hundreds of attendees from organizations located throughout the greater NY metropolitan area.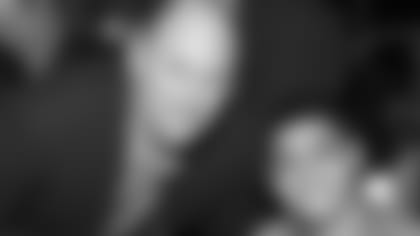 P Jeff Feagles meets his MDA Buddy at the Muscle Team dinner on Tuesday.
The dinner, as always, was a huge success thanks to many generous sponsors and the presence of NYC's most charitable athletes.  "Thanks in large part to the support of the NY Giants organization and players, the Muscular Dystrophy Association raised over 1 million dollars to help fight neuromuscular disease," stated Michelle Galioto, district director for the MDA.
In addition to attending the dinner, Feagles and Feely also hosted a few MDA Buddies at Giants Stadium in October following a practice.  Pictures from that visit were eventually used to publicize the upcoming dinner.  Feagles and Feely both have extensive histories with the MDA.  Feagles has held an annual golf outing for the MDA in Phoenix since 1991, raising hundreds of thousands of dollars every year.  Feely participated in MDA summer camps until his career in the NFL prevented him from being available.  Since that time, he has found many other ways to support the organization.
Now celebrating its 10th year, MDA's Muscle Team® is a high profile sports dinner where professional athletes join together to put their muscle behind the search to find treatments and cures for neuromuscular diseases. Each athlete is paired with a MDA Buddy, a local child living with muscular dystrophy.
The Muscular Dystrophy Association is a voluntary health agency -- a dedicated partnership between scientists and concerned citizens aimed at conquering neuromuscular diseases that affect more than a million Americans.
MDA combats neuromuscular diseases through programs of worldwide research, comprehensive medical and community services, and far-reaching professional and public health education. With national headquarters in Tucson, MDA has more than 200 offices across the country, sponsors 230 hospital-affiliated clinics and supports nearly 400 research projects around the world.
MDA supports more research on neuromuscular diseases than any other private-sector organization in the world. MDA scientists are in the forefront of gene therapy research and have uncovered the genetic defects responsible for several forms of muscular dystrophy, Charcot-Marie-Tooth disease, a form of amyotrophic lateral sclerosis (ALS, or Lou Gehrig's disease), childhood spinal muscular atrophy, and several other neuromuscular conditions.
The Association's comprehensive service program includes medical examinations, flu shots, support groups, MDA summer camps for youngsters and assistance with purchase of wheelchairs and leg braces. ](http://www.jointheteam.com/)